This Irish Christmas carol was once nearly forgotten. Now it's newly famous.
"The Wexford Carol" is Ireland's oldest-known Christmas carol—and a worldwide favorite. But the first time I heard about the song was when listeners of "Hark! The Stories Behind Our Favorite Christmas Carols," recommended it for the third season of our popular podcast. I immediately understood why "The Wexford Carol"was so beloved.
"Hark!" is the most joyful podcast I've produced at America. What begins with a study of a familiar song, one brimming with nostalgia that I can usually sing by heart, often leads to the most unexpected discoveries. "O Come, All Ye Faithful" introduced me to the famous "Christmas chord" that, all choral directors agree, is the sound signature of the Christmas season. "Carol of the Bells," originally a Ukrainian folk song, taught me that what I once thought were merely frivolous holiday jingles and commercial ploys actually have deeper cultural and political ties, for which its creators have sometimes forfeited their lives.
I have learned to take Christmas carols seriously and to anticipate the epiphanies they may bear in my spiritual life as I contemplate them anew. "Go Tell It on the Mountain" buoyed the spirits of civil rights leaders. "Carol of the Bells" and "Adeste Fideles" reasserted cultural identities in the face of tyranny and murder. "Silent Night" literally stopped bullets to allow respite from war. As for "The Wexford Carol," it quietly survived over 400 years of British colonial suppression and was first put to paper in the small Irish village of Enniscorthy.
"I don't think it's possible that anyone could have gone through those years without knowing it," Colm Tóibín, the famed Irish writer, said when I first asked him about "The Wexford Carol." "But the thing was that people didn't know about it. That came later."
I interviewed Mr. Tóibín to hear what a literary genius and cultural custodian who hails from Enniscorthy, County Wexford, makes of this locally sourced gem. His writing is steeped in Irish culture, and one of his award-winning novels, Brooklyn, made it to the big screen and was nominated for three Academy Awards. Despite growing up in the town that produced a world-famous carol, "the idea that it really was ours," Mr. Tóibín said, "and that it was really one of the things that made Enniscorthy famous," was a much later realization for him. "It was merely part of what was sung at that time of the year."
A Visit to Enniscorthy
So just what is the story behind the text and music of this renowned carol? Coincidentally, I traveled to Ireland this summer to visit my cousin, an Irishman and a priest from County Offaly, who was celebrating his 50th jubilee of ordination. Enniscorthy, it turned out, was only a day's journey from my ancestral home.
Beside the River Slaney, on the "sunny south east" of Ireland, as locals know it, is perched the charming town of Enniscorthy. By modern standards, it is a small town, though technically it is the second-largest city in the county, with a population of around 12,000. Among the locals, the joke is that everyone in Enniscorthy has fantastic legs on account of its steep hillside streets.
At the top of the town rests St. Aidan's, the cathedral of the Diocese of Ferns, a gorgeous 19th-century stone church in the Gothic Revival style. It seemed a good place to begin to unravel the mysteries of this beloved carol. After all, as Mr. Tóibín told me: "The first thing about Catholicism in Enniscorthy—and the last thing—is the cathedral."
Not much is known about "The Wexford Carol," aside from the fact that the words and music were passed down orally for hundreds of years.
Not much is known about "The Wexford Carol," aside from the fact that the words and music were passed down orally for hundreds of years. Scholars quibble over its origins; some say as early as the 12th century, others put it as late as the 16th. Either way, it was W. H. Grattan Flood, the accomplished organist and choir director of St. Aidan's Cathedral, who almost singlehandedly plucked this jewel of a carol from the obscurities of oral tradition and preserved it for future generations.
Though Flood died in 1928, surely the church he called home for the last 33 years of his life could point me in the right direction? I had sent an email to the parish office weeks before my trip, but it went unanswered. Undaunted and determined, I climbed the Enniscorthy hillside, said a quick prayer in the cathedral and wandered its grounds. Behind the church was an old cemetery. As I read the inscriptions on the tombstones, I noticed that almost every one was adorned with an intricately carved Celtic cross.
After spending some time there, I encountered a videographer who was documenting the cathedral's architectural history. I, with an audio recorder in hand, was attempting to source its song. He directed me to the parish office, where I spoke with the recipient of my long-lost email. Although she declined to be interviewed for the podcast, she promptly informed me that the song in question was properly called "The Enniscorthy Carol."The carol was, after all, born in Enniscorthy. So too was Margaret Franklin, the living granddaughter of Grattan Flood.
The secretary of St. Aidan's graciously shared Ms. Franklin's contact information with me, which proved invaluable. When I contacted her, she explained how her grandfather had stumbled upon this exquisite carol.
'I've Never Heard of It'
The year was 1920, or thereabouts. Flood, a scholar of Irish music and history, served as the organist at St. Aidan's Cathedral. It was during this time that Father Commons, a priest with a special interest in preserving a musical relic, approached him.
"He told my grandfather that some elderly relatives of his knew this traditional carol that had been handed down by oral tradition within the family. And he was worried that it might be lost to posterity if someone didn't write it down," Ms. Franklin said. "So he asked my grandfather if he would like to come out and hear this carol being sung by his relatives."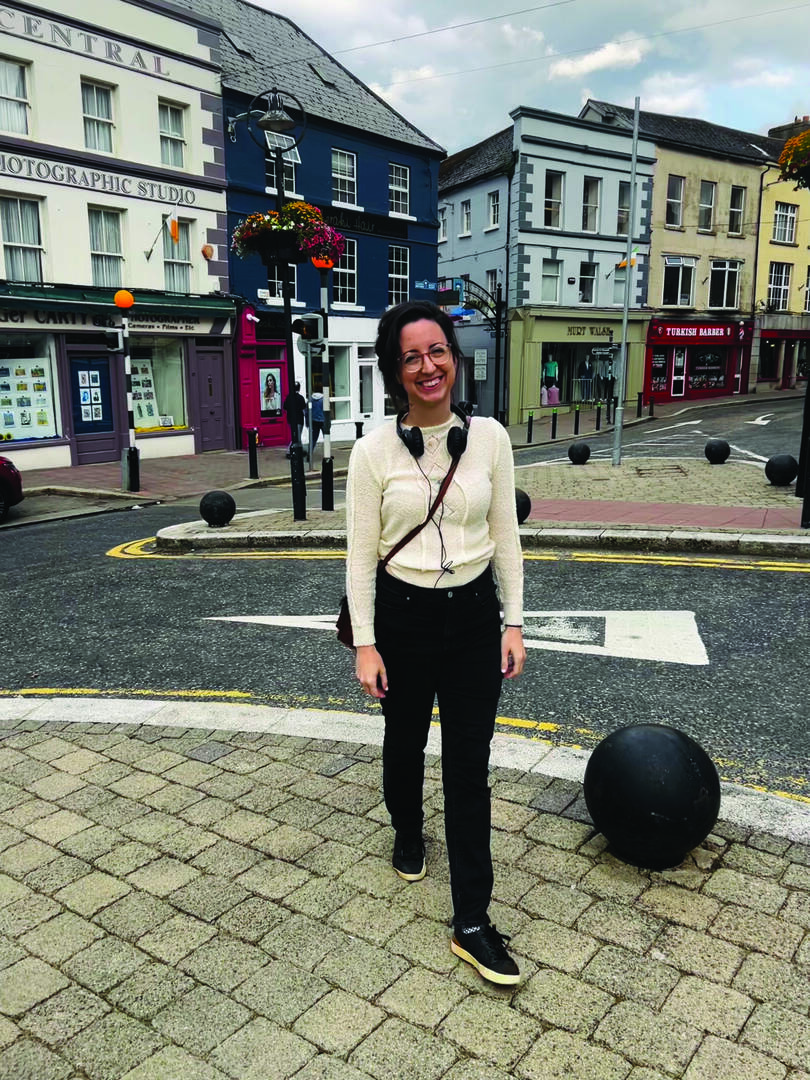 Mr. Flood accompanied Father Commons to a small town nestled between Wexford and Enniscorthy to listen to the carol. "As it was being sung," Ms. Franklin said, "my grandfather just took it down note for note." Mr. Flood then returned to the cathedral where he arranged the carol for the organ and a four-part choir. Every Christmas Eve since, St. Aidan's Cathedral has played "The Enniscorthy Carol." Sometime later, Mr. Flood submitted the song to the editors of The Oxford Book of Carols, the gold-standard repository of Christmas songs, which published it in 1928; the same year Mr. Flood died.
So what does this carol mean to the people of Enniscorthy? If St. Aidan's has played it faithfully for the past 100 years, surely every local resident should be familiar with it.
"I've never heard of it," said almost every person I asked, almost every time I pulled out my recorder to learn more about this local masterpiece. Neither hotel bellhop nor pub waiter could tell me a lick about it.
Why do we commemorate anniversaries of bloodshed and forget songs of unsurpassed beauty?
Without much luck on the streets, I ventured into the town's most popular museum, the National 1798 Rebellion Centre. The center is named after a series of events that marked Irish resistance to British rule—the rebellion had culminated in and around Enniscorthy.
I asked not one, not two, but three cultural ambassadors at the museum, and to my surprise none of them were familiar with "The Enniscorthy Carol."One story from the annals of Irish history, however, remained in the collective memory: the 1798 Rebellion.
The National 1798 Rebellion Centre recounts the story of how Irish farmers rose up against the heavily armed British military, only to face defeat when they were ultimately crushed at the battle of Vinegar Hill—a site that overlooks the town of Enniscorthy from just across the River Slaney. While touring the museum, it became clear to me that the people of Enniscorthy were well-versed in their history and took pride in sharing it.
The experience prompted important questions: Which stories do we commit to institutional memory and which do we leave hidden in the dusty pages of Christmas carol books? Why do we commemorate anniversaries of bloodshed and forget songs of unsurpassed beauty?
Looking Back
Shortly before my trip to Ireland, I visited the stunning Scottish highlands and the medieval city of Edinburgh. At the National Museum of Scotland, numerous rooms are dedicated to preserving one or other elements of Scottish history and culture. In one of these rooms there stands a colossal steel structure known as The Maiden. This four-meter-tall beheading machine predates the French guillotine by 200 years and was once employed in Scotland to publicly execute criminals, witches and enemies of the crown. Gazing up at this monstrosity sent shivers down my spine as I briefly contemplated the human lives it had claimed with brutal efficiency. Questions swirled in my mind: How did this device find its way to the National Museum of Scotland? Why did the Scots choose to remember their history through this haunting artifact?
The same question consumed me throughout my time in Ireland. Against the backdrop of Guinness tours and cheerful pub music, I passed by the General Post Office in the center of Dublin. I soon learned that besides carrying the mail since 1818, this was also the site of the failed 1916 Easter Rising. Most of the original Georgian structure was destroyed during the Rising, but the iconic six pillars and granite facade still stand, albeit pierced with bullet holes, serving as a poignant testament to the fight for liberty. The Rising claimed at least 450 lives and left more than 2,000 others wounded, many of them civilians. This critical moment in Ireland's centuries-long fight for independence is memorialized by designating the Post Office, an otherwise banal structure, as a prominent stop on guided tours of the city.
I could not study the origins of this song without first detouring through some of the ugliest chapters of human history.
Now, as I reflect on my summer's travels, I have come to realize that in my quest to learn the history of every city I visited, I also had to confront the staggering tales of violence that were intertwined with each place. Despite the sincere efforts and great care taken to honor the lives sacrificed in these valiant struggles for liberty—or in the case of The Maiden, to acknowledge the grotesque consequences of demonizing human beings who do not share the same beliefs—I could barely stand the weight of it all.
If I'm honest, it made me question this whole human project altogether, and sent me careening down an all-too-familiar theological spiral called theodicy: How could a good, loving and all-powerful God allow any babe to be born into this world of terror?
But is that not the Christmas story?
I could not study the origins of this song without first detouring through some of the ugliest chapters of human history. While Nativity scenes painted and held up in most Christmas carols may appear innocent and peaceful, I can now hardly hear an Advent hymn without also pondering why God sent his son to be born into this mess to begin with. And yet that is precisely where the first stanza of "The Enniscorthy Carol" begins:
Good people all, this Christmas time

Consider well and bear in mind

What our good God for us has done

In sending his beloved son
God's response to a world marred by violence, destruction and death is to enter the fray; to assume the rotten human condition, and to do so as a defenseless infant. God's response to human suffering is not heard in a rallying battle cry or apocalyptic cloud-parting deliverance—though, to be honest, there are days when I wish it were. Rather, God "came down and crept in beside us" on Christmas morn, as the Scottish poet and clergyman John Bell of Iona Abbey in Scotland writes. The style of God is so quiet, so unassuming, that we may not notice it at all.
I will grant you that listening to that "still, small voice of God" (1 Kgs 19:11-13) can be hard to do, particularly when we turn on the news to see a world on fire. And yet, I invite you to glean insight from my globe-trotting journey in search of "The Enniscorthy Carol."
If the people of Enniscorthy do not remember a song of profound beauty—which one of their own recovered from historical obscurity barely a century ago—we, too, might be missing the beauty born right in front of us. It is possible that we have lingered too long on our wounds, and not long enough around the manger.