This Christmas, let the Swiss Guard plan your holiday menu
What is Christmas really like at the Vatican? I cannot be the only person who has wondered this. Now, we have an answer.The Vatican Christmas Cookbook offers a look into the foods and traditions that surround the merriest of holy seasons in the Catholic Church's own home.
The book was written by David Geissner, a former Swiss Guard who served under Pope Francis, and Thomas Kelly, a writer, editor and producer. Prior to joining the guard in 2013, David was a chef and published author. The Vatican Christmas Cookbook is a follow-up to their first Vatican cookbook, aptly named The Vatican Cookbook.
The Vatican Christmas Cookbook takes us on a liturgical journey, beginning with Advent and ending with the Feast of the Epiphany. Along the way, we learn more about the inception of the Swiss Guard and their special connection to Advent, the history of Christmas, and the popes who helped make Christmas what it is today. The book also includes trivia about the saints and, perhaps my favorite fun fact: Due to the pagan roots and festive nature of the day, Puritans of the Massachusetts Bay colony banned Christmas celebrations for more than two decades. In fact, Christmas only became a federal holiday in the United States in 1870.
Christmas prayers, excerpts from Scripture and a section on how Christmas is celebrated around the world, including in Pope Francis' own Argentina, round out the book. Short meditations from former members of the Swiss Guard about their time serving separate the different recipe sections and reflect the deep love the guards still have for the church and the pope.
The sad reality is that much of our holidays will look different this year, and that is not something Geissner takes lightly. In his introduction, he writes, "In so many ways, the world is different than it was only a few short months ago, but there are some fundamentals that remain unchanged. One of them is food. Food is the sustenance of life." While we are all adjusting the many changes of our world, we can still turn to the comfort of food.
I took those words to heart. While I usually struggle to decide which recipes to choose when trying out a new cookbook, this time around I asked my parents to choose the recipes. In the end, I attempted one Advent and two Christmas recipes: a pumpkin soup amaretto, tagliatelle porcini and caponata gamberoni.
I did not know what a caponata gamberoni was (or how to pronounce it). 
I am going to be honest with you about two things: 1. I did not know what a caponata gamberoni was (or how to pronounce it) so I had to google it and 2. The grocery store I went to in Texas did not have half of the ingredients I needed, so I had to improvise. But isn't the point of cookbooks to test your skills and force you out of your comfort zone to create something uniquely suited for your guests? I would like to think so.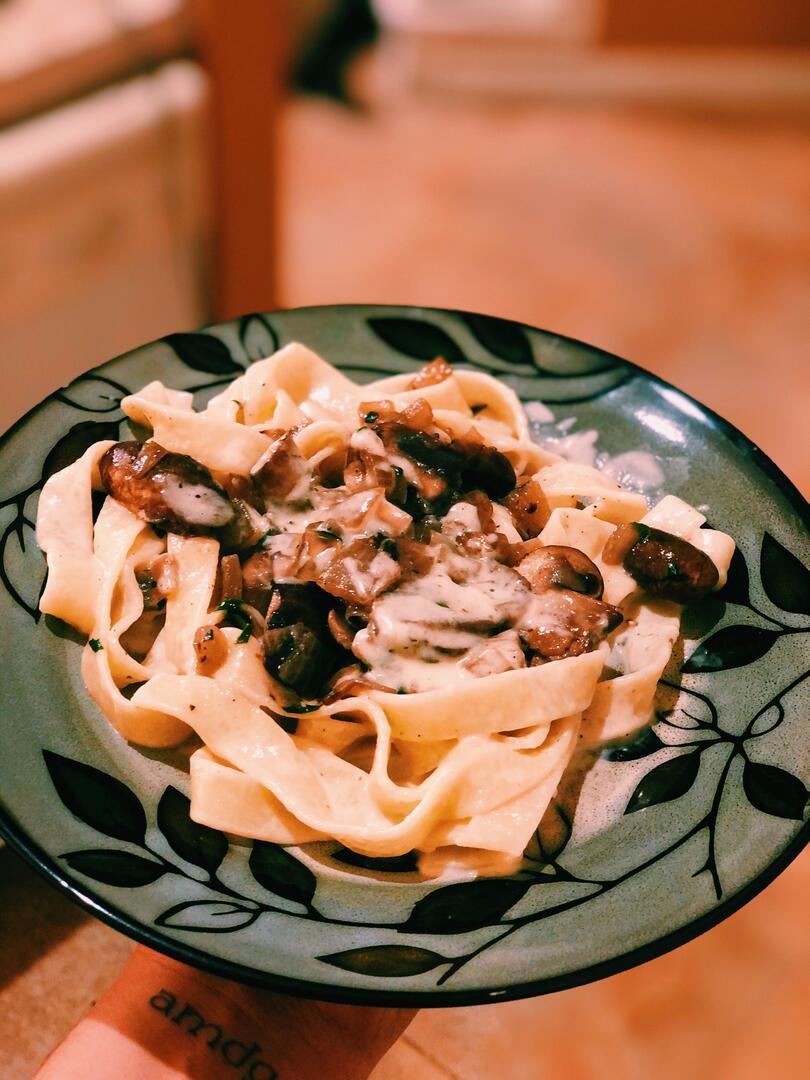 The first recipe I tried was the pumpkin soup amaretto that called for two tablespoons of amaretto. I did not have amaretto on hand so I opted for a splash of almond extract. In the process, I learned that I do not like almond extract in my soup and will be leaving that out next time. My father, however, seemed to enjoy it. The recipe was simple enough and called for pantry staples and spices. Most people should be able to recreate this easily. But go with the amaretto.
The second recipe was my favorite to make. The tagliatelle porcini is a delicious creamy and cheesy white sauce pasta topped with mushrooms. I have a gluten intolerance, so I substituted a gluten-free option for the tagliatelle. And because of a lack of fungi diversity in the grocery store, I was forced to use baby bella mushrooms instead of porcini. The rest of the ingredients were easy: parmesan cheese, shallots, heavy cream, butter and gorgonzola cheese, which I am only now realizing I forgot to include! I would give this recipe a 10/10 for ease of preparation and overall taste.
"Christmas is a time of charity," Geissner writes. "Christmas is a time of love.
The final recipe was the caponata gamberoni. Caponata, I learned, is a relish of chopped eggplant and assorted vegetables originating from Sicily. Gamberoni is prawn, an item I struggled to get my hands on. Instead, I used giant shrimp. The recipe is divided into three sections: the caponata prep, the gamberoni prep and the honey marinade prep. I would recommend recruiting additional people in your household to help speed up the process. This recipe emphasized the final presentation, a good challenge for me as I tend to value taste over presentation.
Among the recipes I ran out of time to try included an array of roasted, braised and fried meats and fishes, baked and sauteed vegetables, endless pastas and desserts that would delight any child on Christmas morning.
"Christmas is a time of charity," Geissner writes. "Christmas is a time of love...Christmas is a time of joy...as the meaning and spirit of the day has remained unchanged since that morning in Bethlehem so long ago."
This Christmas may not look like the Christmas we imagined. But food can help ground us in all the good we do have in our lives and how far we have come. The Vatican Christmas Cookbook is a tasty reminder of that.
More from America: