How art on Catholic colleges complements students' cultural education
When Yale College opened the first American college art gallery in 1832, its fundamental mission was much the same as the university now describes it: "to encourage appreciation and understanding of art and its role in society through direct engagement with original works of art." Fifty years later a museum of art was established at Princeton, founded largely on the model of European universities. There the history of art was a new academic discipline, and museums served to offer students as well as the public wider access to original works of art while also teaching art history through increasingly encyclopedic collections. At the close of the century, similar missions guided the establishment of successive campus galleries at Harvard: the Fogg Art Museum in 1895, the Busch-Reisinger in 1901 and the Arthur M. Sackler in 1985. (All three are now united in Renzo Piano's newly designed building built in 2014.)
At Catholic universities today there are a number of distinguished descendants of their colonial predecessors. The University of Notre Dame opened its Snite Museum of Art in 1980 and on another part of its campus will soon begin construction of the additional Raclin Murphy Museum of Art, to be designed by Robert A. M. Stern Architects. Boston College's McMullen Museum of Art opened in 1993 and is now newly located on the university's Brighton Campus. (It has had over 60 exhibitions, including widely praised presentations of Caravaggio and Rouault.)
The Museum of Contemporary Religious Art at St. Louis University stands out for its singular focus on art that is genuinely interfaith.
Loyola University Chicago boasted the Martin D'Arcy Collection of Medieval, Renaissance and Baroque Art and under the inspired leadership of Pamela Ambrose broadened its mission as the Loyola University Museum of Art "to explore and promote the spiritual in art of all faiths and cultures." (Unfortunately, the university announced earlier this year that the museum was "closing to the public" and would potentially be restructured for alternative uses.) Smaller galleries also play important cultural and educational roles at other schools: Loyola Marymount University's Laband Art Gallery has mounted "Confess: An Installation by Trina McKillen," giving voice to young victims of sexual abuse, and Fairfield University's new Art Museum (2010) had a stunning show on the art of the Gesù Church in Rome as part of the university's 75th anniversary celebration.
Among them all, the Museum of Contemporary Religious Art at St. Louis University, known as Mocra, stands out for its singular focus on contemporary religious art that is genuinely interfaith—ecumenical in the widest sense of the term. While studying at the Graduate Theological Union in Berkeley, Calif., in 1985, Mocra's founder, Terrence Dempsey, S.J., imagined a thesis in art history that would explore the religious dimensions of German Expressionism. A chance remark from a former student caused him to shift his focus to the art of the present, and soon a succession of encounters with like-minded curators and gallerists led him to discover a whole catalog of artists engaged with the religious dimension of experience, 11 of whom he discussed in his doctoral dissertation, "The Pursuit of the Spirit: The Re-Emergence of Spiritual Concerns in American Art in the 1980s."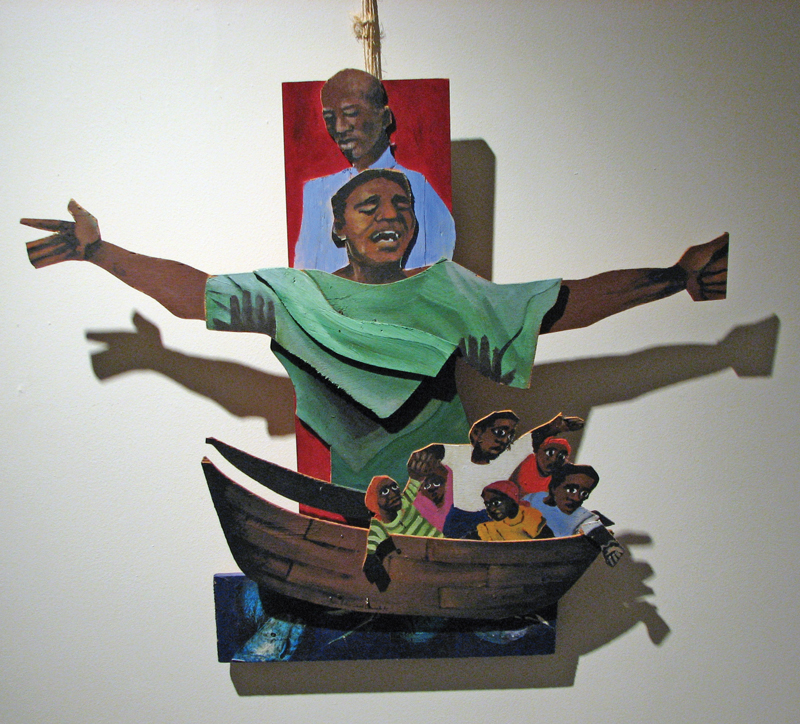 After he began teaching at St. Louis University, Father Dempsey continued to develop his contacts with a wide range of artists whose practice was variously open to what he called "the religious and spiritual dimension" of human experience. He saw the fulcrum of his vision in the dialogue between artists and their audiences. When the local Jesuit community sold their former house of studies to the university in 1989, the building's chapel proved an ideal space for a museum—5,000 square feet, with a ceiling 28 feet high, a nave that measured 66 by 25 feet, a spacious sanctuary, two side aisles whose 12 intimate chapels were perfect for smaller pieces, and a balcony as well. The new Museum of Contemporary Religious Art opened there in 1993 with an exhibition called "Sanctuaries: Recovering the Holy in Contemporary Art."
To celebrate its 25th anniversary earlier this year, the museum exhibited 25 artists, a good many of whom had been shown from the beginning as well as others who were newer to its walls: a remarkable photo weaving entitled "Cambodia," by Dinh Q. Lê (1995); a haunting color photograph by Erika Diettes (2008) that evokes forced disappearances during the violence in her native Colombia; an example from 2011 of Jordan Eagles's unsettling work that uses animal blood as a painting medium and takes you from surface beauty to troubling questions as you contemplate it.
The spacious nave was divided into two bays. The first celebrated a range of styles: a visionary landscape by the Native American painter and poet Frank LaPena (1988); the dazzling calligraphy of a text from the Quran by Salma Arastu (2014); the elegantly minimalist abstraction of Daniel Ramirez's "Celestial Manger" (1989-90); Jim Morphesis' large painting of a skull (a traditional memento mori piece in Abstract Expressionist style, 1985); and Michael David's representation of the Star of David ("Missing in Action," 1985) covered with chunks of red encaustic wax (roses? flesh?).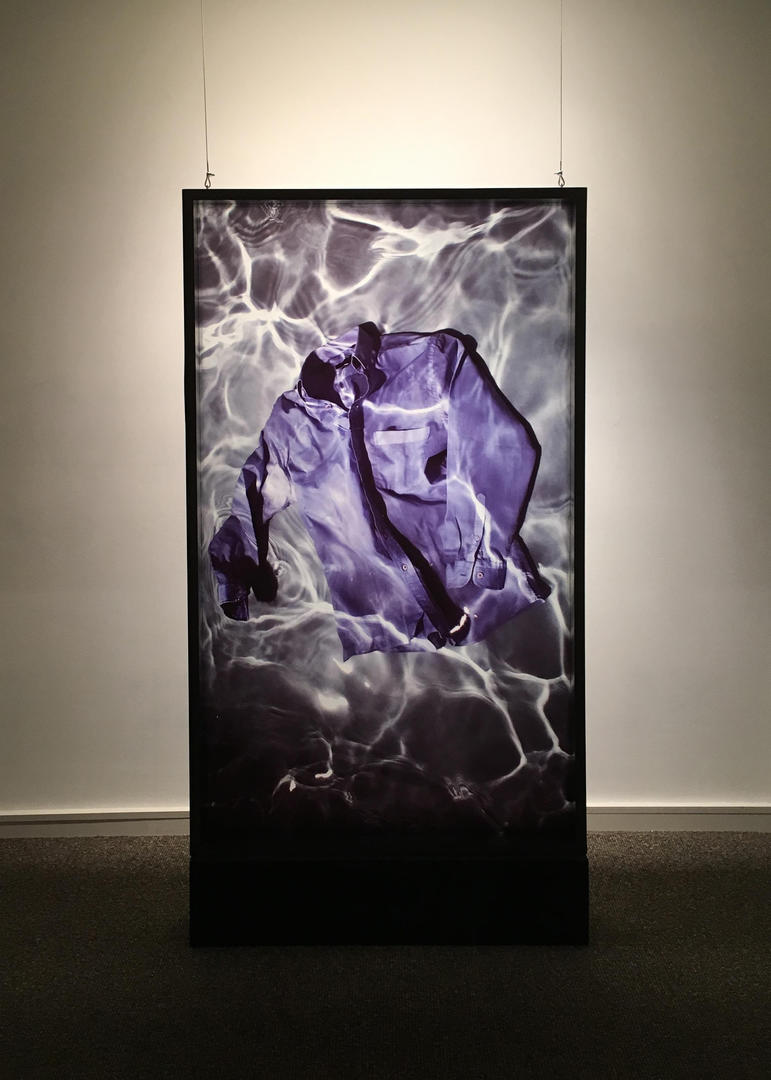 The second bay offered some stunning, explicitly Christian iconography. The now well-known installation by Helen David Brancato, I.H.M., "Crucifixion—Haiti" (1999) derives from a newspaper photograph of Guirlande Louis, who lost five members of her family in a ferry accident off the coast of Port-au-Prince, and is, the artist says, "a universal image depicting the suffering of women in our world and a reflection on Jesus' solidarity with women." Eleanor Dickinson's "Crucifixion of Dountes" (1988) is an overpowering depiction of an African-American man, painted in deep shadow, with acute foreshortening, in place of Jesus. Frederick J. Brown's "Madonna and Child," from his "Life of Christ Altarpiece" (1994-95), would seem at first a more serene counterpoint to these plaintive pieces. But it has its own pathos, his African-American and Choctaw background asserting itself challengingly in the child's melancholy face and his mother's sphinx-like, inscrutable visage.
The two most memorable pieces in the exhibition are by the socially engaged American artist Michael Tracy, who has lived for many years in San Ygnacio, a small border town on the Rio Grande, whose work, in the words of Peter Selz, "confronts the viewer with a combination of beauty and terror." That is certainly the case with his "Cruz for Bishop Oscar Romero, Martyr of El Salvador," one of a series of processional crosses he made between 1977 and 1983. Like the pasos (elaborate floats) of Holy Week in Hispanic cultures, the Romero cross has carrying poles and a gold-painted platform. It is skirted with house-shaped iconitos inspired by the frames of early Renaissance Sienese paintings, surrounded by bouquets of flowers and several telling photographs, and surmounted by 16 bull horns as symbols of strength and bravery.
MOCRA in our new century has been reliably and regularly exploratory.
Perhaps even more viscerally arresting is Tracy's "La Pasión" (1981-88), an enormous triptych (22 ft. x 31 ft.) hung before what was once the back wall of the chapel's sanctuary, with three panels representing the 11th, 12th and 13th stations of the cross, topped by a decorative crown of hammered tin that has three fans above bright roses at its center and corners. Purely abstract, the panels are nevertheless, in "Jesus Is Nailed to the Cross," evocative of tortured life, in "Jesus Dies on the Cross" of desolation and death, and in "Jesus Is Brought Down From the Cross" of the remains of life (scattered pottery affixed to the canvas), relics and somehow also reverence. With the great weight of the canvases, sags have developed in some of their lower parts. They belong there, the paintings' material itself expressing for a weary world its greatest sorrow. Spend an hour before the great work, and it will become part of you. Spend a day, and you will long always to return.
The 25th anniversary exhibition had been preceded by other standout shows following the museum's opening in 1993. "Consecrations: The Spiritual in Art in the Time of AIDS" (1994-95) was the first group exhibition that sought to put AIDS within a spiritual framework. (Father Dempsey remembers the opening, which included the dance companies Pilobolus and Alvin Ailey, as "the most glorious" in the museum's 25 years.) The mid-career retrospective "Bernard Maisner: Entrance to the Scriptorium" (1998-99), exploring the artist's quarter-century of work in manuscript illumination, traveled to multiple subsequent venues. Andy Warhol's "Silver Clouds" (2001-2), again with dancing in the central gallery, was probably the biggest hit with the public—and one of the largest installations of the 1966 original.
Mocra in our new century has been reliably and regularly exploratory. Erika Diettes's "Sudarios" (2016) took her compassionate camera into war-torn parts of Colombia and, after photographing women who had been forced to witness the torture and murder of loved ones, then printed the images on silk panels over seven feet high. Suspended from the high ceiling of the main gallery of the museum, they formed a procession of shrouded figures recalling Christ's own—a testimonial to pain and death yet also a testament to dignity and the search for justice. Last year Mocra was selected to present an exhibition at St. Louis Lambert International Airport exploring contemporary artists who extend the tradition of manuscript illumination.
At a time when the energy of the ecumenical movement has faltered and many artists seem preoccupied with the market and the marketable, the breadth of Mocra's worldwide ecumenism and its sensitivity to new forms of artistic expression seem more important than ever. On June 30 of this year, Father Dempsey retired from St. Louis University and stepped away from Mocra; David Brinker has been named the new director. Father Dempsey is curating an exhibition this fall that he describes as a thank-you to the many artists who have played a formative role in Mocra's development. Friends and visitors can take this as a hopeful sign that St. Louis University will keep its vitally creative little museum alive well beyond its 25th anniversary.