Looking for new religious art? Check your local high school.
Art has the ability to bring us to a halt. Even on Instagram and Facebook, art can make us slow down and take time to think. It can literally stop our thumbs from scrolling.
At its best, art takes what we know and challenges it, forcing us to reckon with our traditional understanding of the world around us. Every once in a while, I'll come across a piece of art that feels fresh and new: something that I'm not used to looking at. It's not very often that a work like this will be made by a high school student for a class project. But as they say, the Lord works in mysterious ways.
Recently, images of a new mural painted by Chloe Becker—a junior at Magnificat High School in Rocky River, Ohio—have been moving through Catholic circles on social media. Moira Clark, president of Magnificat High School, described the response to the mural as instantaneously positive, reverential even.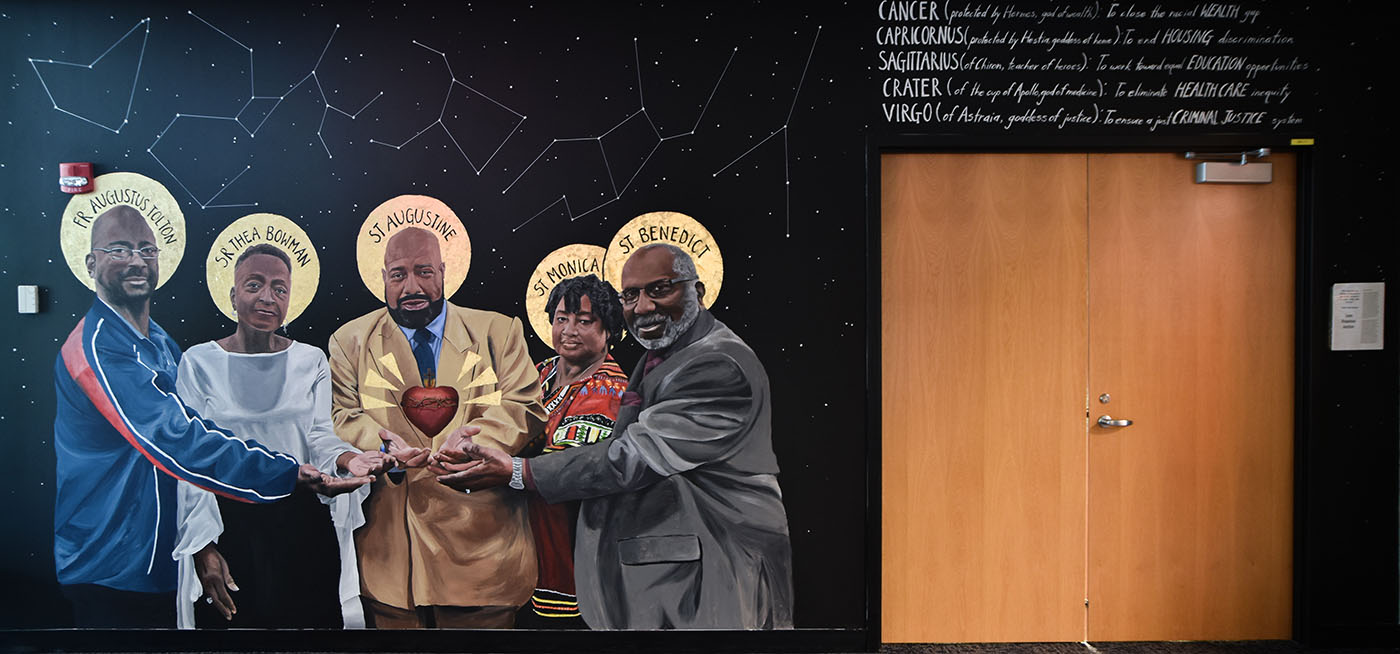 "We knew that the piece was going to be exquisitely well done. And we knew it was going to be provocative in a positive way, kind of crackling with the Holy Spirit. But there was no way to foresee that people around the world were going to see her mural and be so touched by it," Ms. Clark said.
To learn more about this mural and the impact it has had, I spoke with the artist over the phone. This interview has been edited for length and clarity.  
Ciaran Freeman: Can you tell me about the backstory of the mural and how it came to be?
Chole Becker: In my theology class, we have a project called Agape. It's a semester-long experiment where we choose a social justice issue that we are passionate about and figure out a way that we can make change in the world. I chose racism.
Racism is such an important life issue, but it's not always treated as such.
I decided to focus on racism in the Catholic Church and how I could kind of strengthen the church's voice against racism. It's such an important life issue, but it's not always treated as such. By painting a mural, I was able to include saints that I really thought should be represented, but have been lacking throughout our church's history.
What saints did you chose to include in the mural?
I chose St. Augustine, St. Monica, St. Benedict and then Sister Thea Bowman and Father Augustus Tolton, who are both in the process of canonization. One of the first things that I noticed was how whitewashed St. Augustine is in normal artwork. He's such an important person in our church—a doctor of the church—and he's not really portrayed accurately. People don't initially think that Augustine would be from Africa or have African origins, but he was. That's why I chose him as the center person.
St. Monica I chose because she is St. Augustine's mother, and played a really important role in his conversion to Catholicism. St. Benedict's story is interesting too. He was a slave in Italy and after being released served as a dishwasher for a monastery. He was a very humble person that everyone came to and prayed to.
Why did you include Sister Thea Bowman and Father Augustus Tolton?
I was set on including Sister Thea and Father Augustus because we don't have any African-American saints. I was focusing on issues of race in the U.S., and the fact that we still don't have an African-American saint was pulling at me. Sister Thea was a beautiful soul. She raised awareness about racism and started conversations about inclusivity and diversity. Father Augustus Tolton was the first African-American priest and really set the bar for the United States.
These aren't based on photographs of those people, so how did you choose the models for the painting?
I decided to reach out to St. Adalbert's church, which is the first African-American Catholic church in Cleveland. I called the pastor there and asked him if anyone would possibly want to volunteer to serve as models for my painting. He said, "Yes, totally! Come to Mass!" I went to Mass one Sunday and everybody there was unbelievably welcoming. After Mass, everybody came up and volunteered and I just picked five of them and took their picture. I still go back there; they are some of the most loving people I've ever met.
Can you tell me about the pose you have them standing in?
They are holding a Sacred Heart. I wanted to use that symbol because of the pastoral letter on racism, "Open Wide, Our Hearts," that was released in November. That was really the center document for this mural. Here, with the heart, is a little reference to that letter.
I also wanted to emphasize the fact that these people were so close to Christ. They are saints, but we never really get to hear about their stories. I wanted to bring life to these stories and bring to light to these issues.
They are saints, but we never really get to hear about their stories.
I noticed in the sky you highlight issues of systemic racism directly through astrology. What was your intention there?
For me this sky is a symbol of my faith, my spirituality and God. I like seeing divinity in the cosmos. It's a symbol I had been previously using in my artwork. It seemed natural to incorporate it into this mural because it's something that's important to my artistic style. The constellations serve as an important connector for me to concretely say that there is systematic racism when it comes to wealth, housing, education, healthcare and criminal justice.
Were you looking at any artists specifically that gave you inspiration for this kind of mural?
No one specifically, except for my favorite artist who I have to shout out right now: Kehinde Wiley. I have been following him on social media for quite some time now and am always blown away by his work. I like to think of this as kind of like a Catholic version of one of his paintings.
I like to think of this as kind of like a Catholic version of one of a Kehinde Wiley painting.
What has the response been like to the painting?
It's been really crazy. It's so positive to see how much of an impact it's had. People from across the world have been commenting on it. So that's really awesome.
There has been some push back by people who have problems with particular aspects of it, but I think that's necessary when you're doing justice work. Some have commented on the constellations, saying that they are pagan, and others have been denying the fact that these saints were actually black.
You always get some dissenting voices commenting once things spread on the internet, but it's great to hear how positive the vast majority of responses have been. I'm sure you're happy with the grade you got on the project, right?
Actually, what's great about this project is that it's not graded. It's supposed to encourage everyone to take risks and not to be afraid. And I'm happy with that.