What do we owe abusers? A new play asks this uncomfortable question
Back in August, a local news station in Chicago reported that two priests—one 67, the other 81—who had been credibly accused of sexual abuse were living in a retirement home for priests located next to a junior high school in Lisle, Ill.
When asked about the living arrangements, the Diocese of Joliet said in a statement, "Neither of the two priests have been convicted of any crimes, nor is either one a registered sex offender."
Still, local police added extra patrols to the area to assuage the fears of parents concerned about the priests, and the diocese announced they would relocate the pair.
The issue of where to house clerics accused of sexual misconduct but who have not faced criminal charges is not new. But it was with these stories in mind that I recently saw the new play "Downstate," which tells the tale of four men residing in a Lutheran-affiliated group home for registered sex offenders in southwestern Illinois.
Making its debut at Chicago's Steppenwolf Theatre before heading to the National Theatre in London next year, the play, written by Bruce Norris and directed by Pam MacKinnon, asks audiences to consider sexual abuse not from the perspective of victims but from the viewpoints of offenders.
The four men living in the fictional group home in "Downstate"—Gio, Fred, Felix and Dee—are each delusional, though in unique ways.
When it comes to cleric offenders, perhaps the most high-profile recent example of this conundrum arrived earlier this summer, when accusations of sexual misconduct against Cardinal Theodore McCarrick were made public.
Part of that ongoing saga is Archbishop McCarrick's housing.
A former papal diplomat, Archbishop Carlo Maria Viganò, alleges that in either 2009 or 2010, the Vatican ordered then-Cardinal McCarrick to vacate his apartment at a seminary in Washington, D.C., because church officials had been made aware of sexual misconduct allegations involving the retired archbishop and adult seminarians. The cardinal moved, choosing to reside at a parish rectory. But he stayed there just a short while, and eventually relocated to another seminary, one outfitted to care for elderly priests.
Archbishop McCarrick's living situation was unclear after Pope Francis removed him from ministry earlier this year, and the archdiocese of Washington did not confirm his whereabouts until Sept. 28, when in a press release it announced that he "now resides at St. Fidelis Friary in Victoria, Kansas," adding, "respect for the privacy of this arrangement is requested."
That announcement prompted local news in Kansas to report that officials were upset because the friary is located next to a grade school. School officials and victims groups said they were blindsided and upset to learn that the 88-year-old archbishop would live so close to children. The bishop of Salinas, Kan., said the archbishop is not allowed to make public appearances and noted he is "confined to the friary to do penance and prayer."
No place to call home
The four men living in the fictional group home in "Downstate"—Gio, Fred, Felix and Dee—are each delusional, though in unique ways.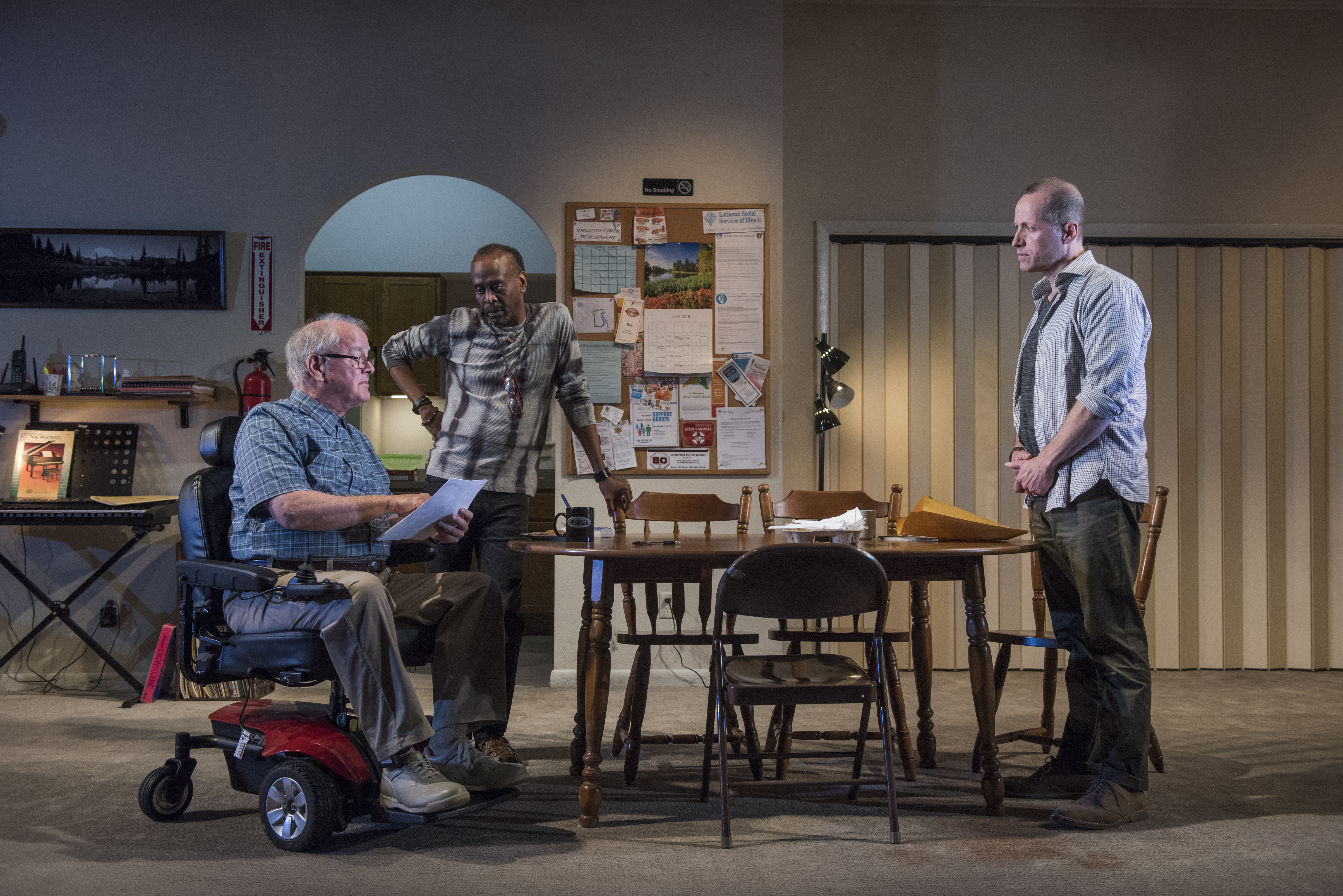 Gio, the slick, aspiring entrepreneur, has convinced himself that the crime he committed, statutory rape, puts him on a different moral plane than the others. He resents being lumped with his housemates, all of whom were convicted of abuse against children under 16. He argues that all heterosexual adult men are attracted to adolescent girls, some just refuse to admit it. And besides, he reasons, his victim lied about her age.
Like Gio, Dee is also unrepentant about his crime. He describes his two-year long abuse of a 14-year-old boy as a "relationship" and tussles with his parole officer, Ivy, when he claims the pair was in love. Dee notes that his victim wrote him letters for years while he served his prison sentence. Ivy grows indignant and chastises Dee, telling him he is not allowed to use the word "love" to describe the abuse he inflicted on his victim.
Fred is perhaps the most complex character in "Downstate."
A former piano teacher who sexually abused at least two of his students, Fred employs "gollies" and "gees" when confronted by one of his victims, Andy, who has traveled down from Chicago to confront his abuser.
Confined to a wheelchair following an attack in prison that broke his spine, Fred is warm toward Andy. He even thanks Andy for taking time to visit, enraging Andy further. Fred does not deny that he abused Andy, repeatedly affirming Andy's anger and admitting that what he did 30 years ago was wrong.
But when Andy asks Fred to sign a "reconciliation contract" that lays out what Andy alleges Fred did to him, Fred refuses because he disputes the kind of abuse Andy details. Fred notes he admitted to the abuse in court—but he tells Andy that he committed that particular act of abuse on another boy, not on Andy. Andy, and his wife, each tell Fred he is not allowed to question the memories of victims because it causes them to relive their trauma.
The play's writer Mr. Norris also asks us to consider the humanity of individuals who committed atrocious crimes.
None of the other men confront the people they abused. But all four of them have daily reminders of their statuses as sex offenders, even though they have served their full sentences. They are each required to wear an ankle monitor, which restricts not only where they travel but also collects data that implicates them for speeding or breaking curfew. There are few places where the men can live, hence the group home, both because of restrictions on where sex offenders can reside and because they have difficulty finding employment. Their home enrages neighbors, who have used various objects, including a shotgun, to break their windows. The men cannot own smartphones or access the internet. Their procurement of groceries is also hampered because of their status.
When local officials extend the no-go perimeter surrounding a school for children with intellectual disabilities, the grocery store frequented by the men, the only one reachable by bus, is now off limits. When the men protest to the parole officer, noting that the school is already separated by a major highway, they are told the law is the law.
Uncomfortable questions
"Downstate" poses a number of uncomfortable questions, relevant and challenging both in light of the ongoing #MeToo movement and the church's continued grappling with its sexual abuse scandal.
Are some forms of sexual abuse worse than others and, if so, should offenders be treated differently? Do sex offenders who have served their prison sentences have rights? What are they? Is it just to restrict where they can live, shop and walk? Is it ever appropriate to challenge the memories of victims, even if the offender admits the abuse but wishes to contest certain details?
Perhaps the overarching question is, do abusers maintain their dignity and if so, what does that look like? Is that a question that should only be tended to once the needs of survivors have been sufficiently cared for? Should the fact that abusers are often victims of abuse themselves ever be considered?
These are uncomfortable questions to consider, especially in a crowded theatre. "Downstate" is effective because of the many light moments; parts are even laugh-out-loud funny. But there are particular scenes that whip the audience back to the reality that the play challenges us to consider how to treat men who abused children and who largely delude themselves into thinking what they did was not really that bad.
A couple of years ago, a seminarian remarked to me that an older priest we both know is an exceptionally "holy" man. When I asked why, he told me that this man makes time in his busy schedule to regularly visit priests and former priests who were incarcerated for abusing children.
I was shocked by his answer and my face gave away my reaction.
The seminarian dug in his heels, explaining to me that society had decided to lock away these men and forget about them. This priest, he said, was simply following the Gospel's call to visit the lonely. His actions, he insisted, were holy.
In "Downstate," the play's writer Mr. Norris also asks us to consider the humanity of individuals who committed atrocious crimes. Andy, the victim who confronts Fred, is not having it. He wants to be made whole. When he realizes this is not possible, at least not by way of Fred, he grows angry.
Fred notes that the men reside in a comfortable, if modest, home. They can come and go more or less as they please. And they even receive government benefits for food. Andy suffers every day while this group of abusers seems to have it pretty good.
But, Mr. Norris seems to ask, do they—and should they?