Harry Styles belongs in the modern rock canon. There, I said it.
"Harry Styles might save Rock" read the headline on the cover of the morning newspaper. I rolled my eyes while muttering an expletive about the state of music today. I ignored the rest of the article, grabbed my keys and headed out the door for work. To call me a bit of music snob would be accurate. To call me a Styles skeptic would be an understatement.
Later in the week, a few friends, pop-music aficionados mostly, posted screenshots of the album with heart-eyed emojis on Instagram. Since these are the kind of 30-something friends who have been known to stand alongside 14-year-olds at a One Direction concert and scream: "MARRY ME, HARRY!" I remained unmoved.
It was only in the predawn darkness on my way to the gym that I relented. After all, 4:45 a.m. in a half-empty gym is as good a time and place as any to check out new music, no matter how bad it might be. My workout playlists tend to be pretty eclectic: NPR podcasts next to Nicki Minaj's "Pink Print," "Dear Evan Hansen" show tunes bookended by old Kanye and South American rap, Leon Bridges' "Coming Home" intermixed with a sprinkle of Gregorian Chant. (Nothing helps represent spiritual angst quite like trying to max out your leg press with an abbey full of monks chanting in your ears at full volume!) But really, anything sounds good if it will drown out the gym's terrible Top 40 mix and the grunts of the dudes in bro tanks mean mugging the mirror—right?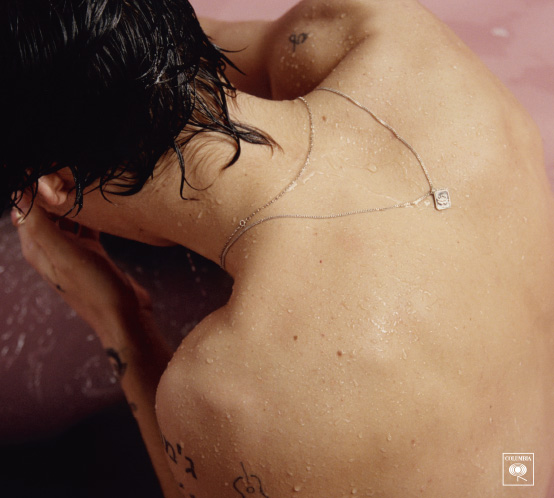 So while I wait for the spray-tanned guy ahead of me to vacate the squat rack, I pull up Styles' album on Spotify. I'm not expecting much, at best I'm hoping for some fizzy One Direction style pop earworms to get me through my workout. To say I was blown away by the 10 songs that followed does not do justice to the 23-year-old's self-titled, first solo album. Not in the least.
The lead track, "The Sign of the Times," immediately brought me in for a closer listen. I fell into that slow-motion, sidetracked-by-something-awesome time warp, where everything slows down around you—like driving in a city and seeing an amazing mural out of the corner of your eye. I perked up and listened closer, turning up my earbuds to hear the complex interweaving of emotional honesty and compelling guitar licks. When the second song, "Sweet Creature," began, I knew this was something special: Sweet creature/ When I run out of rope, you bring me home/ You bring me home.
"Harry Styles" has a '70s, tender space-rock feel, but with enough of its own vibe that it can stand on its own alongside contemporary guardians of the rock flame like Dan Auerbach, Father John Misty, Ryan Adams and Jack White. The album avoids the pitfalls succumbed to by many boy-band-turned-solo-acts. There are no references to clubs or private planes. No cross-genre artists featured to boost sales with a group outside his own following. There are no remixed covers that ruin good songs written by people more talented than he is. He does not try to overdo it. The album comes across as emotionally authentic and searingly honest.
What is left is an album that is just as tender and raw as the album cover illustrates. The image of a naked Styles in a bathtub filled with pink water is stark, evoking heartbreak or overdose, literally dripping with hurt and vulnerability. The songs display a dizzying diversity in style and composition. It begins with the soaring, other-worldly, Queen-inspired "Sign of the Times." Then it goes to the the breezy, summer rock jam "Carolina" to the hard rock "Kiwi." The theme of sifting through through the ashes of a painful relationship permeate. You get the sense that a hungover and self medicating Styles is alone in a hotel room unsure what to do with his day in the wake of the relationship that was. I just left your bedroom/ Give me some morphine/ Is there any more to do?
"Harry Styles" is a welcome addition to the modern rock canon, filled with grit and certainty that invites the listener into his pain without shoving your face in it. This album is so convincing and so well done, that it made me realize that Harry Styles wasn't becoming a rockstar while I was lifting weights—he always was one.
This album is so good, in fact, that it made me realize that I needed to do something, I needed to apologize. So here it is.
Dear Harry Styles,

I'm sorry for grunting and mean mugging you when I heard your name said aloud previously. You deserve all the accolades that are undoubtedly coming your way for this impressive and wide-ranging album. If you happen to find yourself in a cheap gym in Milwaukee before sunrise, I'd like to buy you a wheatgrass shot.

With gratitude,

Bro. Matt.