What's behind hip-hop's religious revival?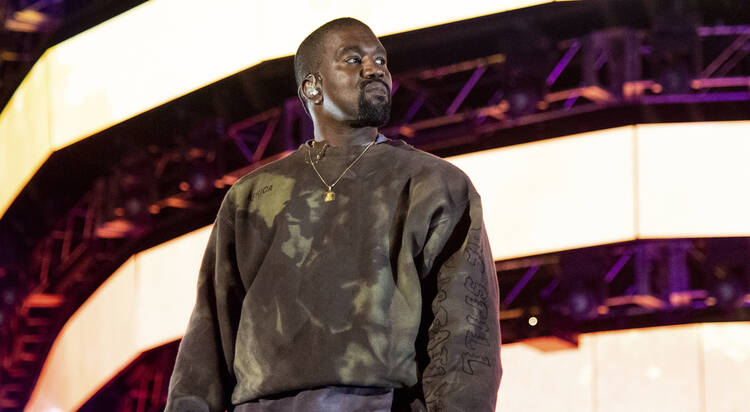 This April 20, 2019 file photo shows Kanye West performing at the Coachella Music & Arts Festival in Indio, Calif. West has unveiled his "Jesus Is King" IMAX film featuring a gospel choir performing at artist James Turrell's dramatic Roden Crater in the Arizona desert. West showed the 35-minute film off to fans at an event Wednesday night at The Forum in Inglewood, Calif. (Photo by Amy Harris/Invision/AP, File)
There is no chapel in Rockefeller Center, but at least twice last year, "Saturday Night Live" was transformed into Sunday morning at a Baptist church. In February, Kanye West, in anticipation of his upcoming album, "The Life of Pablo," closed the sketch comedy show with a surprise performance of the album's lead track—flanked by a gospel choir, R&B singer Kelly Price, pastor Kirk Franklin and the year's breakout star, Chance the Rapper.
West begins by singing a riff on the Prayer of St. Francis:
Deliver us serenity
Deliver us peace
Deliver us loving
We know we need it.
Next, Kelly Price interrogates God on the problem of evil, asking:
So why send oppression not blessings?
Why, oh why'd you do me wrong?
You persecute the weak
Because it makes you feel so strong.
Chance the Rapper spits a line about St. Michael the Archangel ("foot on the devil's neck"), whose prayer card he carries with him. Finally, Kirk Franklin concludes the song with a spoken prayer:
Father, this prayer is for everyone that feels they're not good enough / This prayer's for everybody that feels like they're too messed up / For everyone that feels they've said "I'm sorry" too many times / You can never go too far when you can't come back home again.
All of this, just after your Weekend Update.
To bookend 2016, "S.N.L." had Chance the Rapper back on (the main attraction this time) to perform his song "Blessings," a rap lavished in religious language and themes. In between verses, Chance, in his red Christmas overalls, jumping around like a kid playing hopscotch, sings "Happy birthday Jesus, happy birthday Jesus…. I like to say your name on network television."
Rap got religious in 2016. Its beats and bars were baptized by holy lyricism and gospel samples. 
This display of public theology wasn't just a fluke on "S.N.L." Rap got religious in 2016. Its beats and bars were baptized by holy lyricism and Gospel samples. Was it a conversion? A confirmation? Maybe you were told that hip-hop culture was gang culture, that rappers were drug dealers and misogynistic and ready to lash out. You were told that millennials weren't going to church anymore, that your grandson would wear the flannel you bought him on sale at Macy's but would cringe and stare at his shoes if you brought up Jesus.
What happened? Should we have seen it coming?
Like a beast crying out in the wilderness, Kanye rapped 12 years ago:
They say you can rap about anything except for Jesus. / That means guns, sex, lies, videotape / But if I talk about God my record won't get played, huh?
And if Kanye said it, you can bet it was probably true. For much of the 2000s, rap music garnered mainstream attention and a fair amount of radio play. But it had been significantly sanitized for popular consumption—the type of music that served as background music for beer-pong-playing frat bros. Lil Wayne epitomized this trend, consistently topping charts with witty one-liners and chest-thumping anthems about being the best rapper alive. And there was 50 Cent, whose anthem "In Da Club" was bumping at high school proms from the Bronx, where hip-hop was born, to small-town Ohio, where I grew up.
Then Kanye West, as he has become accustomed to doing, redefined the genre. After hitting what many artists would consider the mountaintop of music, West's life descended into deep valleys of sorrow. His mother died unexpectedly due to complications from plastic surgery in 2007. A few months later, he called off his engagement to his longtime girlfriend. Finally, he became the target of public hatred after taking the stage and the microphone during Taylor Swift's acceptance speech at the MTV Video Music Awards to air his objections to her win for Best Female Video ("Taylor, I'mma let you finish, but Beyoncé had one of the best videos of all-time!" ).
In the midst of all of this, West poured his emotions into his record "808s & Heartbreak," an album that may not be his most impressive technical achievement but may prove to be the most influential. Today, it is perfectly normal (and commercially viable) for rappers to express their emotions. Drake is just one of several artists who made a name for himself morosely rapping about the traps of love and fame. But it wasn't always that way. Shea Serrano, a staff writer at The Ringer and the author of The Rap Year Book, highlights "808s & Heartbreak" as a watershed moment in rap history. "After 2009, that's when it really started being a thing where rappers were rapping about their emotions," Serrano told me. And with emotions, religious feelings would surely follow. "Once that became okay, it became okay to talk about more stuff that's going on inside your head."
It was not just emotional rapping that led to rap's religious revival—it was suffering. While promoting the album, West explained, "'808s' came from suffering a multitude of losses at the same time—it's like losing an arm and a leg and having to find a way to keep walking through it." West became hip-hop's Christ figure, taking the ugliness of suffering, diving deeply into it and from there allowing for a resurrection and reunion with the divine.
West became hip-hop's Christ figure, taking the ugliness of suffering, diving deeply into it and from there allowing for a resurrection and reunion with the divine. 
West would go on to release "My Beautiful Dark Twisted Fantasy," his most technically perfect and complete album, and "Yeezus," both of which hinted at religious themes of sin and redemption. "The Life of Pablo," released in 2016, is named for the apostle Paul.
In 2009, while the world was taking in Kanye's "808s," a young rapper from Compton decided to drop the stage name he adopted as a teenager in favor of his legal name, because he wanted people "to know who I am as a person and what I represent." That name was Kendrick Lamar, the second person of hip-hop's holy trinity.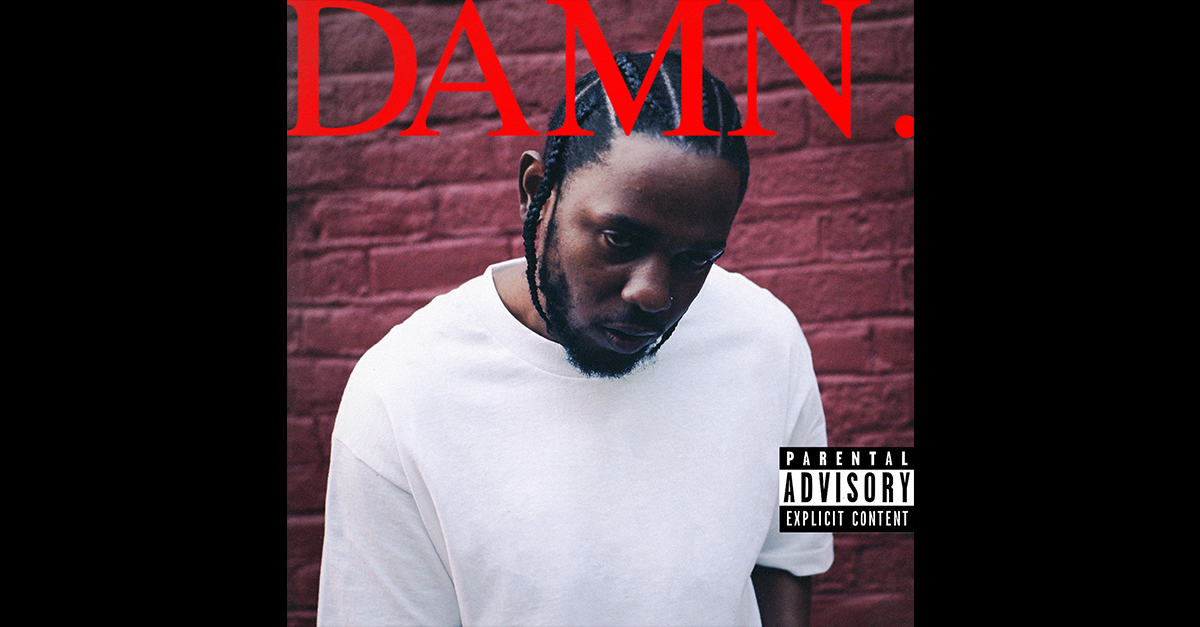 Lamar, today's nearly undisputed king of rap, has sent music bloggers scrambling to explain his theology of hope and justice. The hook to his song "Alright" can be heard at Black Lives Matter protests across the country. It has become an anthem for protests against police violence but is anchored in eschatological trust in the arc of God's justice ("Hard times like, 'God!'/ Bad trips like, 'Yeah!'... But if God got us, then we gon' be alright"). His biographical album, "Good Kid, M.A.A.D City," has been compared to Augustine's Confessions for its achievement of theology as personal biography.
Religion, if ever referenced in radio music, is usually couched in vague allusion, like slipping in a drop of medicine into your wine. Conversely, self-proclaimed Christian music, of which there has always been a hip-hop subgenre, is incapable of integrating any life experience without reminding the listener bluntly and matter-of-factly of God's role, as if God were a jealous friend lurking behind every story that you told.
Lamar's lyrics soar above the line between sacred and the profane often held up as a standard for religious subjects. Some might find his language offensive at times. But many would have been appalled to learn that Caravaggio used prostitutes from the street for his subjects when painting the Virgin Mary. As Madeleine L'Engle prophetically said, "If it's bad art it's bad religion, no matter how pious the subject." Conversely, if it is good art, is it not good religion, too, no matter how irreverent the subject?
"[I'm] not a person that's putting it in your head—'believe this, believe this, believe this,'" Lamar told MTV in 2011. "I'm going through something, I'm a sinner and I'm trying to figure myself out. It never sounds preachy. It sounds like a person who's really confused by what the world has put upon him." There is a reason that Lamar speaks to a generation that has largely given up on organized religion—perhaps the same reason that the religious style of Pope Francis transcends religious ties. It is the style of a leader who also once famously said, "I am a sinner," who said that the church is called to bring people to Jesus by attraction and accompaniment, not by preaching at them.
Some might say this is all well and good, but is it building up the Christian community (read: filling the pews)? But devotional, faith-based art has always been about moving the heart. What happens to a soul after that is between an individual and God.
It was one of those lazy summer mornings, where the dollar van horns outside my window on Flatbush Avenue slowly wake me up, when I heard a peculiar sound coming from my kitchen. "How great is our God? Sing with me how great is our God?" I thought maybe one of my roommates, who is a nondenominational Christian, was waking up with the same praise and worship music I grew up with in my Catholic youth group. I opened my bedroom door to find my secular Jewish roommate singing along. It turned out he was halfway through Chance the Rapper's latest mixtape.
No artist had a better 2016 than Chance the Rapper. His ascent to the epicenter of rap was complete after his work on West's album and the release of his third mixtape, "Coloring Book," a project that helps you to see where God has supported—and is supporting you—throughout your life ("I know the difference in blessings and worldly possessions/ Like my ex girl getting pregnant/ And her becoming my everything").
Religious influence in popular music, from Bob Dylan to Johnny Cash to Bruce Springsteen, usually draws from the depth that artists engage from a position of suffering. Rarely is God cited as the source for a melody's joy. While West and Lamar's music focuses heavily on sin and redemption, Chance the Rapper fills out hip-hop's bend toward religion with an injection of rejoicing.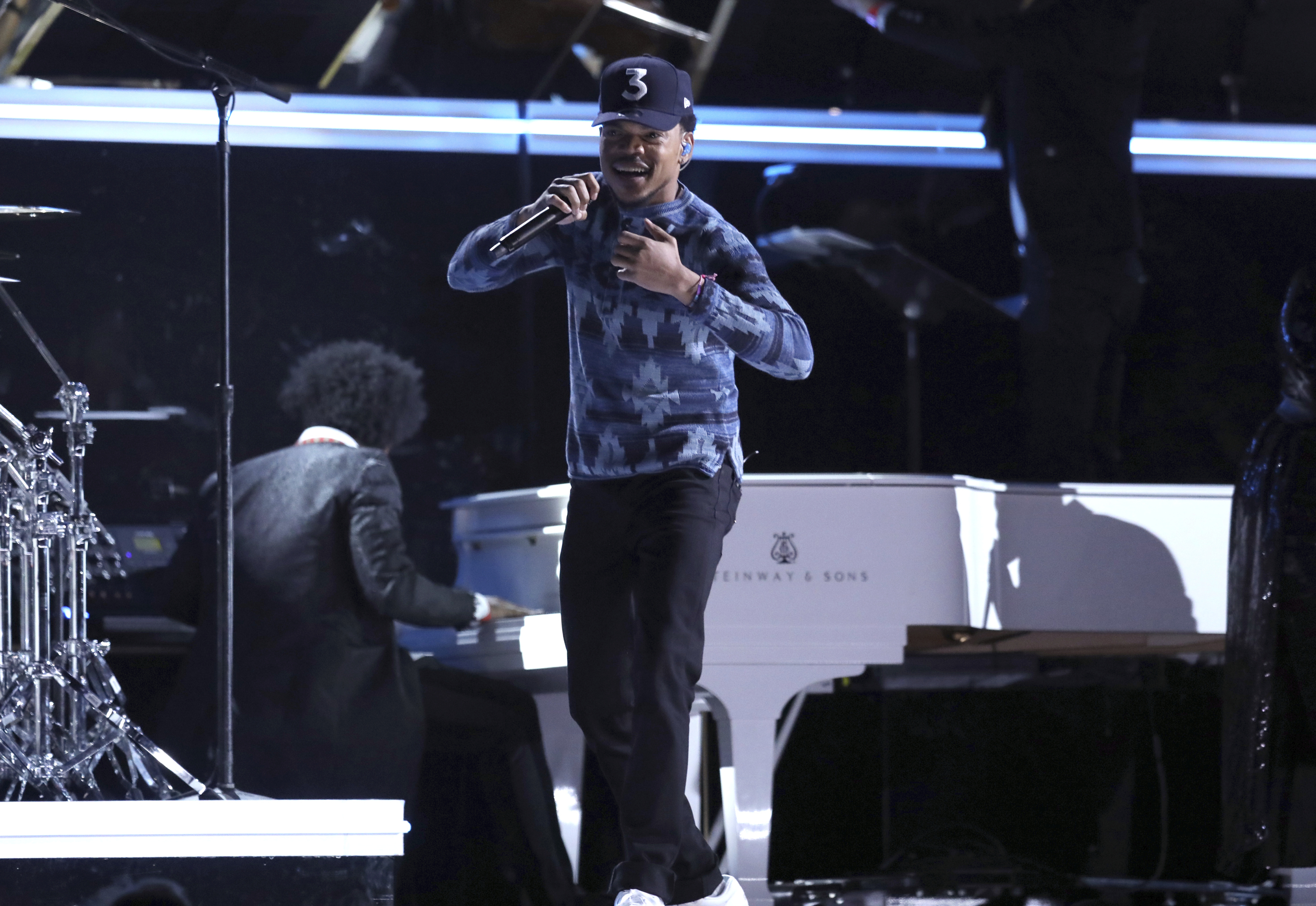 The song "Blessings (Reprise)" looks hopefully toward a Christian utopia, like the land of milk and honey that the burning bush promised Moses ("I speak of promised lands/ Soil as soft as momma's hands/ Running water, standing still/ Endless fields of daffodils and chamomile"), and celebrates his relationship with God ("I speak to God in public, I speak to God in public/ He keep my rhymes in couplets/ He think the new s--- jam, I think we mutual fans"). Chance embodies the First Letter of Peter's instruction to "Always be ready to give an explanation to anyone who asks you for a reason for your hope."
One of rap music's defining features is its rebellious edge. As Lindsay Zoladz noted at The Ringer, "In an age overloaded with irony, Chance's beliefs in God, religion, and the capacity for social change are presented so earnestly that they come off as rebellious." And while big networks and record labels are often hesitant to engage taboo subjects like religion, rappers need labels less and less thanks to streaming services like Spotify and TIDAL. Kanye West continued to work on and update "The Life of Pablo" on streaming services well after it was released. "Coloring Book" made history by being the first project ever to land on the Billboard charts due entirely to streaming.
The church needs artists. It is an obvious truth, and St. John Paul II made note of it in his "Letter to Artists," specifically noting the role of the musician: "In song, faith is experienced as vibrant joy, love, and confident expectation of the saving intervention of God." Well, church, may I introduce you to Misters West, Lamar and Chance?