Religious leaders including James Martin, S.J., testify on global rise of hate crimes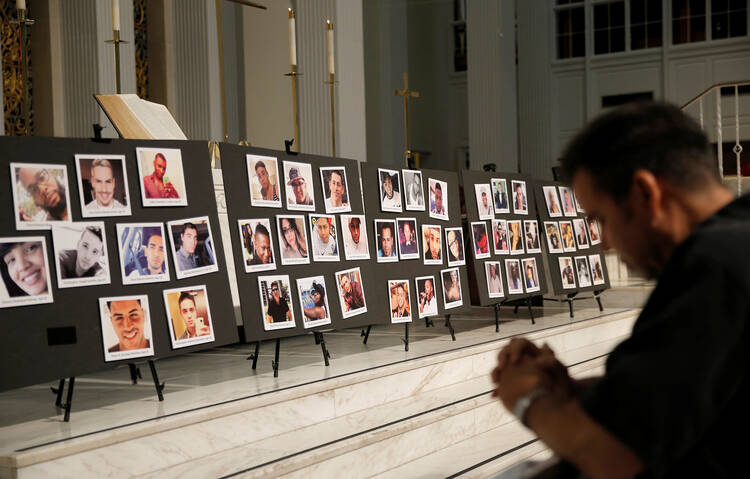 A man prays on June 15, 2016, in front of photographs of victims of the mass shooting at an L.G.B.T. nightclub in Orlando, Fla., during a vigil at a nearby church. The mass shooting was one of the hate crimes discussed on July 16 at a hearing held by the Helsinki Commission. (CNS photo/Jim Young, Reuters) 
A group of U.S. religious leaders, including James Martin, S.J., testified on Tuesday to a group of lawmakers who serve on the Helsinki Commission on how people of faith can help combat hate crimes, reports of which have risen in recent years in the United States.
"Effectively countering hate crimes requires a comprehensive effort bringing together government institutions, criminal justice systems, civil society actors, and international organizations," reads a press release from the commission. The Helsinki Commission, founded in 1976 and officially called the Commission on Security and Cooperation in Europe, promotes "human rights, democracy, and economic, environmental, and military cooperation" among its 57 member countries, according to its website. "Religious actors and interfaith institutions play an important role in promoting safe and inclusive societies and reducing violence, hostility, and discrimination," the press release continued.
Father Martin said that the best way for people of faith to combat hate crimes is to look at instances of prejudice and discrimination in their own houses of worship.
In recent years, the number of hate crimes reported to U.S. law enforcement has risen. According to a 2018 report from the F.B.I., the number of crimes motivated by race, ethnicity, religion and sexual orientation reported by local law-enforcement agencies in 2017 rose by 17 percent from 2016. (Critics of the report point out that because the F.B.I. relies on voluntary self-reporting by law-enforcement agencies, the actual number of hate crimes may be much higher than the official data suggests.) In April, the U.S. House Judiciary Committee held a hearing about hate crimes and the role that social media plays in promoting white nationalism. While President Trump has condemned some high-profile hate crimes, critics contend that he has signaled support for white nationalists, such as when he said there were "very fine people, on both sides" of a 2017 clash between white nationalists and counterprotesters in Charlottesville, Va.
In a pre-recorded video, Father Martin, an editor at large of America, said that the best way for people of faith to combat hate crimes is to look at instances of prejudice and discrimination in their own houses of worship. He offered three ideas on tackling issues of bigotry in faith communities.
"First, by taking a clear look at how their organizations speak of, and minister to, members of marginalized groups. Second, by reaching out to these groups, specifically to make them feel welcomed into what are, after all, their churches too. Finally, by taking every opportunity to stand with them publicly, to advocate for them, to fight for them, even at the risk of losing some parishioners," he said.
Attacks motivated by religious hatred have caused alarm among some world leaders in recent months.
He pointed to what he said were examples of prejudice in the Catholic Church, including a statement from the U.S. Conference of Catholic Bishops in the hours following the June 12, 2016, shooting at an Orlando, Fla., bar catering to the L.G.B.T. community that left 49 people dead. The statement, Father Martin pointed out, did not include a specific mention of the group targeted in the attack, and only a handful of U.S. bishops offered their own statements following the shooting.
"As a thought experiment, imagine if 49 people from a particular ethnic group were massacred, and the name of that ethnic group was omitted from public statements. Moreover, in the wake of the U.S. bishops' statement, only a handful of individual Catholic bishops expressed any sympathy at all. The vast majority said absolutely nothing. Even in death the L.G.B.T. community remained invisible to much of the church," he said.
Rabbi Hazzan Jeffrey Myers of the Tree of Life Synagogue in Pittsburgh was also scheduled to testify. Last October, a gunman killed 11 people gathered in the synagogue, one of many recent attacks targeting Jews around the world. A study released earlier this year reported that anti-Semitic hate crimes are on the rise, particularly in Europe. Researchers at Tel Aviv University documented nearly 400 cases of assault targeting Jews in 2018, with more than 25 percent of the violent attacks occurring in the United States. Crimes targeting U.S. Jews have continued into 2019. In April, a 19-year-old man killed one person and injured three others, including a rabbi, in an attack on a synagogue in Poway, Calif.
In addition to synagogue shootings, other attacks motivated by religious hatred have caused alarm among some world leaders in recent months. A shooting at two mosques in New Zealand that left more than 50 people dead also caused an international outcry and denouncements of religious violence earlier this year, and on Easter Sunday, more than 200 people were killed in bombings targeting Christian churches in Sri Lanka.
Other individuals scheduled to testify were Radia Bakkouch, head of the Paris-based Coexister, which promotes interfaith dialogue among young people; Alina Bricman, the president of the European Union of Jewish Students; Ursa Ghazi, the director of policy and programs of America Indivisible, a group that fights bigotry against Muslims; and the Rev. Aaron Jenkins, a vice president at The Expectations Project, a group that seeks to connect houses of worship to public schools in need of assistance.