Catholic charity leaders alarmed by Republican efforts to tie debt ceiling debate to work requirements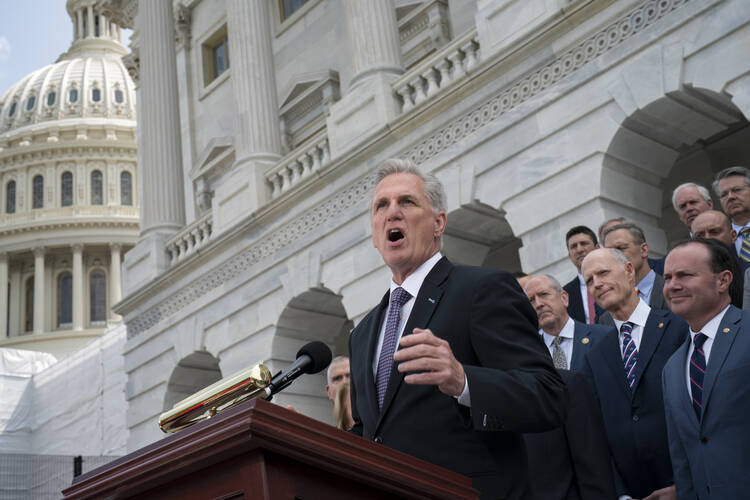 Speaker of the House Kevin McCarthy, R-Calif., is joined by Senate and House Republicans as he leads an event on debt limit negotiations at the Capitol in Washington, Wednesday, May 17, 2023. McCarthy and President Joe Biden have tasked a handful of representatives to try and close out a final deal, with negotiations underway. (AP Photo/J. Scott Applewhite)
Leaders representing the largest Catholic charitable organizations in the nation urged political leaders to retain federal funding for social services amid the ongoing standoff between President Biden and congressional Republicans over raising the debt ceiling.
"As Congressional leaders and the President continue to negotiate a debt ceiling agreement, it appears that eliminating food assistance, medical coverage and other family supports for those most in need tops the list of programs that could be cut," Mary Haddad, R.S.M., president and C.E.O. of the Catholic Health Association, said in a statement on May 18.
Treasury Secretary Janet L. Yellen has warned that the government could run out of money to pay its bills as soon as June 1 unless lawmakers move ahead with raising the limit on the amount of money the government is allowed to borrow, which currently stands at $31.381 trillion.
Mr. Biden has previously said he would not negotiate over the debt ceiling. But Speaker of the House Kevin McCarthy and his Republican allies have said they will not agree to raising the debt ceiling unless cuts in spending accompany any bill. The two sides have been meeting this week to seek a resolution.
While Democrats favor a "clean" bill that would only raise the debt ceiling, Mr. McCarthy has said Republicans support a compromise that would both raise the debt ceiling and add work requirements to federal assistance programs related to food insecurity and health care.
That rankles some Catholic leaders.
Sister Haddad said that tying work requirements to health care programs would have a particularly detrimental effect.
"The medical community has long known that tying work requirements to safety net benefits is a misguided and ineffective policy. Most major medical groups, including the Catholic Health Association, one of the largest providers of care to Medicaid populations, oppose them," she said.
The heads of Catholic Charities USA and Catholic Relief Services, plus representatives from the U.S. Conference of Catholic Bishops, meanwhile, wrote a letter to lawmakers, stating, "A just framework for future budgets cannot rely on disproportionate cuts in essential services to poor and other vulnerable persons."
The letter was signed by Bishop Borys Gudziak, head of the bishops domestic justice committee; Bishop David Malloy, head of the international justice committee; Sean Callahan, president of Catholic Relief Services; and Donna Markham, O.P., the president and C.E.O. of Catholic Charities USA. It draws heavily from another letter the U.S.C.C.B. sent to lawmakers during another political battle over the debt ceiling in 2011.
The letter, dated May 17, acknowledges the challenge of "get[ting] our financial house in order," a process the signers say includes "answering the call of present economic difficulties and uncertainties; fulfilling the demands of justice and moral obligations to future generations; controlling inflation, future debt, and deficits; and protecting the lives and dignity of those who are poor and vulnerable."
But the letter also includes "moral criteria to help guide difficult budgetary decisions."
They include assessing whether a budget decision "protects of threatened human life and dignity," an examination of how a budget addresses individuals "who are hungry and homeless, without work or in poverty" and respect the "shared responsibility" of government leaders "to promote the common good of all, especially ordinary workers and families."
"It is imperative that we, as a society, exercise sound vigilance over the welfare of our economy, and that we responsibly steward our resources in the interests of those who are vulnerable and struggling now as well as future generations," the letter states. "In so doing, this budget debate must keep before it those who are jobless, hungry, fleeing violence, homeless or poor."
Catholic organizations that have been active in politics also weighed in on the debate over the nation's finances.
CatholicVote, an independent political advocacy group, published an essay earlier this year warning about the effects of government debt on future generations.
"Pope Benedict XVI identified high levels of both individual and national debt with a grave moral disorder," wrote Erika Ahern on Feb. 28. "His warnings, grounded in the social teaching of the Catholic Church, should inspire American lawmakers as they confront the current debt ceiling and consider solutions."
The Catholic social justice lobby Network wrote a letter to President Biden on Monday, praising him for voicing opposition to proposed spending cuts.
"As Catholics, we believe that those who have the most must contribute to the common good. It is immoral for our national debt to be shouldered by children, veterans, seniors, and those struggling to put food on the table and a roof overhead," wrote Mary J. Novak, executive director of Network.