New poll: QAnon embraced by 11 percent of white Catholics and 15 percent of all Americans
According to a new P.R.R.I.-I.F.Y.C poll, 15 percent of U.S. adults—including 16 percent of Hispanic Catholics and 11 percent of white Catholics—agree with a core belief of the QAnon movement: "The government, media, and financial worlds in the U.S. are controlled by a group of Satan-worshipping pedophiles who run a global child sex trafficking operation." Another 46 percent of U.S. adults "doubt" QAnon claims, and 41 percent reject them outright.
The QAnon movement, which gained strength during the presidency of Donald J. Trump, has shared anonymous web postings from a figure named "Q." Reuters reported in April that QAnon posts and videos have also included false claims that Pope Francis is dead.
The new poll also asked if respondents believed a "storm" would soon sweep away those in power and "restore the rightful leaders," and if "true American patriots may have to resort to violence in order to save our country."
In January, a poll released by the Survey Center on American Life also found that 15 percent of U.S. adults shared QAnon core beliefs. In that poll, another 41 percent said they were unsure of QAnon claims, while 42 percent rejected those claims as inaccurate.
---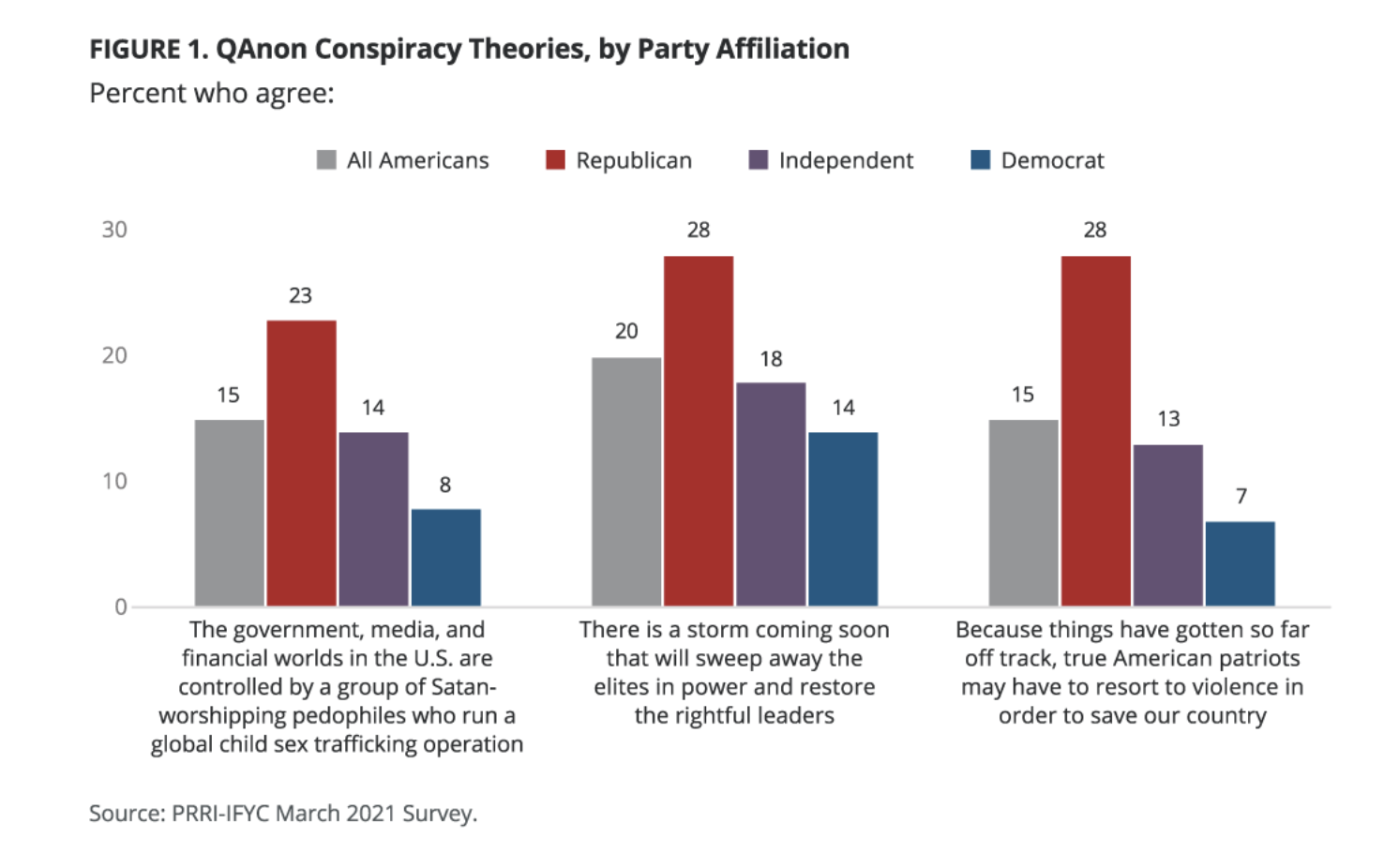 ---
Among Republicans in the latest poll, 23 percent said they agreed with the QAnon pedophile conspiracy theory, as did 25 percent of white evangelical Protestants. Among respondents who said they most trusted what the pollsters call "far-right news outlets such as OANN and Newsmax" (but not including Fox News), 40 percent agreed with the QAnon theory, far higher than for any other group identified in the survey.
The relatively low number of QAnon believers among white Catholics may be related to their news consumption habits and their educational attainment. The authors of the study announcing the results of the poll note that "Americans without a college education are three times as likely as Americans with a college education to be QAnon believers (18% vs. 6%)."
In fact, when the authors tried to isolate characteristics of QAnon believers, using a logistic regression model, it found little to differentiate major religious groups. "Accounting for everything else," they write, "Hispanic Catholics (2.9) and Hispanic Protestants (2.7) are about three times more likely than the religiously unaffiliated to be QAnon believers. Similarly, white Catholics (1.8), white evangelical Protestants (1.6), and white mainline Protestants (1.6) are nearly twice as likely as the religiously unaffiliated to be QAnon believers." But those who trusted far-right news outlets more than any other information sources were 8.8 times more likely to be QAnon believers than were those who trusted the major broadcast networks the most.
The survey was conducted between March 8 and 30 by P.R.R.I. and I.F.Y.C., using a random sample of 5,149 U.S. adults and an additional 476 who were recruited by using opt-in survey panels. The full sample was weighted to be representative of the U.S. population.
More from America: