Here's what you need to know about Poland's abortion ban — and the protests against it.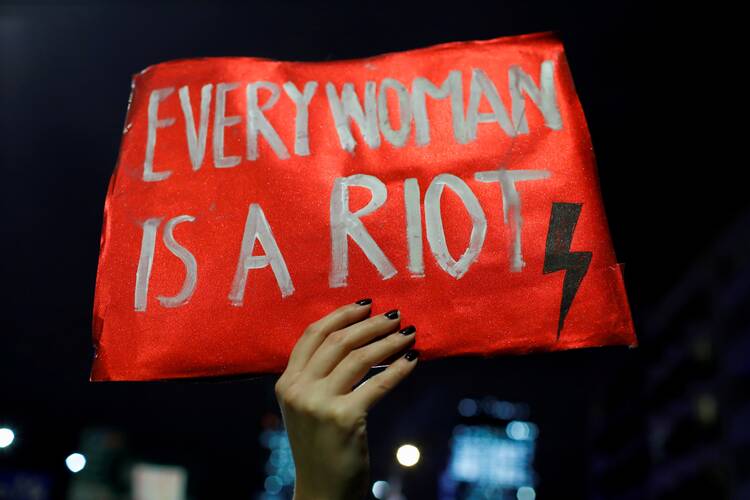 A woman in Warsaw, Poland, demonstrates Jan. 27, 2021, against the government's near-total ban on abortion. On Jan. 28, 2021, U.S. President Joe Biden rescinded a policy that prevented nongovernmental organizations receiving U.S. funding from promoting abortion overseas. (CNS photo/Kacper Pempel, Reuters)
Protests erupted throughout Poland in October when the federal Constitutional Tribunal ordered a near-total ban on abortion. Since then, thousands of Poles, defying the country's Covid-19 safety regulations, have joined street marches protesting the ruling, and Poland's bishops' conference called for peace after protestors disrupted Masses and vandalized churches.
The modified abortion law went into effect on Jan. 28. Poland's constitutional court on Jan. 27 issued a justification of a controversial October ruling that bans abortions in cases of fetuses with congenital defects, including fatal fetal abnormalities. The government then published the court's ruling in a government Journal of Laws. Those steps were the formal prerequisites required for the new law to enter into force.
Members of Poland's ruling Law and Justice party had often sought the new restriction. They argued that it was a way to prevent the abortion of fetuses with Down syndrome, which have made up a significant share of the legal abortions in Poland. 
"The state can no longer take a life away only because someone is sick, disabled, in poor health," lawmaker Bartlomiej Wroblewski told Reuters.
Women's rights activists are demanding a full liberalization of the abortion law and the resignation of the government.
The weeks of protests included many attacks on Catholic churches. Archbishop Stanislaw Gadecki of Poznan, the president of the Polish bishops' conference, acknowledged that the tribunal's ruling "has caused unusually emotional reactions" but that "the vulgarities, abusive daubings, service disruptions and profanations seen in recent days are not a proper form of action in a democratic state, however much they may help certain people relieve their emotions."
Women's rights activists consider the new law to be draconian. The protesters are demanding a full liberalization of the abortion law and the resignation of the government.
On Sunday, Oct. 26, protestors entered churches in Warsaw, Krakow, Poznan and other cities during Mass. Even more protestors waved signs decrying the new law outside of both churches and government buildings, with some even vandalizing and spray-painting walls calling for the new ruling to be rescinded.
Archbishop Gadecki urged protestors to "express their views in a socially acceptable way, respecting every person's dignity." He also cited St. John Paul II's 1995 encyclical "Evangelium Vitae," which enumerated the unborn's right to life, and Pope Francis' latest encyclical "Fratelli Tutti," which affirmed that teaching.
He called for protestors and lawmakers to have further talks "on how to protect the right to life and women's rights."
The protestors have continued marching, often blocking streets and roads and shouting obscenities aimed at the government. Some protestors dressed up as characters from the television series "The Handmaid's Tale," in which a fascist United States has stripped away almost all rights from women and forces them to bear children against their will.
Poland remains one of the most Catholic countries in the world. Nearly 93 percent of its 38.3 million people identify as Catholic. It is a place where the church has held considerable political and cultural influence—even under Soviet rule. Polish native Karol Wojtyła further boosted the Polish church when he was elected in 1978 to become Pope John Paul II.
Protestors have continued marching, often blocking streets and roads and shouting obscenities aimed at the government. Some dressed up as characters from the television series "The Handmaid's Tale."
Those strong Catholic roots have contributed to some of the most restrictive abortion laws in Europe. In 1993, abortion was outlawed except in cases of serious threat to the health of a pregnant woman, when a pregnancy resulted from rape or incest or when a major fetal impairment could be found. In all three instances, physicians and lawyers must attest to the validity of the claims before a pregnancy can be terminated.
The tribunal's decision on Oct. 22 further limits access to abortion. Of the 1,100 abortions in Poland in 2019, 26 were performed because of factors other than the detection of severe disabilities. Under the new law, less than one percent of the cases in 2019 would qualify for legal abortions.
Doctors in Poland also have the legal right to refuse to perform an abortion.
According to Reuters, reproductive rights activists in Poland say that, even before the tribunal's ruling, thousands of women would "terminate pregnancies illegally or travel abroad, mainly to Germany, Slovakia and the Czech Republic, where rules are far less strict." Dunja Mijatović, the commissioner for human rights at Council of Europe, one of the leading human rights organizations in the continent, claimed that this decision will increase the number of potentially dangerous illegal abortions.
The street demonstrations over abortion have continued despite heightened tensions because of the continuing spread of Covid-19. Just two days after the court ruling, President Andrzej Duda tested positive for Covid-19 and was forced to go into quarantine.
Poland, which largely avoided the virus during the first wave, has now been hit hard as over 215,000 cases have been confirmed over the past week alone. Over 4,000 Poles have already died because of Covid-19, numbers which are expected to increase because of the nation's poor public healthcare system. According to the 2018 Euro health consumer index, Poland ranked 32 out of 35 European countries.
With reporting from The Associated Press
More from America: