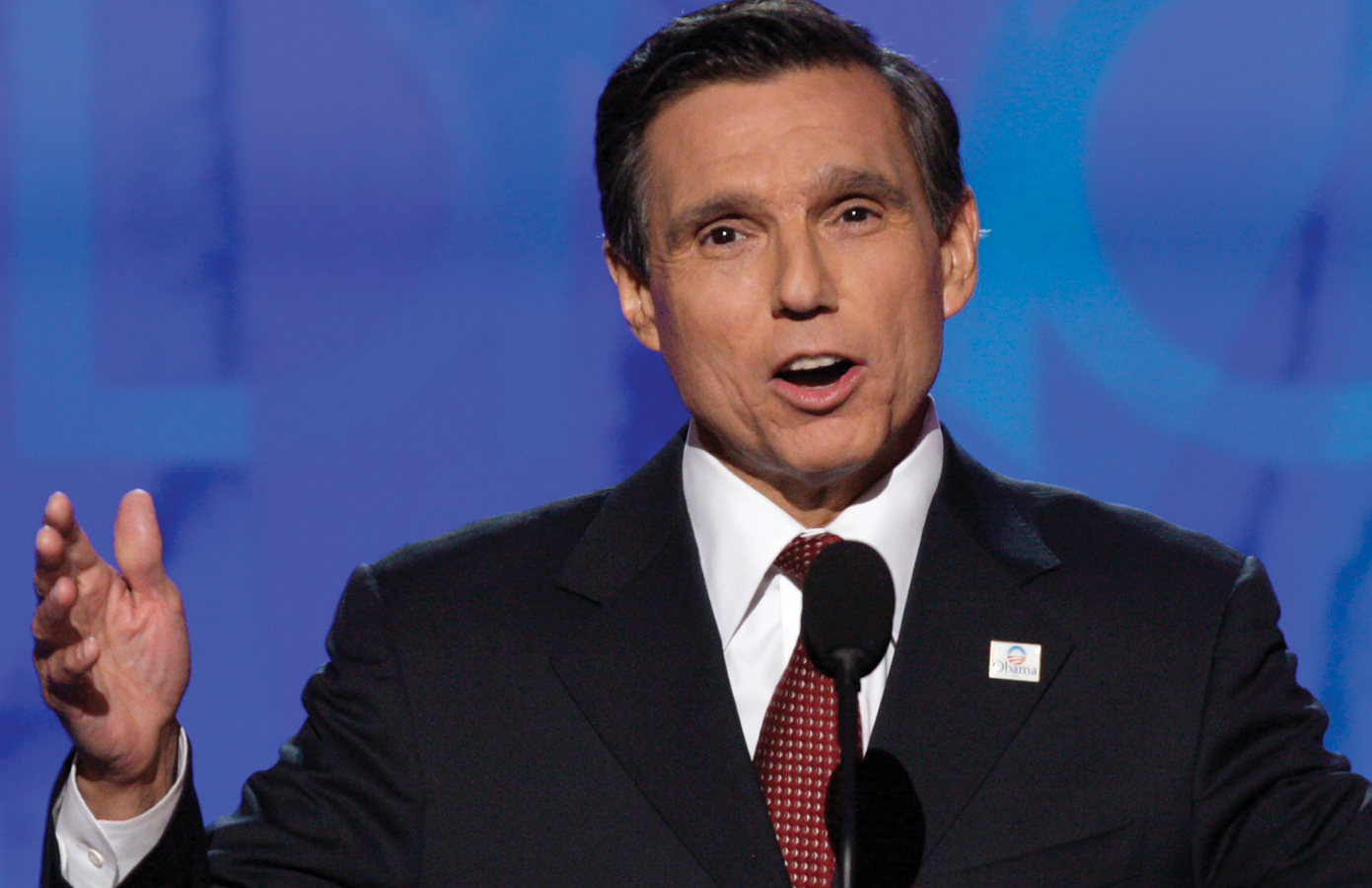 Federico Peña made history as the first Hispanic mayor of Denver. Now, he is imagining a better church.
"Imagine a Great City." That campaign slogan, echoing the John Lennon song "Imagine," helped Federico Peña to win election as the first Hispanic mayor of Denver in 1983. The Peña campaign appealed to Latino, Black and women voters who felt shut out of the city's political establishment, even as his proficiency in economic policy appealed to the business community. Mr. Peña has been active in civic life ever since, with his national profile at its brightest when he served as secretary of transportation and secretary of energy in the 1990s, both under President Bill Clinton, and signed on to Barack Obama's successful 2008 run for president as a campaign co-chair.
Now Mr. Peña is back in Denver, focusing on the Latino neighborhoods on the Northside and Westside that formed his base in city politics. Along with his wife, Cindy Peña, he has helped establish free health clinics in neighborhoods that have been the most gravely affected by the Covid-19 pandemic. In April, Gov. Jared Polis of Colorado appointed him chair of the Governor's Council on Economic Stabilization and Growth, which is guiding the state's economic recovery from the pandemic.
Mr. Peña has long been a champion of his city's common good, but surprisingly little attention is given to his Catholic faith. He says that from childhood, he has learned to love the contemplative aspects of the Catholic faith, especially during difficult times. "I think there were times in my life when I didn't think as much about God. I wouldn't be surprised if during those times I made a lot of mistakes," he says.
"I think there were times in my life when I didn't think as much about God. I wouldn't be surprised if during those times I made a lot of mistakes."
His faith has also led to conflict. He has been involved in a years-long struggle with the Archdiocese of Denver to reopen the parish he attended upon his return to Colorado from Washington—Our Lady of Visitation, which he calls "a center for the Latino community"—and he is critical of the church's lack of transparency in closing U.S. parishes.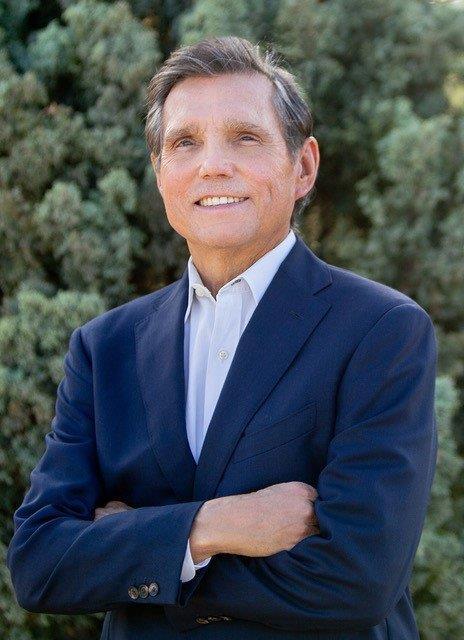 He has also departed from church teaching in public life. Although he says he did not take public positions on state referendums concerning abortion—including the successful drive to amend the Colorado Constitution to ban public funding of abortion in 1984 and the unsuccessful attempt to ban late-term abortions in the state—he told America in an email, "I have long supported a woman's right to choose, especially in cases of rape, incest or when the mother's life is at risk." In 1993, consistent with his drive for inclusiveness in civic life, he became "the first Cabinet secretary in any federal administration to take part in pride week," The Washington Post reported that year. Mr. Peña spoke to federal workers marking Gay Pride in the courtyard of the Department of Transportation.
Now in his 70s, Mr. Peña is still a sharp thinker and dynamic talker. He is an example of the politician as catalyst, igniting enthusiasm and action through his support of equality and inclusion. I met with Mr. Peña to discuss his long career and his new campaign, taken all the way to the Vatican, to save his "little pink church."
The Fight for City Hall
Covering Mr. Peña's 1983 campaign, Phil Nash of Denver's Westword magazine wrote, "Peña pumps out energy like a human dynamo. And that energy draws people—lots of people."
Serving as mayor from 1983 to 1991, Mr. Peña oversaw a flurry of economic development in Denver and the surrounding region, including the controversial construction of Denver International Airport; the 11-mile freeway leading to the airport is named in his honor. (He bashfully told me that he simply refers to it as "The Boulevard.")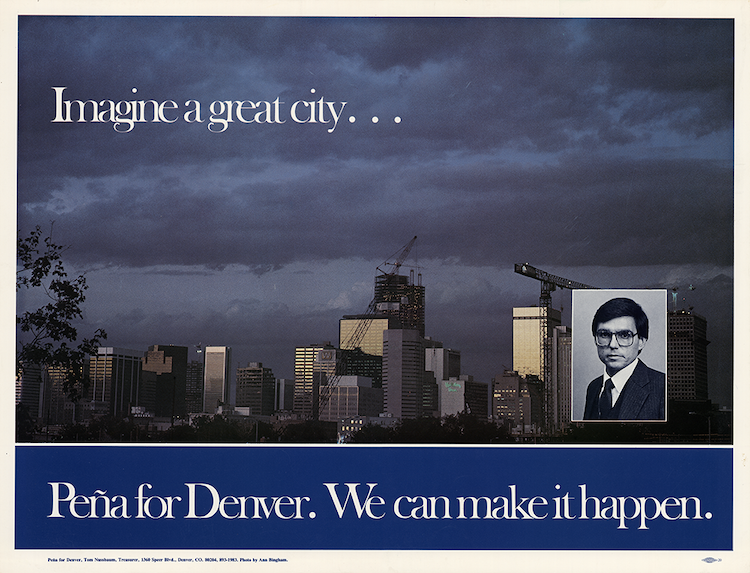 I was only 18 months old when Mr. Peña was first elected, but his 1987 campaign is one of my earliest memories. There was a re-election poster in my godparents' basement in Southwest Denver showing Mr. Peña crossing the finish line of the Mayor's Cup Marathon, his arms raised triumphantly toward the sky. Printed in bold orange letters above his head was one word: "Denver!"
The energetic Latino mayor became a role model to me. He invited our city to imagine a just society where all people were able to contribute regardless of race, gender or sexual orientation.
Other trailblazing Latino mayors ran for office in cities with more sizable Hispanic majorities— Henry Cisneros in San Antonio, for example, where Hispanics made up the majority of the electorate. In Denver, that number was only 13 percent when Mr. Peña first ran, necessitating a broad-based coalition strategy. The Peña campaign garnered endorsements from labor unions, environmental groups, women's rights organizations and even L.G.B.T. voters.
To be sure, Latino voters formed the backbone of the Peña campaign. But he also worked to build support in the African-American neighborhoods of East Denver. He told me that Black churches "let me go and speak to the congregation about running for office or any other issue that I wanted to"—and from the pulpit, as opposed to the parish halls to which the Catholic churches limited him.
[Want to discuss politics with other America readers? Join our Facebook discussion group, moderated by America's writers and editors.]
But Mr. Peña, then a 36-year-old civil rights lawyer and the leader of the Democratic minority in the Colorado House of Representatives, still faced unease over his Mexican-American identity. As Mr. Nash wrote: "There are still some people who say Denver isn't quite ready for Mayor Peña. And they really mean that Denver isn't ready for a mayor so young—and so Hispanic."
But speaking to Mr. Nash, the candidate downplayed the influence of Hispanic identity on his ability to govern the city: "The question I am asking is if Denver is ready for a person who has ideas, who has a track record, who is able, who has integrity, who is going to work hard, who is creative, who is thinking about the future, who is going to provide leadership for Denver in the '80s, who happens to be Hispanic."
Mr. Peña finished first, with 36 percent, in the May primary, easily winning Hispanic neighborhoods but showing strength throughout the city and doing especially well with newer Denver residents. Mayor Bill McNichols, the 73-year-old incumbent who had been in office for 14 years, finished a distant third, with the other run-off election spot going to Denver's former District Attorney Dale Tooley. Mr. Peña won the run-off with 51.4 percent of the vote.
In his victory speech Mr. Peña said: "I think we have set history in this country tonight. All the rules in politics have been broken." Time magazine reported that young people cruised the streets of downtown Denver in their cars, chanting, "Chicano Power!"
When Mr.  Peña won, young people cruised the streets of downtown Denver in their cars, chanting, "Chicano Power!" 
The enthusiasm in the Hispanic community for Mr. Peña, who was decidedly committed to pursuing change from within political institutions, marked a change from Denver's anti-establishment Chicano movement (to use the term preferred by many of its leaders to this day), which became nationally known in the '60s and '70s. Indeed, Mr. Peña took a different path from that of another Denver Chicano icon, Rodolfo Gonzales, known as Corky.
Mr. Gonzales, a former boxer and leader of the onetime civil rights and cultural organization Crusade for Justice, promoted an anti-establishment, anti-institutional strategy for Chicano civil rights. "I don't believe in the two-party system," Mr. Gonzales said in a 1973 interview with The Denver Post. "It's a two-headed monster that eats from the same trough." Nevertheless, Mr. Gonzales supported the Peña campaign.
'Steeped in Catholicism'
Born in Laredo, Tex., on the U.S.-Mexico border, Mr. Peña was raised in Brownsville, another border city, and attended Catholic schools there.
"I was raised steeped in Catholicism, both by family tradition and education," he says. He was one of five brothers, all of whom were altar servers; and his family was often called upon to help with larger liturgies. "Whenever the priest needed a team of altar boys, he would make one call…. We would do Midnight Mass on Christmas Eve."
After high school, Mr. Peña earned both undergraduate and law degrees at the University of Texas. He spent his early career practicing civil rights law, working for organizations like the Mexican American Legal Defense and Educational Fund and the Chicano Education Project, both in Denver. It was not long before friends encouraged him to run for the state legislature.
"I wasn't thinking as a young lawyer, 'someday I'm going to become a politician,'" he says now, but "I am absolutely convinced that God had a plan for me."
He explains, "As a Catholic, I was taught to give, to give back, to share, to care for the underprivileged, to care for others and to not be self-centered."
"As a Catholic, I was taught to give, to give back, to share, to care for the underprivileged, to care for others and to not be self-centered." 
While mayor, Mr. Peña attended Our Lady of Guadalupe Parish in North Denver, a Latino parish once known for its tradition of social activism. After his return from Washington, he began attending Our Lady of Visitation, a bit outside of the city, where his father-in-law served as a deacon for 30 years. He speaks with fondness about each parish, but exudes a delight in his account of participating in a church bazaar at Our Lady of Visitation with his wife, Cindy: "We ran the pickle booth!"
In addition to working on education and immigration justice, Mr. Peña has also helped expand health care access in Denver. He and his wife led the efforts to establish and fund a health clinic in heavily Latino southwest Denver. The Federico F. Peña Southwest clinic (on South Federal Boulevard, near where I grew up), operated by a state authority, opened in 2016.
Mr. Peña's faith and desire to serve the Latino community have guided his political career. But most recently, his passion for people on the margins and a service-driven Catholic faith has involved him with a battle against the Archdiocese of Denver.
Our Lady of Visitation
Our Lady of Visitation is located just north of Denver, in Adams County, in an unincorporated area known as Goat Hill ("El Alto de la Chiva"). The parish celebrated its first Mass on Christmas Eve in 1949, and the current church opened in 1954. The thriving church saw generations of baptisms, first Communions and weddings.
The Archdiocese of Denver abruptly closed it in May 2017, citing the shortage of priests and financial instability as reasons for collapsing it with a larger parish nearby. (Special Masses have been celebrated at the church about twice a year since then.) Mr. Peña says this explanation does not hold up: "We found four retired priests who were willing to do the Mass, [and] we had $250,000 in the bank."
Mr. Peña and other members of the shuttered church formed the Goat Hill Society to try to reverse the archdiocese's decision. But, at least so far, they have been unsuccessful. In response to my queries about the church, Mark Haas, director of public relations for the Archdiocese of Denver, emailed me in October: "Many efforts were made to have conversations with those who were passionate about continuing Mass at OLV, and invite them to participate in a full parish experience at either Holy Trinity Parish or another local parish…. [N]ow that the matter is fully resolved, we see no benefit in continuing to revisit the issue."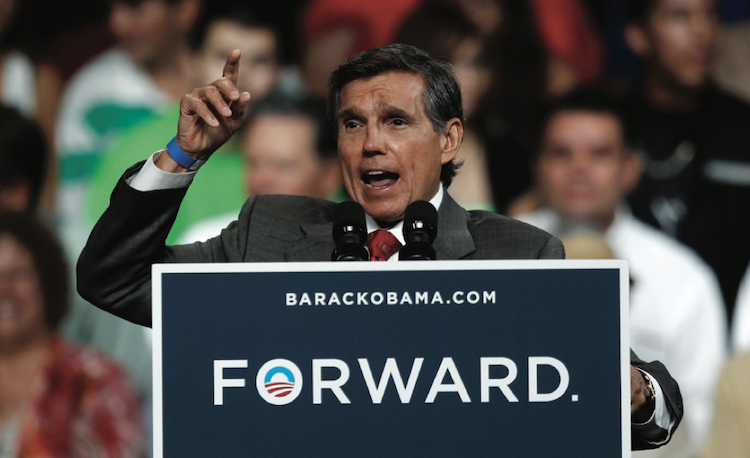 The Archdiocese of Denver is not unique here. Difficult decisions about parish closures face nearly every U.S. diocese, and financial pressures will only mount as the economic fallout from the Covid-19 pandemic drains parish and diocesan resources around the world. It should also be noted that the archdiocese has made extensive outreach to Latino Catholics, emphasizing its numerous Spanish-language Masses and a plethora of ministries geared toward Latino Catholics, including the work of its Centro de Juan Diego, which offers educational, legal and tax resources for Denver's Latino community. These efforts were highlighted at the V National Encuentro of Hispanic/Latino Ministry in 2018.
Reflecting upon his experience, Mr. Peña argues for greater transparency in decision-making about church closures and consolidations. To illustrate his point, he cites one of the challenging decisions he made during his tenure as mayor. The plans for Denver's new airport, he explains, required the controversial purchase of land and homes (for "fair market value," Mr. Peña says) on the proposed site. Mr. Peña says he decided it was necessary to meet face-to-face with the affected residents: "I didn't send my manager of public works or my city attorney. I went out there personally and met with those three or four hundred families."
On church closings: "This is the kind of culture where people ask questions and they want answers."
In the case of Our Lady of Visitation, Mr. Peña says he is merely asking that church leaders model the virtues of mercy and pastoralism that Pope Francis has emphasized throughout his pontificate. Referring to a lack of dialogue and transparency in closing parishes, he says: "That's not the way you deal with Americans or American Catholics. If you're going to make a decision, have the courage to go out and meet with the people and say, 'This is the reason I'm going to close the church.'"
The topic of accountability illustrates how Mr. Peña's faith informs his civic values and vice versa. "This is a nation of democracy, of freedom of speech, of freedom of protest," he tells me. "This is the kind of culture where people ask questions and they want answers."
Echoing John Courtney Murray, S.J., the author of We Hold These Truths: Catholic Reflections on the American Proposition, he urges the U.S. church to be more responsive to its democratic culture even as it remains distinct from it.
Being Latino and Catholic in Public Life
How does the example Federico Peña gives as a Latino practicing faith in public life suggest a way forward for other Latino Catholic candidates? The question is more prominent than ever. Nearly 40 years have passed since Mr. Peña's election as mayor, and today Latinos have a greater presence in elected public life at both the local and national levels. Two heirs to Mr. Peña's legacy are Julián Castro and Alexandria Ocasio-Cortez.
Last year, Mr. Castro, who served as mayor of San Antonio and as secretary of housing and urban development in the Obama administration, was among the contenders for the Democratic Party's presidential nomination. His strong presidential debate performances helped to reshape the national discussion of immigration reform; before that, as secretary of the same department, he highlighted the challenges of gentrification in neighborhoods of color and the threats to social institutions that gentrification has exacerbated, including Catholic parishes. Like Mr. Peña, Mr. Castro shows an ability to imagine a brighter future for a nation that includes the contributions of people who are often left out of civic life.
A prominent example of a Latina Catholic on the national stage is Alexandria Ocasio-Cortez, who won election to the U.S. Congress from New York's 14th Congressional District in 2018. Like Mr. Peña, she attracted national attention by defeating a longtime incumbent—in this case Joe Crowley, a member of the House leadership, in the Democratic primary. Ms. Ocasio-Cortez has become one of the most outspoken members of Congress in her first term. In her work toward reforming the U.S. criminal justice system, particularly around issues of incarceration, she has been explicit in linking her advocacy to her faith.
"By nature, a society that forgives and rehabilitates its people is a society that forgives and transforms itself. That takes a radical kind of love, a secret of which is given in the Lord's Prayer: Forgive us our trespasses, as we forgive those who trespass against us," she wrote in America in 2018. "And let us not forget the guiding principle of 'the least among us' found in Matthew: that we are compelled to care for the hungry, thirsty, homeless, naked, sick and, yes—the imprisoned."
When he was running for mayor, Mr. Peña asked Denverites to imagine a great city. That language has its own resonances in our Catholic tradition, both in Scripture and in our shared notions of an eschatalogical realization of the kingdom of God. Inspired by that tradition as well as Mr. Peña's invitation, we might ask what it will take for us to imagine a renewed church, one that values accountability, transparency and mercy. His fight to save his small parish—animated by the democratic ethos that he helped shape in his community and that enriches the church in the United States and beyond—shows a path forward, even as it unveils the enduring challenges posed by such lofty tasks.
Top image: Federico Peña addresses the Democratic National Convention in Denver on Aug. 26, 2008. (AP Photo/Ron Edmonds)
[Want to discuss politics with other America readers? Join our Facebook discussion group, moderated by America's writers and editors.]
More from America: