Catholic groups create $2 million 'Francis Fund' for Americans in danger of eviction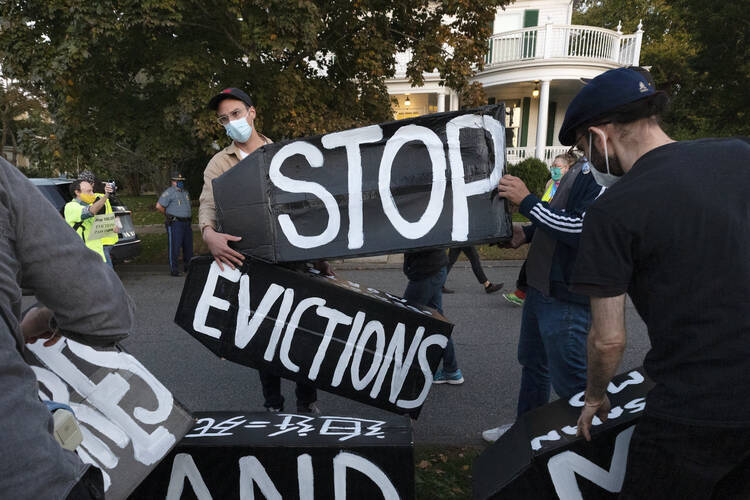 In this Oct. 14, 2020, file photo, housing activists erect a sign in front of Massachusetts Gov. Charlie Baker's house in Swampscott, Mass. A moratorium put in place by the Centers for Disease Control in September that protects certain renters from eviction expires at the end of the year. (AP Photo/Michael Dwyer, File)
Renters facing eviction this winter, as the coronavirus pandemic surges in nearly all states, could get a little help from two Catholic organizations, who launched "The Francis Fund" in an effort to provide relief.
Catholic Charities USA and the Felician Sisters of North America have each contributed $1 million to a new fund to benefit people "in extreme danger of losing their homes this month," according to a press release. The money will be distributed by local Catholic Charities agencies throughout the United States.
"As the pandemic worsens, the weather becomes more bitter and Congress is deadlocked, many people are living on the brink of homelessness and they are terrified," said Donna Markham, O.P., the president and chief executive officer of Catholic Charities USA.
A staggering one-third of Americans say they are behind on rent or their mortgage and fear eviction in the next two months, the U.S. census bureau reported this month. Earlier this year, the Centers for Disease Control and Prevention enacted an evictions moratorium, protecting about 23 million people. But that order is expected to expire at the end of the year and lawmakers remain deadlocked on additional measures to help households hard hit by job losses related to the pandemic.
"In these uncertain times, we know that many families are suffering the burden of unemployment and food insecurity. It is unconscionable that they should also face the fear of losing their homes," said Sister Christopher Moore, the provincial minister of the Felician Sisters of North America. "Our partnership will provide a safety net for our brothers and sisters in Christ and let them know they are not alone in their struggles."
The Felician Sisters are a Franciscan group of about 1,000 Catholic sisters ministering in North and South America, Europe and Africa.
Members of Congress are negotiating a $900 billion stimulus package before the holiday break to try to alleviate some of the economic hardship, though critics say it does not go far enough.
The central elements of the bill appear to include more than $300 billion in aid to businesses; a $300-per-week bonus federal jobless benefit and renewal of soon-to-expire state benefits; $600 direct payments to individuals; vaccine distribution funds and money for renters, schools, the Postal Service and people needing food aid. Lawmakers were told to expect to be in session and voting this weekend.
If renters who owe back rent are not given additional reliefs, the results could be devastating in the coming months.
"Tens of millions of people may lose their homes this winter during this height of Covid-19. And the consequences of that would be catastrophic for kids, for families and for our country's ability to contain the pandemic," Diane Yentel, the president of the National Low Income Housing Coalition, told NPR on Dec. 18.
Material from the Associated Press was used in this report.
More stories from America: 
-Pope Francis has endorsed a universal basic income. Covid-19 could make it a reality in Europe.
-Why is Darth Vader in the Vatican's Nativity scene?
-The Top 7 Pope Francis Stories of 2020