Catholics poised to decide whether Trump gets a second term
For those who follow Catholics on social media, it can almost seem as if this year's presidential election were a mere proxy for a debate over the direction of the church. That is, Catholic voters are not deciding between Donald J. Trump or Joseph R. Biden Jr.; instead, they are signaling their feelings about Pope Francis or the traditional Latin Mass, with the governance of the United States a secondary concern. But U.S. Catholic voters may indeed be instrumental in determining whether Mr. Trump gets a second term in the White House, with far-reaching implications for how the country responds to both current crises and what have seemed to be intractable problems.
Both major-party candidates are making a specific pitch to Catholic voters.
Both major-party candidates are making a specific pitch to Catholic voters. Mr. Biden, the Democratic Party nominee for president, made frequent references to his Catholic faith during his party's virtual convention, and in early September launched a Catholics for Biden initiative with faith and political leaders. Among those speaking at the kick-off event was Simone Campbell, S.S.S., the executive director of the social justice lobbying group Network, who also offered a prayer during the final night of the Democratic convention in late August.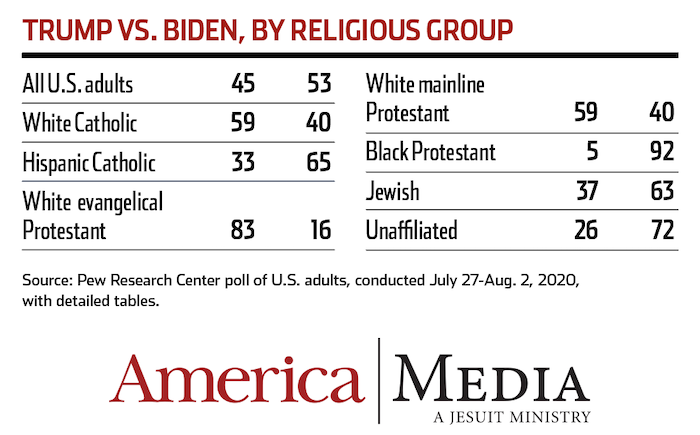 Mr. Biden has faced attacks about how he squares his Catholic faith with his support for abortion rights, including from some bishops and priests. At the Republican National Convention, also in August, Lou Holtz, a former football coach at the University of Notre Dame, said Mr. Biden is "Catholic in name only," drawing a rebuke from the university. And the website Catholics for Trump, an outreach effort by the president, is promising that a Republican victory will bring "continued victories in pro-life issues, judicial appointments, and religious freedom."
Mr. Trump has also appealed to Catholic voters by sharing a letter of support from Archbishop Carlo Maria Viganò, the former papal nuncio to the United States and a critic of Pope Francis, and by making a high-profile visit to the Saint John Paul II National Shrine in early June, the day after police broke up a protest outside the White House against racism and police misconduct. Mr. Biden also found a way to invoke St. John Paul II, saying in a campaign commercial, "Donald Trump is determined to instill fear in America.... I believe we'll be guided by the words of Pope John Paul II, words drawn from the Scriptures: 'Be not afraid. Be not afraid.'"
The Democrats have lost their dominance over the voting bloc that was so enthusiastic for the candidacy of John F. Kennedy in 1960.
Mr. Trump's "law and order" campaign this year is reminiscent of Richard Nixon's successful strategy to win the White House for Republicans in 1968, another year of racial violence and civil unrest. But the country has changed dramatically since then. Ronald Brownstein of The Atlantic calculates that white non-Hispanic voters without college degrees made up almost 80 percent of all voters in 1968; that percentage is expected to represent about 42 percent of voters this year. Similarly, about 85 percent of U.S. adults identified as white Christians in 1968, and that group is expected to cast about 42 percent of the vote in the 2020 election, thanks in large part to the sharp increase in the number of adults who do not identify with any religion at all.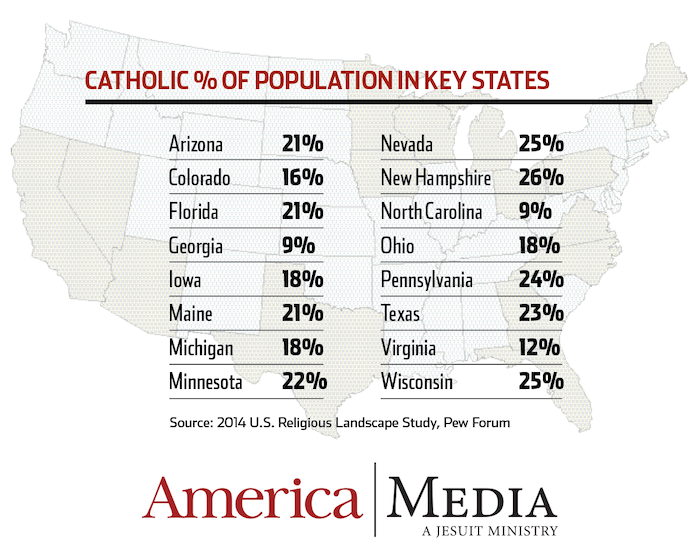 Another change over the past 50 years is that the Catholic vote in the United States has become something of a bellwether for the overall vote, as the Democrats have lost their dominance over the voting bloc that was so enthusiastic for the candidacy of John F. Kennedy in 1960. In 2016, Catholics as a whole tracked pretty closely with the national popular vote, and the same has been true of Mr. Trump's approval ratings. A poll conducted by the Pew Research Center in June found that 41 percent of U.S. Catholic adults had a favorable view of Mr. Trump's job performance, not far from the 39 percent approval among all adults.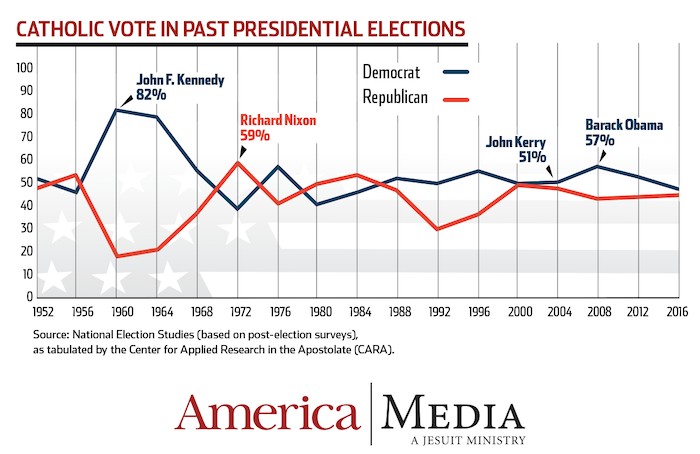 This and other polls put Catholics somewhere between the white evangelical Protestants who form the bedrock of Mr. Trump's support (72 percent approved of his performance as president in that poll) and those who do not claim affiliation with any church (24 percent approval for Mr. Trump). And Mr. Biden may get more of a hearing among fellow Catholic voters. An August Public Religion Research Institute poll found that 66 percent of white Catholics had a favorable view of Mr. Biden (there was no data for Hispanic Catholics), compared with only 26 percent of white evangelical Protestants.
Besides the fact that U.S. Catholics are not clustered at any partisan or ideological extreme, they are also important for being so numerous in the handful of "swing states" that will determine the election. The Religious Landscape Study, last conducted in 2014, estimated that 20.8 percent of the U.S. population is Catholic, but that number is closer to 25 percent in Pennsylvania and Wisconsin—two of the three states, along with Michigan, that put Mr. Trump over the top in the Electoral College in 2016. Of all the competitive states in 2020, Catholics make up less than 10 percent of the population in only Georgia and North Carolina.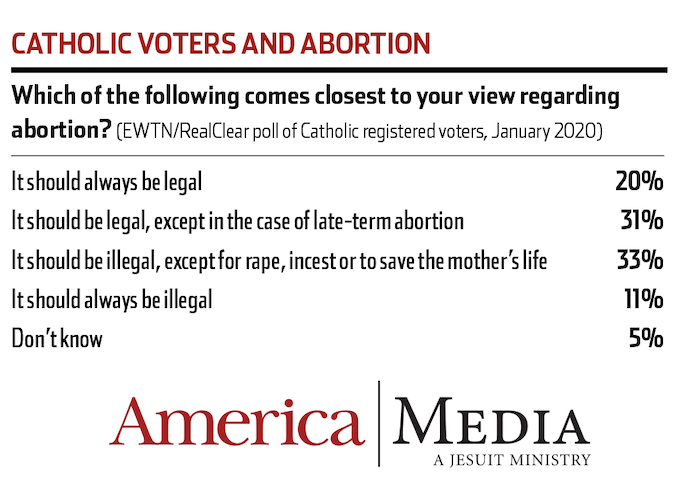 Its size and wide distribution underscore the importance of the Catholic vote, but there have also been noticeable divisions within the U.S. Catholic population, with 54 percent of non-Hispanic white Catholics giving Mr. Trump favorable marks in the June poll, compared with 23 percent of Hispanic Catholics. That split is important because the electorate constantly changes, and the growing Hispanic population may put a new spin on the Catholic vote, either this year or in the future.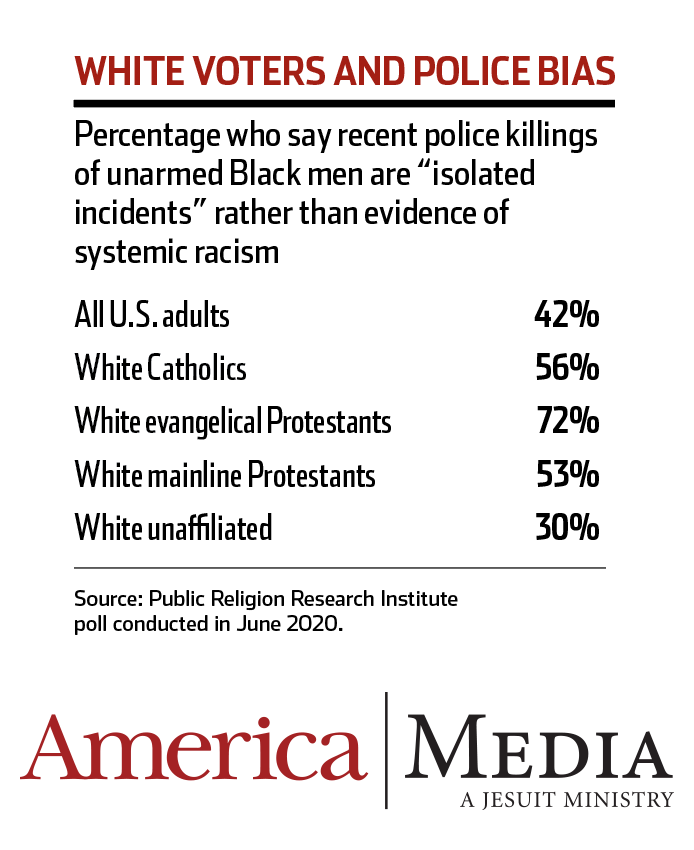 This split also shows up in attitudes about Mr. Trump's signature issue, immigration. A survey conducted by P.R.R.I. in 2019 found that 68 percent of white Catholics favored "restrictive" immigration policies, noticeably higher than the 56 percent who held that view among all U.S. voters but below the 85 percent of white evangelical Protestants who agreed. By contrast, 39 percent of Hispanic Catholics favored immigration restrictions. (Curiously, among Hispanic Protestants, 53 percent favored immigration restrictions.)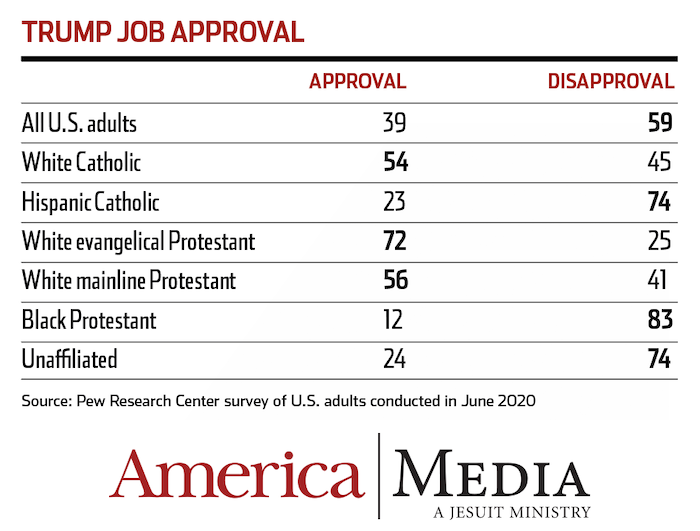 There also appear to be political differences between Catholics who regularly attend Mass and those who may be considered "cultural" Catholics. In another Pew study, using survey data from 2017 to 2019, white U.S. Catholics said they identified with the Republican Party rather than the Democrats, by 57 percent to 38 percent. (In 1994, there was an even split, 45 to 45).
But the Republican share was 60 percent among Catholics who said they attended Mass at least monthly and 51 percent among Catholics who said they attended less often. In a recent NBC News poll of likely voters in Pennsylvania, 69 percent of self-identified "practicing" white Catholics indicated support for Mr. Trump, while 60 percent of non-practicing white Catholics said they would vote for Mr. Biden.
The size and breadth of the Catholic vote in the United States means that it is certain to figure in the history of how Mr. Trump wins, or fails to win, a second term. And in a close race, the precise differences between Catholic groups—such as white versus Hispanic, or regular versus occasional churchgoer—may determine the winner.
Additional reporting by Michael J. O'Loughlin.
[Want to discuss politics with other America readers? Join our Facebook discussion group, moderated by America's writers and editors.]