After another priest is killed in El Salvador, local clergy ask 'who will be next?'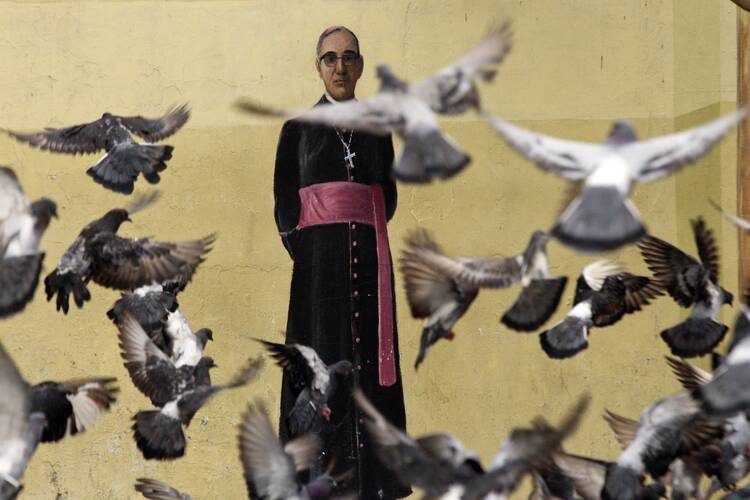 Pigeons fly in front of a mural of Archbishop Oscar Arnulfo Romero, on a wall of the Metropolitan Cathedral in San Salvador, El Salvador, on Oct. 3. 2018. Romero, who was killed in 1980 by a right wing death squad during Mass, will be canonized in Rome by Pope Francis on Sunday, Oct. 14, 2018. (AP Photo/Salvador Melendez)
VATICAN CITY (RNS) — A Catholic priest was found dead near his car Aug. 7 in El Salvador, the most recent in a pattern of clergy killings in the country over the past half century. 
Friends and parishioners of the slain priest called for justice and urged the Vatican "to protect our priests."
The Rev. Ricardo Antonio Cortez, 44, was killed while driving on a road in the southeastern part of El Salvador in early August. He was found with gunshot wounds but still had all his personal belongings, leading local police to rule out a robbery, but the reasons behind his death remain unknown.
"News of his death hit me right at the heart," said the Rev. Raphael Sánchez, a Salvadoran parish priest at the Church of San Nicola di Bari in Rome and a good friend of Cortez.
Sánchez said he was shocked by his friend's death, especially since Cortez "never mentioned that he feared for his life or was in danger."
Cortez is the third priest to be killed in El Salvador in less than three years. The Rev. Walter Osmir Vásquez Jiménez was found fatally shot in March 2018, and the Rev. Cecilio Pérez was slain in May 2019. All three deaths are unsolved.
Cortez was the rector at the major seminary of St. Óscar Arnulfo Romero in the Diocese of Zacatecoluca in El Salvador. His death occurred some 40 years after the martyrdom of Romero, after whom the seminary is named. 
In March 1980 Archbishop Romero of San Salvador was killed while saying Mass, one day after his appeal to "stop the repression!" taking place in the politically fraught Latin American country. He became archbishop at a time when left- and right-wing forces in El Salvador were leading the nation toward a civil war, and he used his platform to denounce the torture and killings perpetrated by the leading military and political powers in the country.
He is a figure Pope Francis has often praised for his preferential treatment of the poor and a shared vision for the church as a "field hospital."
Less than a month after Francis' election as pope, he authorized the canonization process for Romero, which had been stalled by Francis' predecessors who were concerned with the archbishop's progressive legacy. Romero was given his halo in October 2018. While thousands crowded the square in San Salvador to celebrate the new saint, local bishops were notably absent. 
After Romero's death, the country spiraled into a bloody civil war in which Catholics willing to speak their progressive views were often silenced or killed. In the past 40 years, more than two dozen members of the Catholic clergy have been killed in the country.
[Related: Is justice still a long-way off for Jesuit martyrs in El Salvador?]
"Once again, our diocese is stained with the innocent blood of a good pastor dedicated to his sheep," said Bishop Elías Samuel Bolaños Avelar of Zacatecoluca in a video statement last week addressing the "tragic death" of Cortez.
Cortez and Sánchez attended the same seminary in El Salvador and they were members of the same diocese. Sánchez described his friend as a "very friendly and joyful person" who was passionate about philosophy just as he was about playing soccer.
Together they studied the "controversial figure" of Romero in the '90s and how his legacy and life resulted in such split public opinion.
"We would discuss projects at the pastoral and missionary level, especially the formation of seminarians," Sánchez said. "Our ideal, along with other priests, was to create a formation modeled after the priestly profile of Monsignor Romero."
The major seminary of St. Óscar Arnulfo Romero, located in the eastern part of El Salvador, wished to bring forward the ideals inspired by the saint.
For priests, Sánchez said, Romero "is the model for a true pastor, who understands God's message to the people and who brings the cry of the people to God."
Sánchez and a group of priests and parishioners from El Salvador are taking matters into their own hands and trying to piece together what happened to their friend and pastor. He suspects there might be people or organizations "wishing to intimidate the church."
"The current situation creates a climate of fear, and now people ask who will be next?" he said.
Priests who preach certain rights and values in El Salvador are viewed as "uncomfortable," Sánchez said, and there are still risks for clergy who speak up against injustice. He believes Cortez's work with seminarians and young people may have put his life at risk.
Cortez spoke "forcefully" about the formation of priests, the figure of Romero and the need for a Catholic Church that is truly prophetic, Sánchez said, while criticizing the silence of the local hierarchy.
"We sometime feel there isn't a clear concern on the part of the bishops and this worries us," he said, adding the need for a strong and united front on the part of the Catholic hierarchy and the Vatican to defend justice and clergy.
His biggest hope for El Salvador is the future generations of seminarians and priests.
"I think the death of these young priests may push other young people to offer their life to Christ, even if it means risking our lives," he said.