Covid-19 has thrived on economic inequality—and may make it even worse
As the coronavirus pandemic spread around the country early this year, it became apparent that low-income individuals were at the greatest risk. Many in this group live in crowded households, have pre-existing conditions like hypertension and obesity (often exacerbated by a lack of access to health care) or must continue to work in jobs where social distancing is not always possible. In New York City, the center of the worst outbreak of Covid-19 in the United States, the death rate from Covid-19 has been twice as high in the poorest neighborhoods than in the most affluent areas, and black and Latino residents are dying at twice the rate of non-Hispanic whites.
In New York City, the death rate from Covid-19 has been twice as high in the poorest neighborhoods than in the most affluent areas.
In May, researchers at the London School of Economics found that Covid-19 death rates were generally higher in states with high economic inequality as measured by the Gini Index—a score that ranges from zero (each individual has an equal share of a state's total wealth) to 1.0 (one individual has all of the wealth). New York, famous for its extremes of poverty and wealth, ranks highest among the states in the Gini Index, though Puerto Rico and the District of Columbia are even higher. States with higher Gini Indexes generally also have higher population densities, which makes them especially vulnerable to quick-moving contagions.
And the adverse effects on places with high inequality may not end when the pandemic does. According to a study from the London-based Centre for Economic Policy Research, recent pandemics, including SARS in 2003 and Ebola in 2014, have worsened economic inequality in the nations where they hit the hardest. Possible reasons include long-term unemployment for lower-skilled workers and government assistance programs where "the rich are the major beneficiaries."
Listed below are the U.S. states with the highest and lowest Gini Indexes, along with the nations they most closely match on this score, at least according to the latest available data from the World Bank. While only seven countries had worse Gini Indexes than any U.S. state, over 100 nations (including all in Europe) had better Gini Indexes than any state.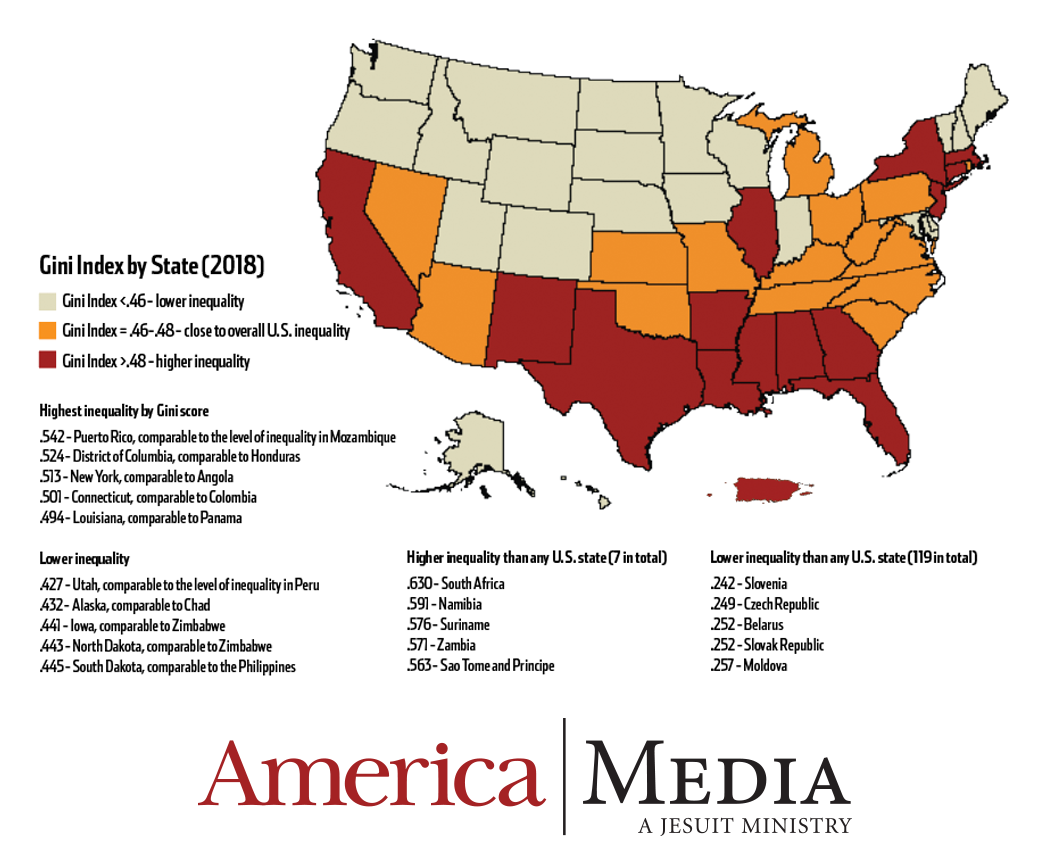 Sources: GINI Index of Income Inequality, American Community Survey (2018), U.S. Census Bureau; GINI Index, World Bank. Gini Indexes for countries are from the latest available year.