A world of unrest: Watchdog group counts dozens of flashpoints across the globe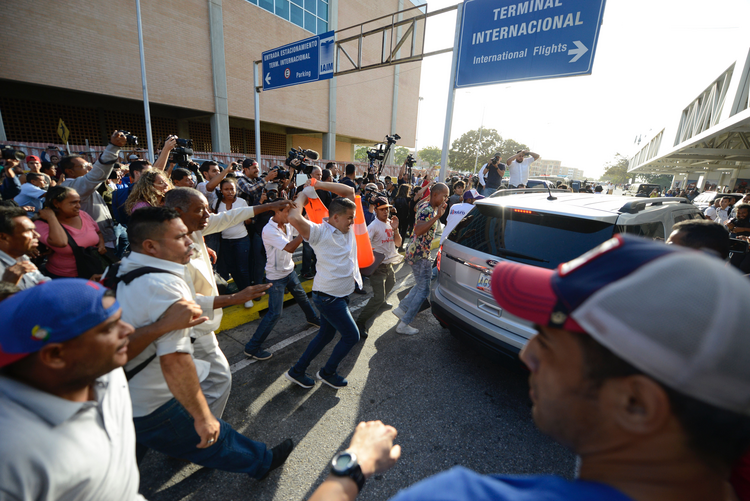 Supporters of Venezuela's President Nicolas Maduro attack a vehicle carrying opposition leader Juan Guaido at the Simon Bolivar International Airport in La Guaira, Venezuela, on Feb. 11. Political instability led to the addition of Venezuela to the Global Conflict Tracker last year. (AP Photo/Matias Delacroix)
If your nerves are on edge, it may just be from paying more attention to international news. Instability seems to reign in almost every region of the world, and the United States must deal with an ever-changing list of foreign policy crises.
As of Feb. 6, the Center for Preventive Action—part of the Council on Foreign Relations, a nonprofit think tank—listed 26 "conflicts around the world of concern to the United States" on its interactive Global Conflict Tracker. Two were added to the list last year: political instability in Venezuela and the standoff between the United States and Iran. Ironically, while it does not meet the definition of a conflict, the coronavirus epidemic has become a security concern of more immediacy than any of the simmering crises on the map.
The C.P.A. asks government officials, foreign policy experts and academics to assess ongoing and potential conflicts based on their likelihood to occur in a given year and their potential impact on U.S. interests. The statuses of each conflict are re-evaluated monthly or as events dictate.
"The majority of the conflicts on the list reflect a general decline in the ability of nation-states to grapple with drivers of political unrest."
"The majority of the conflicts on the list reflect a general decline in the ability of nation-states to grapple with drivers of political unrest," said Megan Geckle, assistant director of the C.P.A.
She noted that new threats may be on the horizon: "Climate change is a so-called threat multiplier and will continue to both exacerbate ongoing conflicts and escalate tensions in regions already experiencing scarcity or instability." In addition, nuclear proliferation is a renewed concern: "Iran and North Korea continue to express interest in acquiring or developing nuclear weapons. If they do, other countries like Saudi Arabia and Turkey may attempt to do so as well."
The Conflict Tracker is only one listing of global hotspots, and not everyone accepts it as the last word. "It reflects a narrow, U.S.-centric view of world politics that exaggerates some conflicts to suit American foreign policy interests," said David Cortright, a special advisor for policy studies at the Keough School of Global Affairs, affiliated with the University of Notre Dame, in Indiana.
Mr. Cortright continued, "The tracker makes no mention of the continuation and rise of authoritarianism and repression in Turkey, India, Russia, China, Burma, Egypt and other countries, ignoring the risk of conflict that often results from the denial of religious and political freedom and the suppression of human rights."
"Climate change is a so-called threat multiplier and will continue to both exacerbate ongoing conflicts and escalate tensions in regions already experiencing scarcity or instability."
Oddly, while Mexico is on the map for its "criminal violence," the Conflict Tracker does not include the similarly afflicted three nations of Central America's Northern Triangle (though they are on a separate list of "top-tier priorities"). The latest annual report from Human Rights Watch describes El Salvador as having "among the world's highest homicide rates" but "ineffective" security forces; Guatemala as plagued by "violence and extortion by powerful criminal organizations"; and Honduras as experiencing "unjustified lethal force and other excessive use of force by security forces" against human rights activists.
Eight of the 10 nations identified by the Christian group Open Doors as having "extreme persecution" of Christians (led by North Korea) are also on the Conflict Tracker, suggesting a correlation between overall violence and religious conflict. Open Doors also includes Eritrea, where an authoritarian regime represses churches not approved by the state, and Sudan, which Open Doors says is now ruled by Islamic extremists after the secession of South Sudan.
Here are the 26 areas of conflicts currently being tracked by the C.P.A., grouped by major category.
Civil wars
Afghanistan: In late February, the United States and the Taliban began negotiating the withdrawal of troops remaining here after a U.S. offensive that began in 2001. If successful, the talks could also lead to an end of the conflict between the fundamentalist religious group and Afghan government forces.
Iraq: Still reeling from the U.S. invasion in 2003, Iraq is also suffering conflicts between Sunni and Shiite Muslims, tensions between Shiite militias and Christians in the Nineveh region and a Kurdish separatist movement in the north.
Libya: Fighting continues between the government and the Libyan National Army, headed by a loyalist to Muammar al-Qaddafi. ISIS is also a threat here.
South Sudan: In 2013 violence erupted between the two largest ethnic groups in South Sudan, the Dinka and the Nuer. The two sides signed a cease-fire in August 2018, but it was not until Feb. 20 of this year that they announced plans for a unity government.
Syria: A civil war between President Assad's government, backed by Russia and Iran, and rebel groups backed by the United States, Saudi Arabia and Turkey has lasted since 2011. In addition, ISIS remains a threat, and Turkish forces continue to fight Syrian Kurds.
Yemen: Conflict between Houthi insurgents and the Sunni government began in 2014 and has turned into a proxy war. Saudi Arabia is backing the government, with logistical and intelligence assistance from the United States, and Iran is supporting the rebels.
Territorial disputes
Armenia/Azerbaijan: Both former components of the Soviet Union claim the Nagorno-Karabakh region. If border skirmishes resume, Russia has promised to defend Armenia, and Turkey has pledged to support Azerbaijan.
Israel/Palestine: Since the Oslo Accords in 1993, the Palestinian Authority has governed the West Bank and the Gaza Strip, but clashes between Israel and the Palestinians remain frequent.
East China Sea: China and Japan both claim eight islands with oil and natural gas reserves in an area that is within 200 miles of each nation.
South China Sea: China claims sovereignty over a large swath of this area, putting it in conflict with Brunei, Indonesia, Malaysia, the Philippines, Taiwan and Vietnam. China has also built 3,200 acres of military and industrial facilities on artificial islands it has created in disputed waters.
Turkey/Kurdish region of Iraq: Turkey has been targeting Kurdistan Workers Party bases in Iraq, which it says are the source of attacks on Turkish military bases. In turn, Iraq has complained about Turkish incursions into its territory.
Ukraine: Violence in eastern Ukraine between Russian-backed separatist forces and the Ukrainian military has killed thousands since 2014.
Political instability
The Democratic Republic of Congo: Current violence began with the refugee crisis resulting from the 1994 genocide in Rwanda. Armed groups continue to terrorize civilians, and the results of the 2018 presidential election are still in dispute.
Egypt: The government is battling militant groups associated with ISIS and Al Qaeda, but its counterterrorism measures may alienate civilian populations.
Lebanon: Since gaining independence in 1943, Lebanon has been plagued by conflicts among its three major religious groups: Maronite Christians, Shiite Muslims and Sunni Muslims. The result has been political gridlock, recently made worse by a major influx of refugees from the civil war in Syria.
Venezuela: There is a stand-off between President Nicolás Maduro and the National Assembly, which declared Mr. Maduro's election illegitimate, a view shared by the opposition leader Juan Guaidó.
Interstate conflict
India/Pakistan: Territorial disputes over the Kashmir region have led to major wars in 1947 and 1965, and the two nations regularly exchange fire across their border.
Iran/United States: Since the United States withdrew from the Iran nuclear deal in 2018, both nations have engaged in drone and missile attacks on the other's forces in the Middle East.
North Korea/South Korea: The Demilitarized Zone here is one of the most heavily armed borders in the world.
Sectarian violence
Central African Republic: An insurgency by armed Muslim groups has prompted Christian fighters to carry out reprisals, escalating religious conflict here.
Myanmar: The Rohingya, a Muslim group numbering over one million, face hostility from both the government and Buddhist nationalist groups. The government is also facing insurgencies by several armed ethnic groups, including the United Wa State Army and the Kachin Independence Army.
Nigeria: Boko Haram, an Islamist militant group, continues to attack other religious groups, while the Fulani, a Muslim ethnic group, have been attacking Christian villages in the Plateau region.
Transnational terrorism
Mali: Militant groups affiliated with ISIS and Al Qaeda have attacked U.N. peacekeepers and spread to neighboring countries in western and northern Africa.
Pakistan: Militant groups, including an ISIS affiliate, continue to attack security forces and civilians within Pakistan and are also suspected of infiltrating Afghanistan.
Somalia: Al Shabab, another Al Qaeda affiliate in East Africa, is not only attacking the central government here but also targeting neighboring Kenya, a U.S. ally.
Criminal violence
Mexico: Drug cartels threaten the Mexican government and pose risks to civilians both here and in the neighboring United States.
America correspondents are covering many of these conflicts; see more in the Dispatches section.