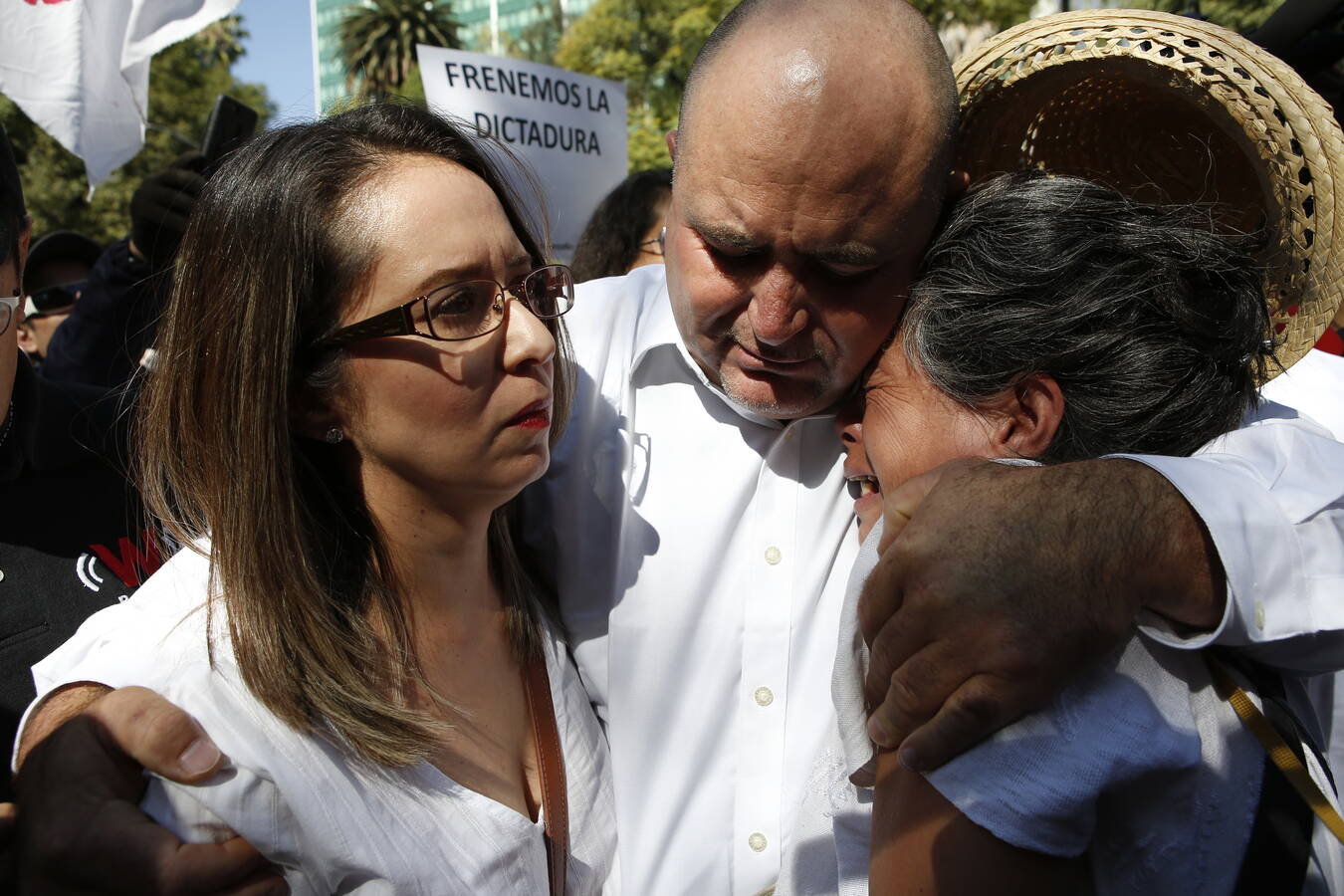 After the LeBarón family massacre, can Mexico's López Obrador stop the violence?
Julián LeBarón paused a few cautious moments before he responded. "I think he's a good man, yes," he told America. He was speaking of Mexican President Andrés Manuel López Obrador. "I think he has the best intentions," he said.
"But the road to hell is paved with good intentions. We didn't make him president for what he intends to do, but for what he can do."
Just over a month had passed since nine members of Mr. LeBarón's extended family—three mothers and six children—were massacred on Nov. 4, victims of an apparent hit squad of suspected drug cartel members near the town of Bavispe, along the border between Sonora and the neighboring state of Chihuahua, about 70 miles south of the United States. The family members had been traveling in three SUVs along a mountain road on their way to a wedding when they were attacked by gunmen who riddled the cars with bullets and set one of the vehicles on fire before abandoning the assault. Eight children survived the harrowing experience; five were wounded.
Mr. LeBarón's family, together with several other families who have been part of a generational movement of fundamentalist Mormons to northern Mexico from the United States, form the La Mora Mormon community in a remote, mountainous area in northern Sonora. It remains unclear whether the massacre in November was the result of mistaken identity or the gunmen deliberately targeted the family.
Despite the targeting of his family, Mr. LeBarón wants to stay in Mexico. "I was born here. My children are the fifth generation of my family born and raised in this country. I don't want to leave."
Mr. LeBarón said he hopes he can channel the grief and anger over the killings into a broad social movement against violence and impunity in Mexico.
"We want to unite the whole country. We want a social movement, not a political one," he said. Mr. LeBarón in 2011 briefly joined a national protest movement against violence led by the poet Javier Siclia, whose son was killed by organized crime in March of that year.
"We need to divorce ourselves from politics," he said. "Once the general public accepts your cause, the political class will try to co-opt you and make you part of their projects."
The brutality of the LeBarón massacre was a shock even to the violence-weary Mexican public. They had just endured weeks of reports of shoot-outs and massacres dominating national headlines, including a day of unprecedented urban warfare between a drug cartel and security forces in Culiacán, the capital of the northern state of Sinaloa.
The killings have added to growing doubts about whether the government of the populist President López Obrado is capable of delivering on promises to end the country's decade-long drug war. Mr. López Obrado was elected in 2018 on a wave of anger over violence, impunity and corruption. The victims held dual U.S. and Mexican citizenship, producing outrage and condemnation north of the border as well.
America spoke with Mr. LeBarón on Dec. 9 in Mexico City. "Our way of life has changed completely," he said, describing life on the family compound since the attacks. "We no longer feel like we can leave our homes. We're no longer safe.
Mr. LeBarón said he hopes he can channel the grief and anger over the killings into a broad social movement against violence and impunity in Mexico.
"It has changed everything; it's affected our work, our income, the way we make decisions. You have to rethink your entire life when you face such violence and know that the criminals may not face justice."
On Dec. 2, Mr. LeBarón and many members of his family met with Mr. López Obrador in Mexico City for an update into the massacre's investigation. Mexican authorities announced several arrests in the case just the day before.
Mr. LeBarón told The Associated Press that during the family's meeting with the president and his cabinet at Mexico City's National Palace, the president pledged to visit the region where the massacre took place. "We just bowed our heads" and "prayed for the president and the country, for peace and goodwill, and to protect our loved ones, and protect our country," he said.
He called the meeting a positive experience and remains hopeful that at least some of the killers may be brought to justice, but Mr. LeBarón has little confidence in the current Mexican government's capacity to put an end to the unprecedented violence. With more than 36,000 Mexicans murdered so far, 2019 has proved the deadliest year in recent memory.
"What is positive about the investigation is that the F.B.I. is involved," Mr. LeBarón said. "If they manage to help get results, then perhaps we can replicate that and get rid of the [Mexican security officials] who are getting paid to investigate but don't deliver," he said.
"I have my doubts about whether President López Obrador understands the magnitude of the problem, however," he added. "If he did, he would immediately abandon all the social programs he's talking about now and would prioritize security completely. If a country doesn't have security, its society can't aspire to anything other than living in fear."
Sentiments like that has made Mr. LeBarón the target of Mr. López Obrador's fanatical online following. Despite the ongoing violence and an economy slumping into a recession, Mr. López Obrador still enjoys high approval ratings.
Mr. LeBarón and several members of his family participated in an opposition march on Dec. 1 in Mexico City, just two miles from where the president was conducting a triumphant rally to celebrate his first year in office. That gesture only fueled resentment toward the LeBarón family: many Mexicans were angry because President Trump, in an apparent response to a request from members of the LeBarón family in the United States, had suggested that he would designate Mexican drug trafficking groups as terrorists.
That potential U.S. intervention was declared unwelcome by the López Obrador administration and Mr. Trump quickly backtracked on the idea, but hashtags calling the family "traitors to the fatherland" and demanding their deportation flared on Twitter.
"Such a response to me and my family stems from politics," Mr. LeBarón said. "It's what's trying to divide us.
"The people who attack me are people who don't know me. I'm friends with everyone who knows me," he added. "But we're united by something much stronger: insecurity."
Despite the targeting of his family and attacks against him, Mr. LeBarón was adamant that he wants to stay in Mexico. "I was born here. My children are the fifth generation of my family born and raised in this country. I don't want to leave," he said sharply.
"Look at these hands. I'm a normal person. I work, I break my back to take care of my family," he said. "It's the government's responsibility to make the country safe for its citizens. If it can't do that, then we need to unite to demand that it does."