Is reform possible in Puerto Rico after street protests drive governor out of office?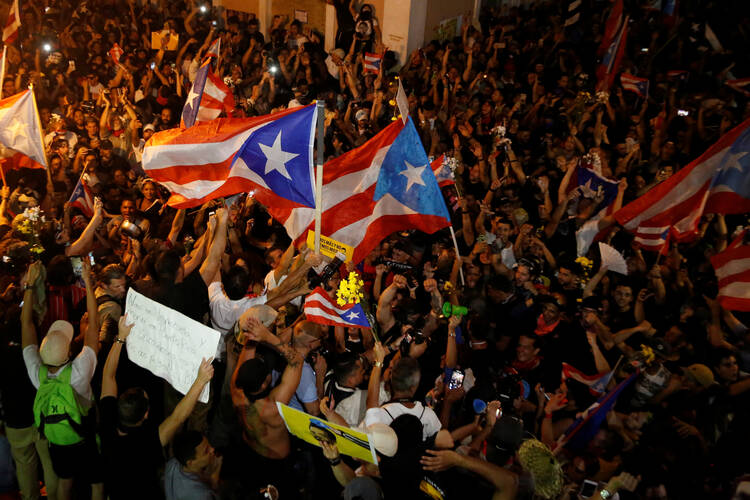 Demonstrators celebrate in the streets of San Juan after Puerto Rican Gov. Ricardo Rossello announced his resignation late July 24, 2019. Rossello resigned amid a torrent of protests over vulgar, mean-spirited texting conversations recently made public across the island. (CNS photo/Marco Bello, Reuters)
Last night Rolando López, a former Cristo Rey religion teacher in Boston and now an accidental street activist in his native Puerto Rico, was awaiting the announcement that came this morning. After nearly two weeks of protest, Gov. Ricardo Rosselló had resigned.
"The emphasis of the activists on the ground," he said, "is that the governor resigning is not the last step. This really is about a more general critique of the economy of Puerto Rico." The governor's acts and attitude are only an expression of a political system that is "deeply flawed," he said.
In a Facebook Live video message broadcast late on July 24, Mr. Rosselló spent nearly 10 minutes touting his accomplishments before acknowledging that remaining as governor "would endanger the successes we have achieved."
"I announce that I will be resigning as governor, effective Friday, Aug. 2, 2019," Mr. Rosselló said, as hundreds of thousands of Puerto Ricans lining the streets outside his residence erupted in cheers.
Mr. López was visiting family as protests began after the leak and publication of almost 900 pages of text messages shared among the governor and his confidantes. In them the governor and his inner circle expressed disdain for women, L.G.B.T people and everyday Puerto Ricans, and even mocked the suffering of victims of Hurricane Maria.
Mr. López was delighted to join in the historic moment. Around him in San Juan, much as the protests themselves have been spontaneous, educators were organizing impromptu lectures and teach-in–style presentations on Puerto Rican history, governance and economics. He had attended two himself that evening as he prepared to join the night's demonstration outside the governor's mansion.
The governor and his inner circle expressed disdain for women, L.G.B.T people and everyday Puerto Ricans, and even mocked the suffering of victims of Hurricane Maria.
Most of the people he met who demanded that the governor step down understand that the removal of one political figure will not address deep structural problems. But the "Ricky Leaks" scandal, he said, has exposed the contempt among many in Puerto Rico's ruling elite for the common person. The attacks and vulgar comments directed against women and L.G.B.T. people woke up members of marginalized communities in Puerto Rico, Mr. López said, and they have led the charge against the now former governor. But it was the shocking disdain he expressed for the people who voted him into office that brought hundreds of thousands of demonstrators into the streets on July 22, demanding that he step down.
The day before the governor announced his resignation, the president of the Puerto Rican bishops' conference said the actions of the governor and his administration were the final straw for residents of the U.S. commonwealth who have suffered through years of financial mismanagement, corruption and the devastating aftermath of Hurricane Maria.
In a telephone interview with Catholic News Service on July 23, Bishop Ruben Gonzalez Medina of Ponce said the massive protests in the island's capital, San Juan, were "a manifestation of the people and their outrage, as well as their exhaustion from having been cogido de bobos ['taken for idiots']."
Wanda Vasquez, the Puerto Rican secretary of justice, is expected to serve the remainder of Mr. Rosselló's term until elections in November 2020. However, distrust of members of Mr. Rosselló's administration have led to doubts as to whether she would take the reins. In a statement released after Mr. Rosselló's announcement, Ms. Vasquez said she would assume the office "if necessary."
People in the street are ready to continue protesting until someone they trust steps into the governor's role, according to Mr. López. "That in a way will prove the mettle of what we are doing," he said.
"This is not just a protest to get a governor out, this is more the rising of a voice that has been repressed for a long time, calling for the birth of a new country.
"Basically they are not going to stop until they see a leader they can trust but, more importantly, who trusts them."
Bishop Gonzalez told CNS that he was impressed by the unity and respect felt at an event "that was not organized by a specific group but rather a reality that began among the people."
The bishop attended the protest, along with Bishop Eusebio Ramos Morales of Caguas, secretary of the bishops' conference. "The words that I heard the most were, 'Thank you for being with us; thank you for being present,'" Bishop Gonzalez recalled.
"This is not just a protest to get a governor out, this is more the rising of a voice that has been repressed for a long time, calling for the birth of a new country."
"We are not the protagonists of these protests, we are not going there with a flag that says, 'Here is the bishop. We are Catholics.'"
Instead, he said, the presence of the bishops at the protest was meant to accompany Puerto Ricans who are rediscovering values that "the church has proclaimed and that has been sown into the hearts of men and women."
The unity shared among all men and women on the Caribbean island, he added, is a commitment to "establishing a better Puerto Rico."
Though he was shocked by acts of police violence against demonstrators that he witnessed, what has most impressed Mr. López has been the joyfulness of the demonstrators as they united against the governor. Music and dance often interrupted the flow of the demonstrators; he saw Franciscans in prayer circles stopping traffic and San Juan punk rockers handing out sandwiches to passersby.
"I don't think I have ever been to something as joyful as a Puerto Rican protest, and I've been to plenty," Mr. López said.
It is not clear if contagious joy can evolve into a force that can create meaningful political and economic reform, but Mr. López described the people of Puerto Rico this week as "empowered, informed, educated and deeply motivated."
Though he was grateful to learn of the bishops' call for the governor's resignation, he hopes that the church can take an even more active role in addressing the nation's need for political reform in the future.
And, he added, Puerto Rico could be a lesson for other Americans on the mainland.
Puerto Ricans had a governor, Mr. López said, "who talks bad about women behind closed doors, who takes money from his own people" and feels contempt for people he says he tricked into voting for him. Through these historic demonstrations, Puerto Ricans have "let the office of the governor know and we have let the world know…. No, we do not pick people who do such things."
With reporting from Catholic News Service.