I was annoyed with long customs lines—then I turned on the TV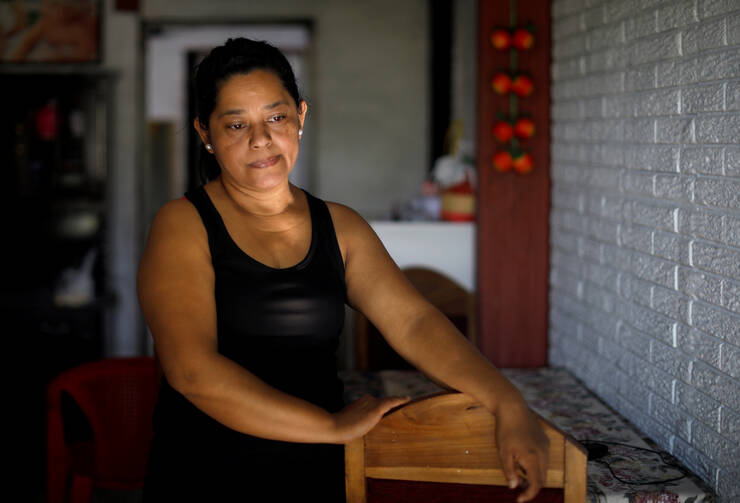 Rosa Ramirez, mother of Oscar Alberto Martinez Ramirez, is pictured at her house in San Martin, El Salvador, June 26, 2019. The bodies of Oscar Martinez and his 23-month-old daughter, Valeria, were found June 24 after they drowned in the Rio Grande in Matamoros, Mexico, while trying to reach the United States. (CNS photo/Jose Cabezas, Reuters) 
Tuesday night saw a lot of angry people at Newark's Liberty Airport. Our plane had arrived on time after a long flight from Copenhagen. Cabs and buses and cars were waiting, and we all wanted to get home. Another plane had come in from Mexico, but at 9 o'clock there was not a lot of other traffic. We walked off the jetway, through bland corridors, and into the passport control area. The crowd separated into U.S. and Canadian passport holders, others with various visas and assorted documents, and a few with the Global Entry access.
For most of us, the long wait then began. We shuffled up and down the cordoned lines, back and forth, took a few steps and then stalled, then more steps and stall. When the maze brought me in sight of the desks where agents inspected our documents, I could see only three desks were staffed. For 15 minutes the line stood still as ushers let a second line get processed—please control that crowd! Eventually we had access to a station that read one's passport, asked some questions, took a lousy picture and printed out a flimsy receipt. More waiting and shuffling followed. We murmured curses and comments about the government that runs this farce. We were angry with the total lack of efficiency or sympathy or care. Just stand there and wait, you'll have your turn.
I realize how superficial my annoyance was on Monday night. The sloppy process should not have happened, but it was a long, long way from life-threatening.
When my turn came to present my passport, the agent took my receipt, now blurred and smudged, and in a few seconds waved me through. I checked the time: I had spent over an hour in a snail-paced line for this simple procedure. Some anger mixed into the relief seemed justified.
I arrived home at midnight, after bus and cab rides, and with gratitude dropped into my recliner. It had been a long day, having flown from Warsaw to Copenhagen 20 hours earlier, waiting for seven hours for my onward flight to Newark. And then the nightmare of border control. I still harbored angry thoughts about this entry process. Apart from a light smile from the woman who looked at my passport, there was no hint of humanity from our government agents. Let it go? I tried.
I turned on the TV, and in an instant my perspective changed radically. Stories appeared about children at the border in Clint, Tex. Some 249 children, separated from their parents, some barely five months old, had been found living in squalor, sleeping on cement floors, having no way to wash themselves, starving, crying. They were moved to a better place briefly, but some were then returned to the sty they had been living in. What were our border agents doing? Who was making these dreadful decisions?
The next morning, when I picked up the paper I first glanced and then stared at the photo that in two days has become notorious. It shows the bodies of Óscar Alberto Ramírez and his daughter, Valeria, who was 23 months old, washed up on the shore of the Rio Grande. Valeria was tucked into her father's shirt and had her arm around his neck. Beer cans rest among the shore weeds. Óscar and Valeria were migrants from El Salvador, looking for a better life. Mr. Ramírez had made the long, arduous trek with his daughter from their homeland, trying to give her a future. Instead, they found death in the muddy river waters.
Later in the day, we heard the announcement that more changes were coming in the State Department divisions that control the borders and customs. This indicated that ongoing turmoil would continue. Tougher enforcement, harsher conditions await those entering the country.
I realize how superficial my annoyance was on Monday night. The sloppy process should not have happened, but it was a long, long way from life-threatening. Not so for those who come looking for the opportunity that my ancestors found here. They face a river and confinement, separation from their families, death nearby. They deserve much better. They deserve life.