Canadian Catholics skeptical new oversight office will stop mining exploitation abroad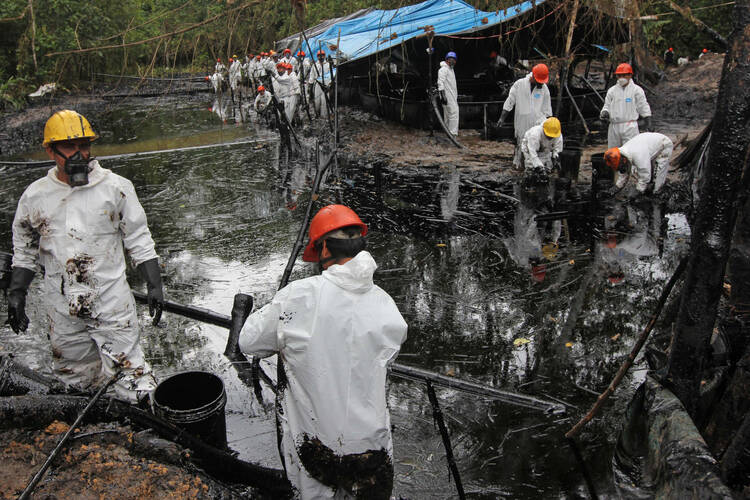 Workers collect oil from a stream below the site of an oil pipeline break in 2016 in Wachapea, Peru. Catholic leaders are calling for governments to protect the territorial rights of indigenous people suffering eviction from their lands and pollution of their water because of mining and oil operations in the Amazon basin. (CNS photo/Barbara Fraser)
Sheri Meyerhoffer, a former lobbyist for the Canadian Association of Petroleum Producers, has been tasked with overseeing the activities of Canadian companies abroad—most notably, extractive industries like gold mining and oil drilling—and many environmental and human rights advocates are not pleased.
On April 8, the Canadian international trade minister, Jim Carr, announced that Ms. Meyerhoffer would become the first ombudsperson of Canadian companies doing business in other nations, but Mr. Carr deferred questions about exactly what powers the ombudsperson would have. Critics are disappointed that Ms. Meyerhoffer's office will not be independent but will instead be budgeted by, and accountable to, Mr. Carr's office.
The new office, which was announced in January 2018, followed years of petitions, letter-writing campaigns and grassroots organizing across the globe. Canada is home to the majority of the world's mining companies, and most of them operate in Latin America, where harrowing stories of abuse of workers and local ecosystems are widespread.
But activists, many of them Catholic, say the new office pales in comparison to what they hoped for and what they thought the government was committed to implementing.
"Fifteen months ago, we were celebrating," said Elana Wright, advocacy officer at Development and Peace, the international development organization of the Catholic Church in Canada. "Canadian Catholics across the country, hundreds of civil society organizations around the world, people we work with and who are part of our networks—we were all celebrating the creation of an ombudsperson."
Then they waited. They waited as François-Philippe Champagne, who first announced the ombudsperson, was replaced as minister of International Trade Diversification by Mr. Carr last July. As the months went by, they called on their members to contact their representatives asking about the office. After such a long time, said Ms. Wright, "it's hard to believe and have faith in the minister's commitments," even the ones that fall short of what advocates expected.
Proponents of an ombudsperson had called for an independent office with the power to assemble evidence, compel companies to turn over documents and conduct thorough investigations regarding allegations of environmental and human rights abuses by Canadian companies. Mining watchdogs say the apparently lackluster power given to the office instead may be the result of extensive lobbying by the Mining Association of Canada.
"Will this ombudsperson really be able to provide justice for a community in Guatemala, who has really experienced crimes, including rape, the forced displacement of their community, and murder?"
The call for an independent ombudsperson was the result of disappointment with a previous position, the "corporate social responsibility counsellor," which was established by the Conservative government in 2009, led at the time by Prime Minister Stephen Harper, but never successfully mediated a case between extractive industries and communities affected by them.
Ms. Wright said Development and Peace is willing to see what powers are available to the new ombudsperson's office before making a final judgment. "But at this point," she asked, "will this ombudsperson really be able to provide justice for a community in Guatemala, who has really experienced crimes, including rape, the forced displacement of their community, and murder? These are serious crimes, and by basically creating an office that is very similar to this former counsellor, it almost makes us question whether it's worthwhile...because of the expectations it creates."
The reference to Guatemala is significant in Canada, where three high-profile legal battles between Canadian mining giant Hudbay Minerals and several indigenous plaintiffs from Guatemala have been ongoing for nearly a decade. The lawsuits all involve the Fenix nickel mine, acquired by Hudbay in 2008 and sold in 2011.
In one suit, Angelica Choc alleges the company's security forces murdered her husband, Adolfo Ich, a respected community leader known for opposing the mining operations. In another, 11 women allege they were raped by men including uniformed members of Fenix's private security force, and in the third, a man named German Chub alleges the chief of security shot him at close range, leaving him paralyzed.
Expectations were indeed raised in January 2018 with the creation of the Advisory Body on Responsible Business Conduct, made up of representatives from labor, civil society— including a member from Development and Peace—and industry representatives.
"We were very excited to stand with the former minister, François-Philippe Champagne, at the announcement of the ombudsperson, and we were happy to be represented on the board," said Ms. Wright. "I participated in two meetings of that body, where dialogue among different representatives was difficult….There's very little common ground."
Development and Peace wanted to propose binding legislation for corporate responsibility, still, Ms. Wright said, at least now there was somewhere to have a dialogue. "Since Minister Champagne was replaced by Minister Carr, there haven't been any meetings of this board. The last meeting was in June of 2018, and here we are, April 2019, and the media hasn't actually covered that aspect."
"Canadian Catholics are motivated to respect what Pope Francis is proposing, working to put people before profit. Our government is really not respecting that approach."
The disappointment over the ombudsperson comes on the heels of a related scandal, after former Attorney General Jody Wilson-Raybould said that she had felt pressured by the prime minister's office and other federal officials to go easy on SNC-Lavalin, a Quebec-based company that had been accused of corruption in dealings with Libya. Ms. Wright said the events "suggest the Trudeau government does not want to hold Canadian corporations to account for corruption, human rights violations or environmental damage."
Ms. Wright says several bishops are well-informed on the abuses of Canadian mining companies in particular. The Canadian Conference of Catholic Bishops issued a letter to Prime Minister Justin Trudeau in August 2017, indicting the Canadian mining industry's activities abroad and calling for, among other things, "The creation of objective and impartial means (such as an ombudsperson) to monitor and investigate complaints of abuses in connection with Canadian mining companies abroad."
Ms. Wright said the actions of the Canadian government are in stark contrast with the leadership of Pope Francis. "He wants to promote dialogue, to encourage mining companies to be more responsible. He's organized a synod on the Amazon and mining, where extractives are causing deforestation, and here we are in Canada, where our government won't even implement or truly create this office of the ombudsperson, which is really a small gesture.
"Canadian Catholics are motivated to respect what Pope Francis is proposing, working to put people before profit. Our government is really not respecting that approach, even if they say they're committed to confront climate change and to protecting the environment," said Ms. Wright.
Development and Peace intends to follow the developments of the ombudsperson's office closely this summer in the lead-up to October's federal election, including preparing a report card outlining each party's position on the office, among other items related to corporate accountability.
"I fear that this is a David and Goliath battle, where the Canadian voters don't have as much of a say as Canadian corporations," said Ms. Wright. But, she added, "we're people of hope. We just have to keep trying."