Theresa May fumbles toward a no-deal Brexit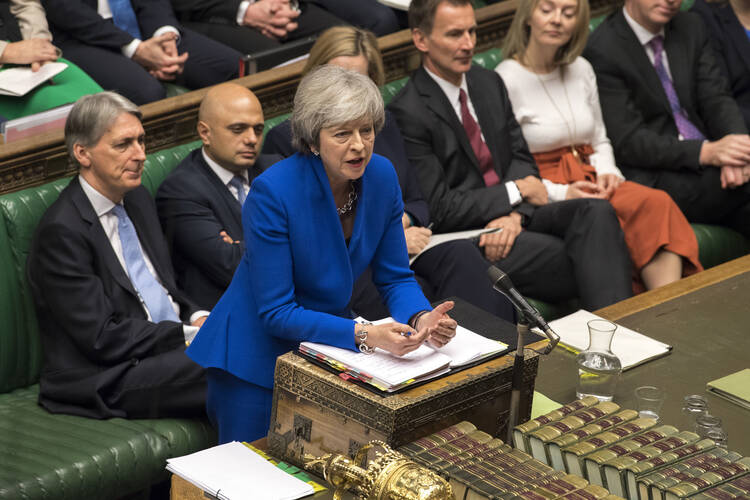 Britain's Prime Minister Theresa May speaking during Prime Minister's Questions at the House of Commons in London, on Dec. 19. Britain is due to leave the EU on March 29, but it remains unclear whether lawmakers will approve the divorce agreement negotiated with the bloc.(Mark Duffy/UK Parliament via AP)
It was another Pyrrhic victory for British Prime Minister Theresa May, who survived a confidence vote among her own party's members of Parliament on Dec. 12 after a right-wing challenge to her leadership. That outcome will keep her in power for a little longer but at a cost.
Just like a previous foray into deeper electoral thicket—an ill-considered snap election in June 2017—Mrs. May comes out of the latest vote weaker than when she went in. Even as most Conservative M.P.s voted to retain her as the party's leader in Parliament, about one-third failed to rally to her banner.
The intraparty discord has been brought about entirely by the protracted split among Conservatives over Brexit. The confidence vote made plain both just how riven the Tories are over the decision to depart Europe and, if any further evidence were needed, just how unsatisfactory is the Brexit deal struck with the European Union that Mrs. May is trying to sell.
Meanwhile, the British state continues to make preparations for the growing possibility of a no-deal exit. That outcome is one the bureaucracy thinks sufficiently plausible that it is spending large sums recruiting new staff and renting warehouse space for key supplies, such as E.U.-produced medicine, that may abruptly prove hard to come by.
As revelations about the nature of the run-up to the vote continue to provoke outrage, there is merit in the growing clamor for a second "people's vote" before calamity strikes next March.
The prime minister initiated a five-day debate in the House of Commons over the widely lambasted deal she brought home from Brussels. But in the end Conservatives postponed a "meaningful vote" on the deal because, as some government officials admitted, they presumed it would lose by a significant margin.
A Twitter wag won the internet that day with a post suggesting that leading English football side Manchester United were deferring their Saturday game against Liverpool because they might be defeated (they indeed lost). Mrs. May duly went back to Brussels but found the European midfield and defense solid, compact and united. She managed not a single shot on target and was unable to get any more changes accepted by E.U. negotiators.
Still fearful of a red card, she has finally agreed to set a January date for the replay vote in Parliament on her Brexit deal but now risks a no-confidence vote sponsored by the Labour Party. Without the support of some of her own players and unable to rely on a replacements bench full of growling Ulster Unionists, the prime minister could face permanent exclusion from the premier league.
Whatever else may be said about the stubborn, even robotic prime minister, she has demonstrated her staying power. She has survived several crises, but Mrs. May's luck will run out soon enough; a leak to British media revealed that during her closed-door, pre-vote meeting with party members in the House of Commons, she had to buy some of those confidence votes by promising not to lead the Tories into the next general election, scheduled for 2022 (unless they get kicked out before then, which may yet happen).
On her latest trip to Brussels—ticket collectors at Gare Midi must be feeling May-fatigue—she asserted that she will get the further concessions she needs from the E.U. 27, as the union minus Britain is now known, especially related to the contentious Northern Ireland "backstop," even though E.U. negotiators continue to flatly deny the possibility. All sides hope to avoid the return of a hard border that would separate U.K. member Northern Ireland from the neighboring Republic of Ireland, which remains an E.U. member state.
Mrs. May and her government had the chance to avoid a great deal of the present vitriolic division had she adopted a different approach to the Brexit referendum. The prime minister could have acknowledged that the referendum was quite a close vote that could never be described as a landslide, rather than parroting ever since that "the British people have spoken." There should have been an immediate move to address the concerns of the 48 percent of people across the United Kingdom who had voted to remain in the European Union.
Whatever else may be said about the stubborn, even robotic prime minister, she has demonstrated her staying power.
As revelations about the nature of the run-up to the vote continue to provoke outrage—as we now know, many lies were told and Russian intrigues on social media spun—there is merit in the growing clamor for a second "people's vote" before calamity strikes next March. There is even at this late moment an opportunity to admit that the Brexit "deal" Theresa May and her Conservative Party are clinging to is nothing like what the Leave campaign promised. Diminution and economic damage across Britain are now widely forecast.
Listening to the will of the people would surely imply that, Scotland and the northeast of Ireland having voted to remain, the concerns of these nations should be respected more. There is a growing resentment that Scotland is treated as a mere region of the United Kingdom, and the separatist movement in Scotland has found a new energy.
Recent polls suggest that the number of voters in Scotland wishing to remain in the European Union has risen to 73 percent from the 62 percent recorded at the Brexit referendum, as people in the north review the mess further south. Scotland's First Minister Nicola Sturgeon is also under pressure from supporters who want her to make her legislative move toward independence at once. But Ms. Sturgeon prefers a patient strategy.
People deserve a better politics than this. This might be a symptom of contemporary governance's failure to include everyone, plausibly cited as a reason for the growth of populism. For over two years an enormous amount of political energy has gone into this one issue while poverty and youth crime in many parts of the country have increased, despite the Tory government's citation of statistics that try to prove the opposite.
A Jesuit medical doctor, practicing among London's street homeless, told America that diseases such as rickets, thought to belong to the past, are appearing again, particularly in London's East End and more deprived areas. Several photographs have appeared in various media since the start of Advent, showing grinning Tory government ministers visiting food banks. The hapless Scottish Secretary, one David Mundell, Scotland's only Tory Westminster M.P., (likened by some nationalists to a colonial Governor-General) was run out of one food bank in Dumfries by anti-austerity protesters.
It is disgusting that there is a need for even one food bank in one of the world's richest economies; that there are hundreds and many families dependent on them derives directly from recent government policy that has been improperly scrutinized because of the time and energy that Brexit has taken up. The Labour Party, in fulfilling its opposition role, is meant to take up such scrutiny, but it has been vague and ineffective in its efforts.
The Brexit rhetoric of "taking back control" has similarly been found wanting and will be found empty by next March.