How a rural Catholic Church is serving survivors of Hurricane Maria in Puerto Rico
Nelson Correa wedges a Vatican flag between cases of water in the back of his Toyota pickup truck. It is raining in Las Marias, a small town in Puerto Rico, but Mr. Correa and other volunteers are not daunted. They will go door to door to deliver supplies to residents of this mountainous region.
A woman rolls down her window as she drives by. "Who is that for?" she asks. "It's for the people of Puerto Rico," Mr. Correa answers.
Hurricane Maria, the 150-mile-per-hour storm that made landfall in Puerto Rico on Sept. 20, knocked down trees and power lines across the island. Here in the mountains, the deluge also caused mudslides.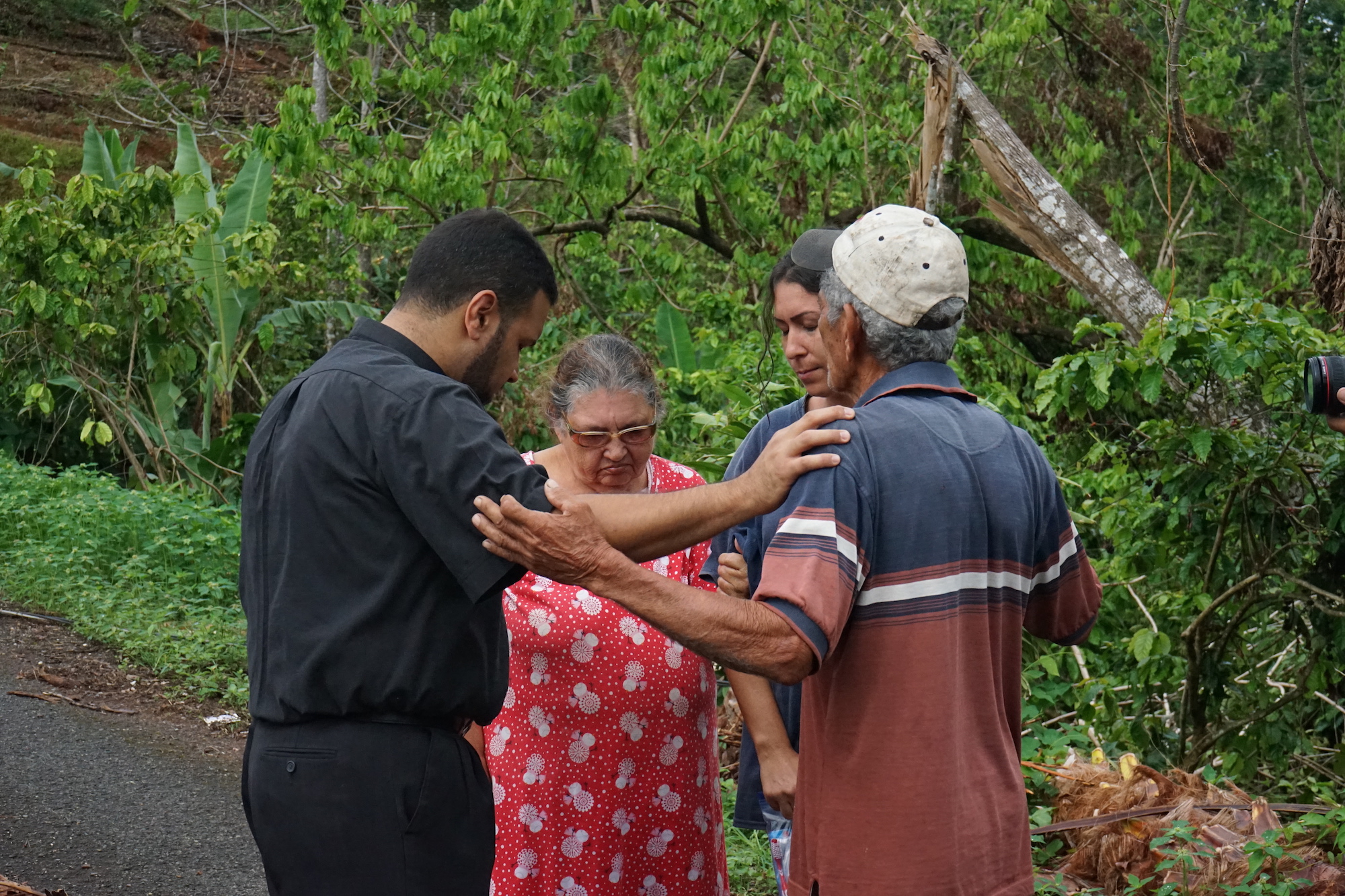 "Things are getting better," Mr. Correa says. "We've received a lot of help." But "better" is a relative term, as most of the town is still without power or running water.
During and after the hurricane, falling trees severed telephone lines and mudslides covered the roads, isolating residents from help and communication with family and friends. One worker lost his life trying to clear the debris when his tractor slid down a mountain in Las Marias. It took two weeks to clear the roads and even now some are still blocked.
The hurricane also destroyed much of the town's coffee and plantain crops, though many orange trees, with their deep roots, survived.
The hurricane destroyed much of the town's coffee and plantain crops: "This was devastating."
"This was devastating," says Luis Alze Negrón, a farm worker. "Hurricane George did not do this much damage," he said, referring to the 1998 storm that rocked the island. In addition to crops, Mr. Alze Negrón noted that many of the trees destroyed by the hurricane would have been used for furniture and other industries.
Led by Father Carlos Francis Mendez, the pastor of Immaculate Heart of Mary Church, volunteers fill several vehicles and make their way through the narrow network of roads. After the hurricane, Father Mendez bought food and water with his own funds, but that quickly ran out.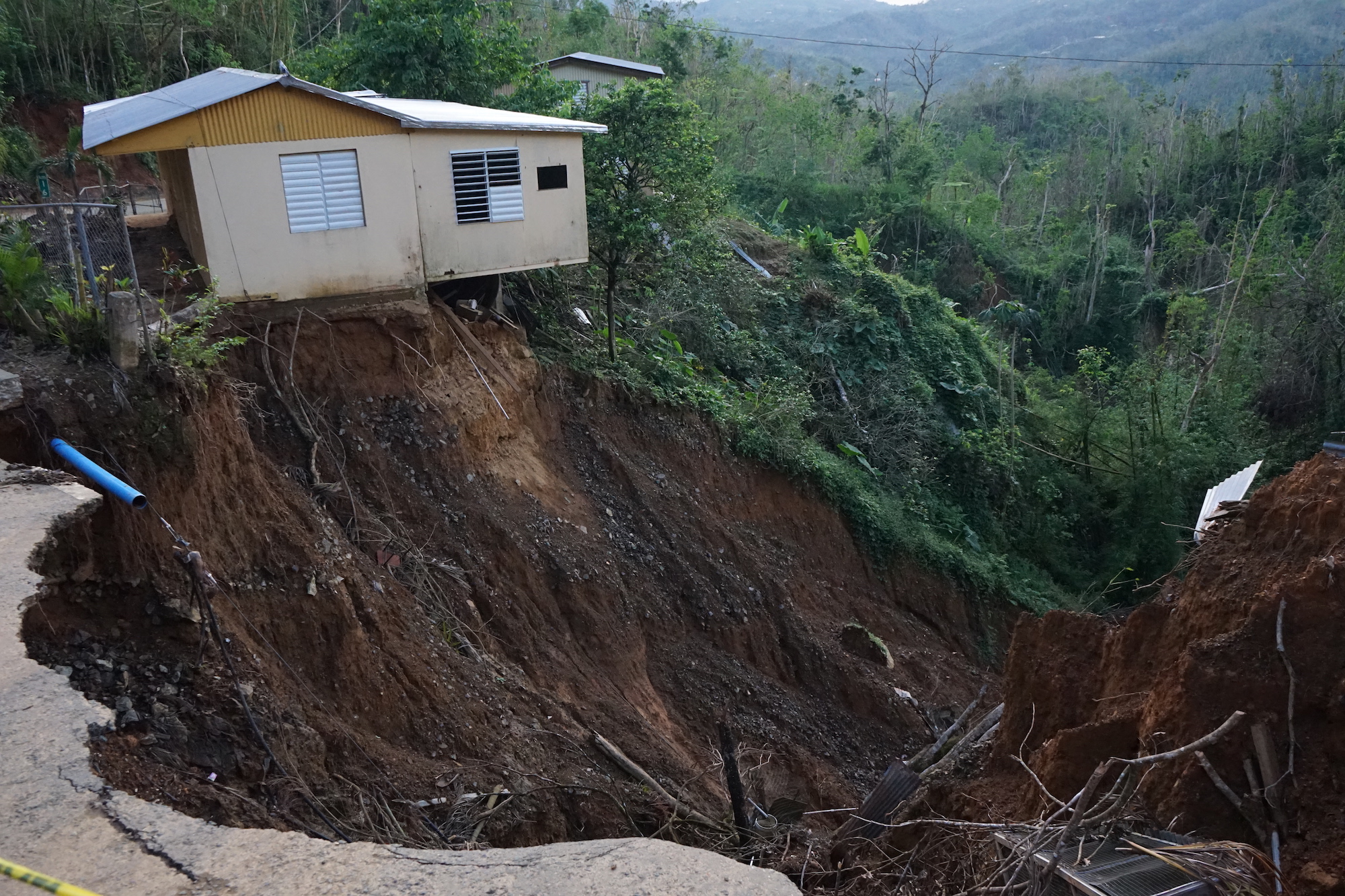 "I went to the sanctuary and prayed, 'Lord, I don't have anything. You take care of this.' And that's how it's been," Father Mendez says. "When we least expect help, it appears from the people you least expect."
This month, 16 helicopters showed up, with more than 1,000 cases of water and 500 food boxes from the Federal Emergency Management Agency. Father Mendez shared the supplies with neighboring parishes, adding that Catholic Charities has provided funding to buy food and water. Community members chip in, too, bringing food and clothes to the parish hall every day.
The church makes an effort to reach the most remote residents, leaving them with water filtration kits. Without running water, many are left to drink from rivers or streams that are contaminated.
Katherine Melvin says the hurricane blew off the roof of her house and she, her husband and their children have been staying at her mother-in-law's. "They're going to miss me when I move out," she laughs.
As they go from home to home, Father Mendez is often holding a case of water under one arm and a box of food under another. He will smile, his braces in full view, and chat jovially before finally offering a blessing.
The priest says the effort has helped him check in with many who are not Catholic or who do not go to Mass. He has also changed Mass times at some of the chapels, given the lack of electricity, so parishioners can get home before dark.
He stops and visits with Rosa Mendez Torres, a woman who suffers from diabetes.
"This has been a tragedy," she says. "I've even lost track of time. But we have to keep moving forward. Life goes on."
"I've even lost track of time. But we have to keep moving forward. Life goes on."
José L. Asebele and his family warmly receive Father Mendez and the volunteers. He has lost home improvement contracts after being unable to deliver after the hurricane.
He looks up at his home, built next to a cliff. "We could have been swept away in a landslide. Many people lost their lives that way—the mountain fell on top of their house," he says. "But we were spared."