Catholic sisters send Senate a message: Don't touch Medicaid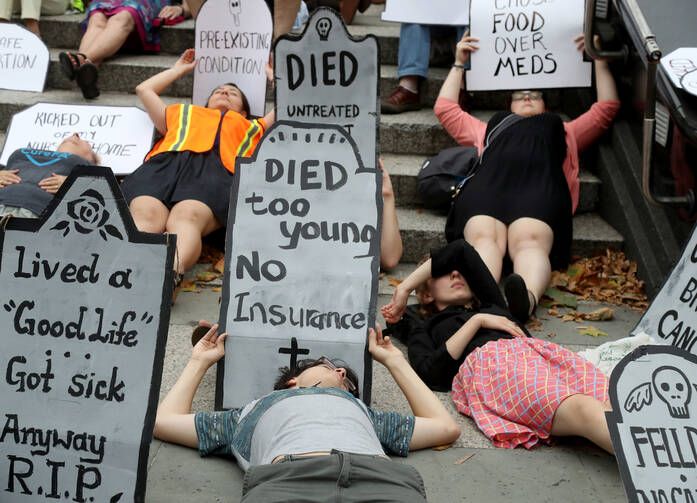 A demonstration for affordable health care in New York City on July 13. Bishop Frank J. Dewane of Venice, Fla., chairman of the U.S. bishops' Committee on Domestic Justice and Human Development, called on the Senate July 21 to fix problems with the Affordable Care Act in a more narrow way, rather than repeal it without an adequate replacement. (CNS photo/Andrew Gombert, EPA)
Thousands of Catholic sisters are pleading with senators not to tinker with Medicaid funding as Republican leaders attempt to make good on campaign promises to repeal the Affordable Care Act.
"As Catholic women religious, we have witnessed firsthand the moral crisis of lack of quality, affordable healthcare in this country,"reads a letter signed by more than 7,000 sisters. It was delivered to Senate offices on July 24.
Specifically, the sisters say that they are "most troubled by the cuts it would make to Medicaid by ending the Medicaid expansion and instituting a per capita cap [on spending]." The women religious said the G.O.P. plan "goes against our Catholic faith teaching," describing it as "the most harmful legislation for American families in our lifetimes."
Close to 75 million Americans, mostly low- and middle-income individuals, receive their health insurance through Medicaid, a federal program that was expanded when the Affordable Care Act was enacted in 2010.
The women religious said the G.O.P. plan "goes against our Catholic faith teaching."
Sister Simone Campbell, the head of the lobbying organization Network, was part of a delegation to Capitol Hill that delivered the letters. She told America that the "benefit of having sisters do this is that sisters are often trusted messengers. We don't have a partisan interest in this; it's caring for the people."
"Since many of our communities do health care, we know the struggle, we know the price that would be paid, and that is respected by people around the country," she added.
The Affordable Care Act has been in limbo in recent weeks. A Senate plan to repeal key provisions of Obamacare appeared to have floundered after a number of both conservative and moderate Republican senators signaled that they would vote against the measure.
But after a White House meeting last week during which President Trump urged Republicans to make good on their promise to repeal Obamacare, Senate Majority Leader Mitch McConnell said on July 24 that he would bring a health care-related bill to the Senate floor this week. He did not say which version of the plan the chamber would initially consider.
Mr. McConnell needs 50 of the 52 G.O.P. senators' votes just to begin debate. More than the two Republicans he can afford to lose have said they are opposed to the Republican-backed legislation.
Sister Campbell said the letter was delivered to all 100 senators, with the message on Medicaid being: "Don't mess with it."
"It is another piece in a very large chorus of people saying this is bad for our country, this is bad for our state, this is bad for our people; don't do it," she said.
The U.S. Conference of Catholic Bishops has also waded into the health care debate, releasing several statements over the past few months urging senators not to repeal the Affordable Care Act without ensuring that Americans would be able to keep health insurance. Bishop Frank J. Dewane of Venice, Fla., chairman of the bishops' Committee on Domestic Justice and Human Development, called on the Senate to fix problems with the A.C.A. in a more narrow way, rather than repeal it without an adequate replacement.
"Both the American Health Care Act legislation from the U.S. House of Representatives and the Better Care Reconciliation Act from the Senate were seriously flawed and would have harmed those most in need in unacceptable ways,"Bishop Dewane said last week.
In an analysis issued on July 20, the Congressional Budget Office said the Senate version of "repeal and replace" would increase the current number of uninsured Americans by 22 million by 2026.
For her part, Sister Campbell riffed on a political interpretation of the Lord's Prayer when describing her group's efforts to persuade senators not to alter health care laws.
"We need to be engaged in the social issues of our time for the sake of the common good," she said. "That's where Jesus was; that's where we'll be."
"That's all we're doing," she said. "Give us this day our daily health care."
Material from the Associated Press and the Catholic News Service was used in this report.