Linking young men to a future—and a gentrifying neighborhood to its past
The 350-square-foot café serving croissants and coffee on Tomkins Avenue in Bedford Stuyvesant represents yet another major investment in the neighborhood. But it is not the kind of investment typical in this quickly gentrifying part of Brooklyn. The café was not built to serve the luxury apartments popping up on block after block, but the people who have lived in this community for many years.
In Reconnect Café, opportunity is not measured in expected returns or attracting outsiders. As part of Reconnect Brooklyn, the business is investing in people rather than properties, the residents who are struggling to remain in Bed-Stuy amid rising costs.
Reconnect Brooklyn is a nonprofit that provides jobs and skills training to young men who other businesses are reluctant to employ because they have struggled with school or work in the past. Together, the people in this community train one another to be neighborhood assets, focusing on building potential rather than on problems.
Second chances are available every day at Reconnect's bakery, cafe and graphics shop, where young people are building their skills and opening doors for a better future. A 27-year-old self-described "teddy bear" manages the cafe, overcoming the stigma of a criminal record. A 10-computer classroom connecting students to degree programs and other students around the world.
The café was not built to service the luxury apartments popping up on block after block.
But Reconnect is caught in the middle of an investment arms race. The faith-based organization founded by Jim O'Shea, C.P., a Passionist priest, is less than a decade old. While its members are creating better lives for themselves, gentrification is changing their neighborhood. Outside developers are raising rents and pushing longtime residents out of their homes.
"A way of life is ending," Father O'Shea said. "We have to be prepared for this new world."
When gentrification relocates people, they are rarely moving up the socioeconomic ladder, said the Rev. Dr. Emma Jordan-Simpson, executive pastor of Concord Baptist Church of Christ in Bed-Stuy. Profit opportunities sometimes overshadow the human costs.
"People want to talk about real estate; they want to talk about business; they want to talk about the concrete things," she said. "It's much more difficult to talk about when people who've lived in the community a long time are no longer able to live there."
Since 1990, the average rent in Bed-Stuy has risen by more than 36 percent. Between 2000 and 2015, the black population dropped from 90,732 to 75,237, while the white population increased by 1,235 percent, jumping from 3,087 in 2000 to 41,203 in 2015.
Efrain Hernandez was born and raised just a few hundred feet from the Reconnect coffee shop he manages today. He played basketball in the neighborhood and performed in front of Division I coaches. He says his game is a blend of Dirk Nowitzki and Allen Iverson, with a sprinkle of Kobe Bryant. In the heat of a basketball game, though, you cannot think about whether your move is from Lebron or Kobe. You just react.
That is how the 32-year-old describes his youth: always running, always reacting, without time to think. "Us kids, we really never had too many opportunities to learn or to work [in Bed-Stuy]," he said. "We had to do what we had to do to survive."
A third of men aged 18 to 30 in Bed-Stuy reported having been shot at in their lifetime, according to a survey by researchers at John Jay College of Criminal Justice. More than 75 percent of the men in the 2015 survey reported hearing gunshots in Bed-Stuy in the past year.
"They say you won't live to see the age of 21 in this neighborhood," Mr. Hernandez said, adding Bed-Stuy used to look like a scene from the film "The Warriors."
A third of men in Bed-Stuy, aged 18-30, reported having been shot at in their lifetime.
By his teenage years, the number of Mr. Hernandez's friends who had been murdered was in the double digits. When a drug-related charge sent him to jail for a year in his early 20s, Mr. Hernandez got the first chance to pause and reflect. In a cell for 23 hours a day, he had nothing else to do. During that time, his daughter was born. He could have been there. Then, his best friend was murdered. Had he been on the outside, Mr. Hernandez would have been with his friend, he said.
"As soon as I got out the jail doors, Father Jim was there at like 5 o'clock in the morning waiting for me," he said. "We got to business. There was no going back."
Mr. Hernandez met Father O'Shea when the priest moved to the neighborhood in 1997 and started a basketball program that would later become Reconnect. Mr. Hernandez joined the group after he left prison. Today, groups of up to 15 people join Reconnect every three months and start as workers in the cafe, graphics shop or bakery for several months before transitioning to other work, starting school or both. Fifty men are employed in workforce development each year, while 12 men study in the education program.
Reconnect, and Mr. Hernandez's leadership position in it, has pushed him to grow into who he really is, he said. "Even though I grew up hard, like a street dude, I'm still a genuine teddy bear.... I was always a teddy bear on the inside, but growing up in a rough neighborhood, not too many people can see that from you."
Today, he can show his caring side. Elders of Bed-Stuy remember Mr. Hernandez the troublemaker and praise him for becoming a community leader. Being a role model for the other members of Reconnect is the most rewarding part of the job, he said.
Even though I grew up hard, like a street dude, I'm still a genuine teddy bear.
A lot of the young men knew me for the wrong things," he said. "They looked up to me. So, once they saw me doing [Reconnect], they came on board.... This cafe has been running for three years. That's something to be proud of. I never ran a business a day in my life."
Joseph Negron is also taking on new responsibilities at Reconnect's shop, where he makes vinyl and screen prints and helps with the accounting. In middle school, Mr. Negron was suspended so much his peers did not think he was a classmate. "In the class photo, they thought I was a transfer student," he said. But at the shop, he looks forward to learning.
The 20-year-old "black sheep" of his family was raised by his grandmother. Depression and suicidal thoughts have troubled him since before he could legally drive. The "role models" around him—both friends and family—struggled with poverty and prostitution as well as alcohol and drug use, he said.
"Most people say, 'negative role model,'" he said. "They assume that they're trying to encourage you to do bad things. My negative role models were just things I didn't want to become."
Reconnect was a change of pace. It is a community of people doing positive things, he said. They build each other up.
Mr. Negron has worked at Reconnect for almost two years—first at the bakery and now the graphics shop. He never expected that he would be able to help out with accounting, too.
"Obviously I'm doing something right," Mr. Negron said. "I wasn't as outspoken as I am now before I started working with Reconnect. They really helped me get past my walls."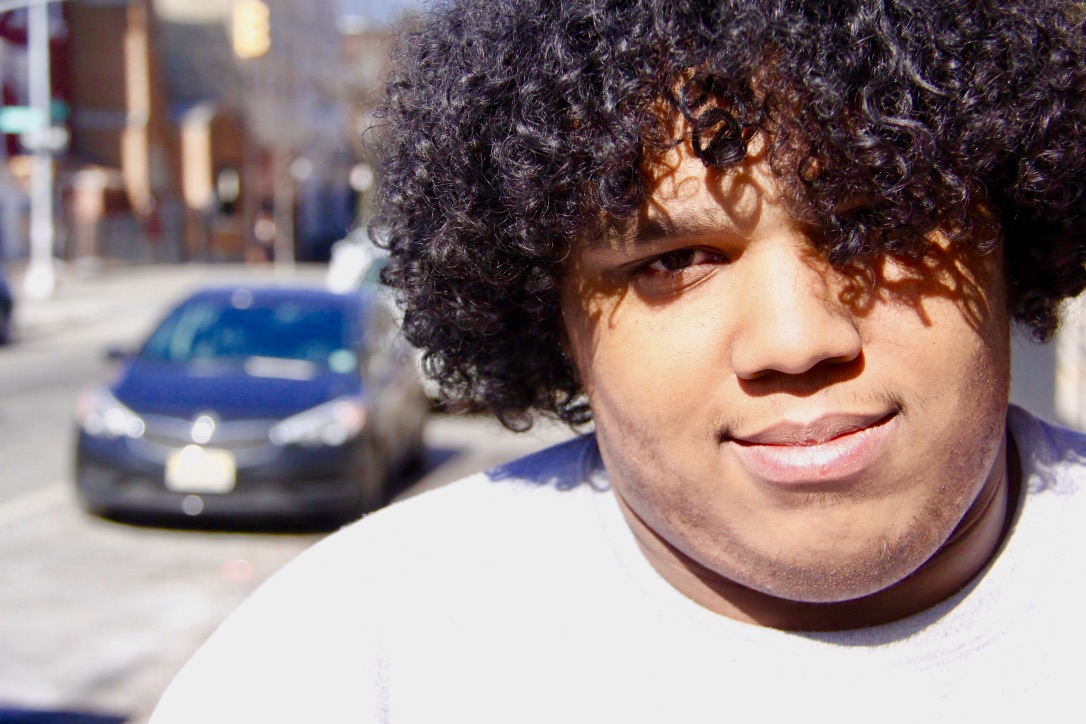 Mr. Negron admits he struggles with the "experiential learning" style of Reconnect's education program, which challenges students to write about their lives or explore connections between their experiences and what is being taught. He does not like talking about himself.
Peter Collazo, Reconnect's education director, said that, like Mr. Negron, many of the young men in the group's education courses had negative experiences at school or have been out of the education system for years. Reconnect's courses push members to think beyond just getting a job, he said.
"We can get them workplace development, but then we create a cycle where they're working low-paying jobs without professional development," Mr. Collazo said. "Given the opportunities and resources, these guys can excel."
Many urban programs mark success as a person getting any job, which reveals the low expectations many people have for inner-city youth, Father O'Shea said.
"No one ever came to my neighborhood in Long Island, a particularly white neighborhood, and said, 'Maybe we should really focus on you working in restaurants,'" Father O'Shea said. "No one would ever say that or think that that's a good outcome."
Reconnect partnered with Jesuit Worldwide Learning in August 2016 to create a 10-computer classroom in Bed-Stuy. The J.W.L. uses online classes from Regis University to provide higher education to people living on the margins, typically in refugee camps. The Brooklyn classroom is their only U.S. location. Students can earn up to 45 credits from the university over a three year period. Reconnect currently has eight people in the college courses, as well as four in pre-college classes. In the past five years, 140 young men have participated in the program.
This café has been running for three years. That's something to be proud of. I never ran a business a day in my life.
The community classroom, the international J.W.L. network and the opportunity for local jobs are all part of Reconnect's holistic approach to improving the lives of Bed-Stuy residents. Instead of having to leave the neighborhood, young people can find opportunities in the community. The workplace development and early college programs are stepping stones, Mr. Collazo said.
"We see it as a way to take the next step toward their associate's or bachelor's," Mr. Collazo said. "Having these resources at home and having those resources in your community makes a profound difference in their success. We're trying to tip the scales in their favor."
The scales can tip because education is still the best path out of poverty, Father O'Shea said. Along with the classes, students are tutored by Mr. Collazo and other volunteers throughout the week. The interactions build long-term relationships among Reconnect's workers, students and staff. They involve as many people as possible, relying on older members to mentor newer ones. Reconnect wants to build a community of like-minded people.
Father O'Shea and other Reconnect leaders have been meeting with local businesses to build work-study programs for neighborhood residents. Not only would such a program make jobs available, but it would help local businesses see longtime residents as a resource, instead of hiring outside talent.
Longtime residents are gone, taking with them the stories, character and history of a neighborhood.
"As Bed-Stuy changes, businesses should say we all had a part in creating neighborhoods like Bedford-Stuyvesant," Father O'Shea said. "We all had part in creating places that under serve our people for generations. So, we could all take a little interest in healing as many people as we can."
The Bed-Stuy community is already changing, just not in the way Father O'Shea envisions. Instead, the neighborhood is following a well-worn path of gentrification.
Longtime residents are gone, taking with them the stories, character and history of a neighborhood. New residents move in, often without acknowledging that history or the people who have long called those streets home. It is the "death of hello," as community advocates say.
Perhaps most devastating is the reversal of hard-fought social progress. Places long ignored by public and private investment are transformed through the work of local organizations, such as Reconnect or The Center for NuLeadership on Urban Solutions, a human justice policy advocacy think tank in Bed-Stuy. Kyung-Ji Kate Rhee, deputy director of the center, said the process requires direct work with people over months and years. Each individual success provides inspiration and a pathway for others.
But when rent skyrockets and people are forced to move out, the momentum is gone. Decades of work lost to a pen stroke, a signature turning an apartment complex into condominiums.
"Gentrification invests in places and properties without investing in people and the histories that come with those people," Ms. Rhee said. "That's the fundamental difference with what's going on at places like Reconnect."
Reconnect's goal of preparing young men for a different and changing world is ambitious, Father O'Shea admitted. Human development is messier than simply renovating buildings. "That's the big question: Can you really, in fact, change the course for a significant amount of young people in a neighborhood?" Father O'Shea asked. "Can this be different?"
But being different—seeing opportunity in places and people long ignored—is what Reconnect has always done. The cafe wall is painted with a ballad of hope: "In the struggle's morn, Reconnect Cafe was born. So that young men might wage peace, instead of war. Whatever you want to call it, we grind. An alternative in a city of crime, working to change lives, one cup at a time."