Abortion is proving that the Democratic Party can outdo Republicans in self-destruction
It took a mayoral election in Omaha, of all things, to reveal that the Democratic Party is capable of outdoing the Republicans in self-destruction. Still, the outcome was clear. Abortion is now the single issue defining the Democrats, and Ilyse Hogue, the president of NARAL Pro-Choice America, is the de facto head of the party. This gives the Republicans a major advantage in holding off electoral losses if the Trump administration continues to founder.
The battle began when Senator Bernie Sanders of Vermont, along with Democratic National Committee Deputy Chair Keith Ellison, campaigned on April 20 for the Democratic nominee for mayor of Omaha, part of a "unity tour" that was supposed to capitalize on President Donald J. Trump's unpopularity. That nominee is Heath Mello, a 37-year-old Catholic who had, as a state senator, supported a bill requiring that women be informed of their right to request a fetal ultrasound before getting an abortion. It is no exaggeration to say that all hell broke loose, at least in the rarefied world of Democratic Party donors and social media activists.
Ms. Hogue issued a scathing statement about the rally for Mr. Mello. "It tells your most active political base that we're just negotiable political property," she said to the Democratic Party leadership. "Since the election, women have been engaged on the front lines of every progressive fight. So what message does it send for the party to start this tour with an anti-choice candidate?"
Surely, there were some pro-life voters on the "front lines" of demonstrations against Mr. Trump's cruel immigration policies,
The NARAL president essentially conflated "women" with "abortion rights activists," though the Pew Research Center reported last year that 40 percent of women think abortion should be illegal in "most" or "all" circumstances (the same percentage as among men), a view also held by 42 percent of Catholic voters, 49 percent of Hispanics and 37 percent of voters under 30. Surely, there were some pro-life voters on the "front lines" of demonstrations against Mr. Trump's cruel immigration policies and his attempts to dismantle the Affordable Care Act. There may have also been some African-American Democrats miffed at Ms. Hogue's claim that women constitute the party's "most active political base."

But Ms. Hogue demonstrated that NARAL is at least as powerful within the Democratic Party as the National Rifle Association is within the Republican Party. D.N.C. chair Tom Perez had originally defended the endorsement of Mr. Mello. But, according to Jonathan Martin of The New York Times, after Ms. Hogue's criticism, he "retreated" and his "aides blamed Mr. Sanders for the event, putting out word that it had been the senator's idea to include the rally on the tour and criticizing him for not vetting Mr. Mello."
He then said in an interview with The Times that he respected Democratic candidates who "have personal beliefs" against abortion, but "if they try to legislate or govern that way, we will take them on." It is unclear what "take them on" means, but it raises the possibility of expensive and bitter primary campaigns against incumbent legislators, akin to the Tea Party movement among Republicans. (As for Mr. Mello, he reaffirmed his support for the U.S. Supreme Court's Roe v. Wade decision guaranteeing legal abortion.)
Mr. Sanders is far more popular nationally than any Democratic Party leader is, with especially high ratings among blacks and Hispanics.
Mr. Sanders has taken the brunt of the criticism for the Mello kerfuffle. "He's not even a Democrat!" say many party activists. It is true that Mr. Sanders maintains his independent designation in the Senate, something that apparently does not bother his constituents in Vermont (the sixth-best state for Hillary Clinton in 2016 and the best state outside of Hawaii for Barack Obama in 2012). It is also true that Mr. Sanders is far more popular nationally than any Democratic Party leader is, with equal favorability ratings among men and women and especially high ratings among blacks and Hispanics. One would think that a party whose electoral power is at its weakest since 1928, according to the liberal website Daily Kos, would want to piggyback on that popularity.
It is ironic that Mr. Sanders, tagged all last year as an unreasonable ideological purist by Democrats irritated by his challenge to Hillary Clinton in their party's primaries, is now cast as a squish too eager to compromise liberal principles. Speaking on NPR after the Omaha rally, Mr. Sanders said: "The truth is that in some conservative states there will be candidates that are popular candidates who may not agree with me on every issue. I understand it. That's what politics is about…. We have got to appreciate where people come from, and do our best to fight for the pro-choice agenda. But I think you just can't exclude people who disagree with us on one issue." He may have been thinking of the 17 or so states where there are more pro-life than pro-choice voters. After last year's Electoral College fiasco, are the Democrats really ready to fold up shop in those states?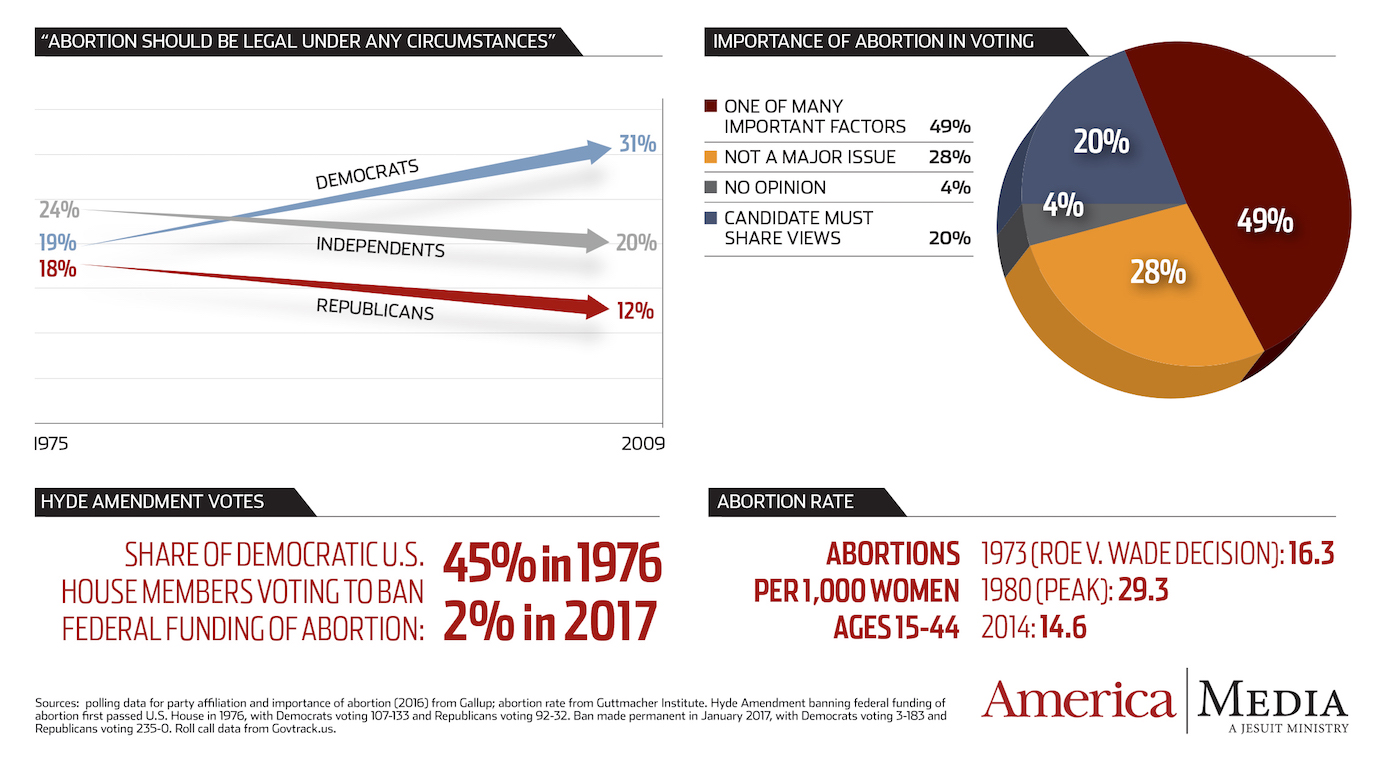 Indeed, the Sanders quote in the previous paragraph describes Clintonism in a nutshell, extending over three decades from Bill Clinton's "third way" centrism to Hillary Clinton's pitch that she was more pragmatic and better able to cut political deals than dreamers like Barack Obama and Mr. Sanders. It is telling that Mrs. Clinton, who last year chose a running mate with a history of backing some restrictions on abortion, has so far held back from commenting on the Battle at Omaha; the woman who praised Nancy and Ronald Reagan for raising public consciousness about AIDS is not well cast as a crusader against political relativism.
A secular blind spot
Much of the criticism of Mr. Sanders centers on his supposed bisection of economic from "social" issues. "It's not possible to have an authentic conversation about economic security for women that does not include our ability to decide when and how we have children," said Ms. Hogue in the NARAL statement criticizing the Democratic rally for Mr. Mello.
"The ability to control reproduction is central to women's social, professional, and economic stability," wrote Rebecca Traister in New York magazine, "and the women most likely to require abortion services and to be negatively affected by restrictions on access to reproductive health care are poor and low-income women, disproportionately women of color."
Certainly a lot of Democrats, including some Catholics, sincerely feel this way. But many pro-choice activists are dismissive of the idea that voters can oppose abortion for any reason other than wanting to oppress women. They cannot accept that some of the same men and women rallying for the humane treatment of refugees, for the abolition of the death penalty and for the Black Lives Matter movement also have moral objections to abortion—that the consistent ethic of life is real for many people. They take as gospel the famous quip by former congressman Barney Frank, that abortion opponents "believe that life begins at conception and ends at birth," ascribing only the most malevolent motives to those on the other side of an issue that a great many people agonize over at some point in their lives.
Many pro-choice activists are dismissive of the idea that voters can oppose abortion for any reason other than wanting to oppress women.
They also ignore that pro-life voters and legislators are often allies on social justice issues—for example, the Lilly Ledbetter Fair Pay Act, which made it easier for women to seek compensation when they are unfairly paid at a lower rate. It would not have passed the filibuster threshold in the Senate in 2009 without the votes of Harry Reid, Ben Nelson, Claire McCaskill and Kay Bailey Hutchison, among others who have also supported restrictions on abortion such as parental notification requirements and a ban on partial-birth abortions.
Many Democrats share a secular blind spot that causes them to needlessly antagonize voters of faith. It leads to ridiculousness like the charge that last year Pope Francis met with Mr. Sanders—the only candidate who asked to meet with the pope—as part of a plot to keep women down. ("Once again, the church's magisterial muscle is being flexed against the woman candidate," wrote The American Prospect's Adele Stan in an article headlined "Is Pope Francis a Bernie Bro?") When people speak of "identity politics" hurting the Democratic Party, they are not referring to issue stands or policies but to the practice of viewing everything in terms of how it affects the hierarchy of constituent groups—as in NARAL's claim to speak for the Democrats' "most active political base," with veto power over all candidates.
In 1992, Patrick Buchanan delivered a speech at the Republican National Convention in which he eagerly embraced the idea of a "culture war" in the United States over issues including abortion and gay rights. It is widely believed that his divisive, no-compromise speech horrified centrist voters and helped to deliver the White House to Democrat Bill Clinton that fall. The Battle of Omaha is not as high-profile, thanks to the unending distractions coming from Mr. Trump, but it suggests that the Democratic Party has loaded a pistol and is waving it dangerously close to its own foot.