What does it mean to speak at the Vatican?
Days before the Democratic presidential primary in Catholic-heavy New York last April, U.S. Senator Bernie Sanders announced he would be taking a few days off the campaign trail in order to speak at the Vatican.
Fans of the self-described democratic socialist viewed the invitation as a nod from Pope Francis while foes decried Vatican interference in a particularly divisive U.S. presidential contest.
Inquiries into how Mr. Sanders secured a spot at a conference on global inequality hosted by the Pontifical Council on Social Sciences offered a rare glimpse into the political maneuvering that takes place in the highest levels of the church.
The president of the council, Margaret Archer, saidthat Mr. Sanders had breached protocol by seeking an invitation to speak.
But the Argentinian bishop Marcelo Sánchez Sorondo, who outranks Ms. Archer, dismissed those claims, saying that not only had he invited the Vermont senator himself, but that Ms. Archer had granted her approval. A copy of the invitation, with both Bishop Sorondo's and Ms. Archer's names affixed, was eventually leaked to the press.
Mr. Sanders, an outspoken admirer of the pope whose campaign initially thought they were being duped with the invitation, gave his speech. He even managed a brief encounter with Pope Francis before heading back to the United States, where he lost the New York primary and eventually conceded the nomination to Hillary Clinton.
But the episode demonstrates the fraught nature of what it means, and does not mean, when individuals and organizations say that they have been invited to "speak at the Vatican."
An appearance at the Vatican is often used by supporters to signal papal support for an individual or a cause, but the reality is far more complex.
An appearance at the Vatican is often used by supporters to signal—sometimes subtly but other times more ostentatiously—papal support for an individual or a cause, but the reality is far more complex.
"The Vatican is such a big institution, it's like the White House," Miguel Díaz, a former U.S. ambassador to the Holy See, told America. During his tenure, he co-sponsored conferences with Vatican offices. "People have to be very careful when claiming they spoke there, because the pope didn't necessarily invite them. Usually invitations come from a particular institution or a particular office within the Vatican."
The Vatican is both a campus and a country, so stating that one spoke there can be akin to being on a panel at Boston University or giving a workshop in Canada.
Under its auspices are dozens of offices and departments, including 11Pontifical Academies and 12Pontifical Councils, as well as several buildings, including many libraries, churches and museums. Each is semi-autonomous and charged with hosting conferences, publishing papers and facilitating dialogues.
In some instances, they partner with organizations not directly linked to the church in order to facilitate dialogues that either fall within their realms of expertise or simply are interesting to church officials.
Take a 2014 speech from President Donald J. Trump's chief strategist, Steve Bannon.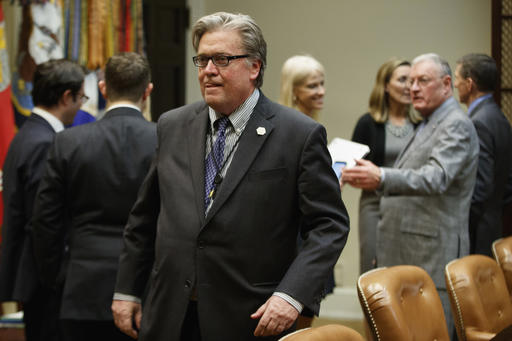 BuzzFeed Newsreported last year that Mr. Bannon gave a speech about threats to the West via Skype that was "beamed into a small conference room in a 15th-century marble palace in a secluded corner of the Vatican."
On its face, it's true. But the details show that while the conference took place in Vatican City, it was not affiliated with the church.
The event, hosted by the Dignitatis Humanae Institute, a small think-tank headquartered in Rome, was held inside the Casina Pio IV. That building houses three Pontifical Academies and has, under Pope Francis, become something of a Catholic think-tank or university research center, hosting conferences and speakers on a range of issues. It also allows organizations to use its space for convening purposes, even if there is no official partnership with the church, like the conference that Skyped in Mr. Bannon.
If a group wants to host an event inside the Vatican—either because it supports the church's agenda or simply wants to say it held an event inside the Vatican—it works with a church official to secure space. This might mean further collaboration about topics and speakers, in the case of co-hosted conferences.
Or it might mean hosting a conference off-site that includes a brief visit to a room inside the Vatican for a papal greeting, as was the case with a November forum hosted by Fortune and Time magazines for global business leaders.
And in October 2014, Porsche rented out the Sistine Chapel to host a fundraiser for a charity that helps the homeless.
In all those scenarios, attendees can add to their bios that they participated in a Vatican event.
Then there are the more official events hosted by Vatican offices.
For example, on Feb. 14, the Pontifical Academy of Sciences and the University of Florence co-hosted a conference about thevalues of a Mediterranean diet at Casina Pio VI, where the author of The Olive Oil Diet: Nutritional Secrets of the Original Superfood, Simon Poole, led a panel on food and health.
While a cookbook author's talk is unlikely to generate as much heat as that of a controversial political operative, Mr. Poole can now say that he, too, spoke at the Vatican.
And later this month, two Pontifical Academies are co-hosting a conference at Casina Pio IV aboutbiological extinction, an issue that worries Pope Francis and one that he addresses in "Laudato Si'," his encyclical on the environment.
Scheduled to speak during a session about causes of extinction is Stanford biologist Paul R. Ehrlich. Some conservative commentators, at places such asBreitbart andLife Site News, have blasted Mr. Ehrlich's invitation, noting that his support of population control contradicts church teaching.
But supporters of Pope Francis note that he has repeatedly demonstrated his willingness to work toward common goals even with people who might not agree with the church on everything.
Consider thepanelists who unveiled his climate change encyclical at the Vatican in June 2015.
Joining Cardinal Peter Turkson and Carolyn Woo, then the head of Catholic Relief Services, were an atheist climate scientist and a leader in the Orthodox Church. They certainly had differences in some areas, but all four were committed to the pope's pro-environment message.
The lesson in all this is that claims of speaking at the Vatican should be taken with a grain of salt. Thomas Rosica, C.S.B., head of Salt and Light Catholic Media outlet and a frequent Vatican collaborator, told America that notions of grand conspiracies, from both the left or right, about why certain people are invited to speak and given a platform are fantastical.
"Many times people credit Vatican officials with far too much long-range, strategic thinking," he said.