Central American migrants say Trump's border wall "can't stop us from coming"
In the scorching afternoon heat of Mexico's southeastern gulf coast, three men wash their clothes in former oil barrels. They laugh when asked about the border wall planned by U.S. President Donald J. Trump.
"It can't stop us from coming," Hunley Salgado, a 24-year-old Nicaraguan, says. "We'll just climb over it. If they make it too high, we'll tunnel under it."
Willie Rodríguez, a tall and skinny 42-year-old Honduran, nods as he hides from the sun in the shadow of a wall across the street. "The whole point of us making this journey is that we're trying to realize a dream," he says. "The prospect of having to face some new wall is nothing compared to the prospect of having to stay in Honduras, with its poverty and its violence. There's just nothing there for us."
Mr. Trump has repeatedly commented on Mexican migration to the United States, during his campaign accusing the nation's southern neighbor of sending rapists and criminals north and vowing to completely wall off the U.S.-Mexican border. He has suggested that he is willing to deport millions of undocumented residents in the United States.
In the wake of Mr. Trump's victory, officials in Honduras and Guatemala said that people smugglers were organizing a "massive" departure of Central Americans.
But net Mexican migration has been negative in recent years, as more Mexicans return across the border. The real movement north is now made by migrants from Guatemala, El Salvador, Nicaragua and especially Honduras.
In 2016, U.S. Border Patrol detained nearly 416,000 across the country, a sharp rise compared to the year before. Many of them were Central American families and unaccompanied minors driven north by high levels of poverty and especially criminal violence in their home countries; Honduras and El Salvador have some of the highest murder rates in the world.
Coatzacoalcos is a rugged industrial city in the state of Veracruz surrounded by vast petrochemical plants on Mexico's southeastern Gulf coast. Few of the 80 or so Central Americans who stay the night at the migrant shelter here in are willing to entertain Mr. Trump's controversial executive order with anything other than a shrug or a scoff.
Most of the men—there are no women at the shelter today and only two minors—are Guatemalans, Salvadorans and Hondurans. They arrived in Coatzacoalcos the day before, riding the roof of a massive freight train carrying goods northwards.
It is a dangerous trip of some 1,800 miles through Mexico, fraught with hazards on every turn. Even if the travelers manage to outrun the Mexican authorities' aggressive crackdown on undocumented Central Americans in the southern part of the country, criminal gangs and corrupt law enforcement officials prey on them as valuable targets for kidnapping and extortion.
Most women making the trek north fall victim to sexual violence. And there is the train itself, which gained the nickname "La Bestia" ("The Beast") due to its size and the many migrants it maims and kills in accidents.
The shelter in Coatzacoalcos, a city plagued by organized crime in recent years as Veracruz became a battleground for rival drug cartels, faces dangers of its own. Run by the local diocese, it is a small, one-story building that keeps its doors shut to outsiders, with a cage built around the side entrance to keep members of gangs from mingling with the migrants.
In comparison, Mr. Trump's wall and his plans for massive deportations of undocumented migrants seem like relatively minor hurdles, but his aggressive stance on immigration did indeed affect the flow of Central Americans traveling north.
In November, in the wake of Mr. Trump's victory, government officials in Honduras and Guatemala told Reuters that people smugglers were organizing a "massive" departure of Central Americans. The women coordinating the shelter in Coatzacoalcos say the number of visitors looking to stay the night has indeed steadily increased in recent months.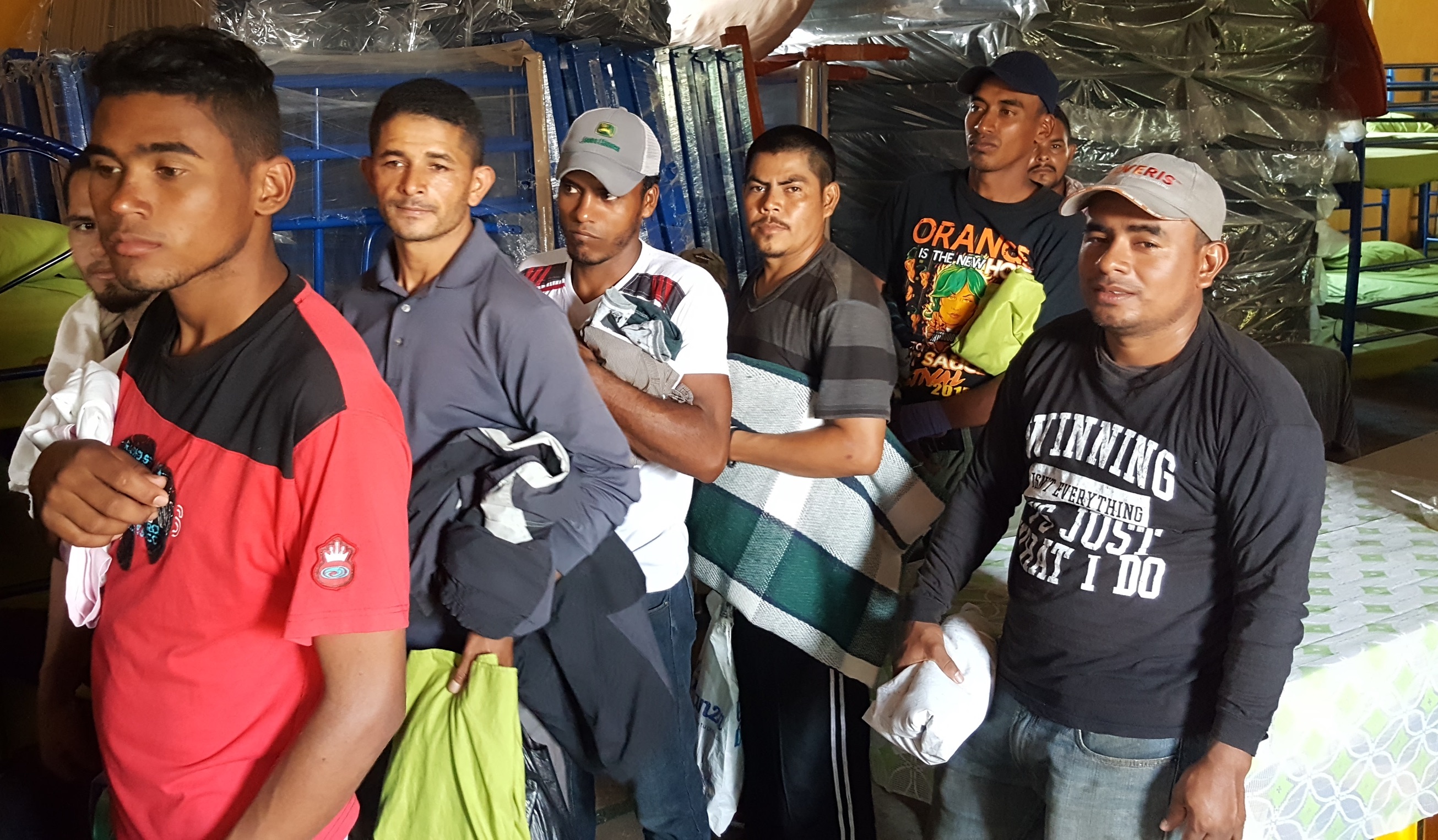 "It's true, there are more of us leaving now than maybe a year ago. People don't want to wait for that wall to be built," Willie Rodríguez, who left his wife and two young daughters 19 days ago, explains. "They want to reach the U.S. border before it becomes much harder."
Meanwhile, migration advocates in Mexico scramble to deal with the new reality of a Trump presidency.
"We are obviously as outraged as the next Mexican over Trump's incredibly discriminatory discourse," Marta Sánchez of the Mesoamerican Migrant Movement, a Mexico City-based rights group, tells America. "Migrant organizations need to be more united than ever; we need a focused approach to deal with these new challenges."
In January, Mexico's federal government announced it would allocate an extra one billion pesos (almost $50 million) to its consulates in the United States to ramp up legal assistance for undocumented Mexicans detained and set to be deported. And in November, barely a week after Mr. Trump's victory, presidential spokesperson Eduardo Sánchez said the government of President Enrique Peña Nieto is working on a "contingency plan" to deal with the two to three million undocumented immigrants Mr. Trump promised to deport soon.
But critics like Marta Sánchez say Central Americans receive no support at all from the Mexican government. "The Mexican reaction to Trump's migration policy plans has been almost nonexistent; I've seen no changes at all," she complains.
"Despite all the rhetoric, what Trump promises to do isn't fundamentally different from what the Obama administration did," said Alberto Xicoténcatl, who coordinates the migrant shelter in Saltillo, the capital of the northern Mexican state of Coahuila, which borders Texas. "Mass deportations already happened under Obama, and much of the wall that Trump promises is already there. And there's also the crackdown in Mexico itself, which has already been happening."
Indeed, in the summer of 2014, Mexico—under pressure from the Obama administration after a surge in underage Central American migrants overwhelmed U.S. immigration authorities—implemented a crackdown of its own in states bordering Guatemala in the south. Dubbed "Plan Frontera Sur" ("South Border Plan"), Mexican immigration authorities ramped up deportations of Central American migrants to levels almost comparable to those in the United States.
"Many opt to stay in Mexico instead of trying to cross the border. That's something the Trump presidency definitely did influence."
One thing did change in recent months, according to Mr. Xiocténcatl. "There's a tendency among Central Americans we see here in the north of Mexico to sort of wait and see what's going to happen," he said. "Many opt to stay in Mexico instead of trying to cross the border. That's something the Trump presidency definitely did influence."
At the shelter in Coatzacoalcos, however, none of the Central Americans plan to linger. Their final destination is still the United States.
"It's the American Dream; it's our dream," says Mr. Rodríguez. "You can't take away the dream of a better life from people. It's cruel. Donald Trump is a soulless man for wanting to do that, but he won't be able to stop us from trying to have a better life."