Mexican church reels after murder of another priest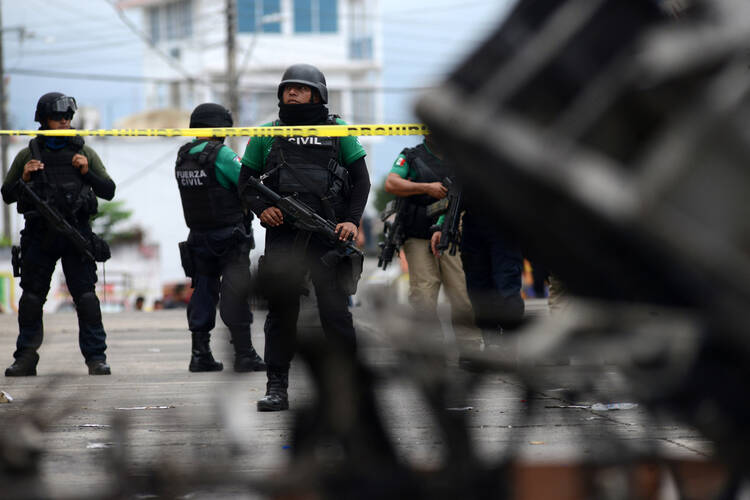 Aftermath. Police officers guard the municipal building in Catemaco, Mexico, Nov. 14 after it was set on fire following the disappearance of Father Jose Luis Sanchez Ruiz, pastor of Twelve Apostles parish. The outspoken priest, who had been reported missing in the state of Veracruz, was found alive, but with signs of torture. (CNS photo/Oscar Martinez, Reuters)
Bishop Raúl Vera chose his words carefully, even as he struggled not to raise his voice in anger.
"We, the priesthood, are part of society; we're just as exposed as everybody else," the bishop of Saltillo, a city in the northern Mexican state of Coahuila, said. "It is sad to see how every sector of society has now become a target of violence, and we are no exception."
Bishop Vera, one of Mexico's most outspoken and respected promoters of human rights, had just given a fiery sermon during his regular Sunday noon Mass on Jan. 15 at the cathedral in Saltillo, following the murder of the Rev. Joaquín Hernández Sifuentes. The lifeless body of the 42-year-old priest was found on Jan. 12, more than a week after he was reported missing on Jan. 3.
"The whole issue of organized crime is the result of a sort of social illness," said Bishop Vera, speaking with America after the Mass in Saltillo. "There is more insecurity each day, and the youth are looking for ways to turn their backs on society."
The victim disappeared shortly after offering New Year's Day Mass at his parish, the Sacred Heart of Jesus in the working-class neighborhood La Aurora. Father Hernández was supposed to have gone on vacation, but friends and colleagues became worried after he did not answer his cell phone. According to a statement by the Saltillo diocese, a friar visited his living quarters at the parish and found that while Father Hernández was missing, his suitcase and some other personal items were still at the residence.
Authorities later revealed to Mexican media that the victim had been beaten and strangled to death after an altercation at the parish with two unknown men, who were seen driving away in Father Hernández's car by witnesses. A spokesperson for the Coahuila state attorney general's office told America that two suspects had been arrested but declined to give any further details, citing the ongoing investigation. Bishop Vera told America that the diocese was awaiting further information from the local authorities on the crime.
The murder sent shockwaves through Saltillo's Catholic community. On Jan. 16, hundreds of faithful and almost 100 members of the local clergy attended the service at Saltillo's cathedral to pay their last respects to Father Hernández. Many more had already attended his wake the day before, held at the diocesan seminary on the outskirts of Saltillo.
Father Hernández's murder is yet another blow to a church that feels increasingly under siege in a country where more than 100,000 people are estimated to have died in recent years in an unrelenting wave of criminal violence. Much of the violence began in 2006 when the government under President Felipe Calderón began deploying the military against powerful organized crime groups. Members of the clergy have not been exempt. Since Mr. Calderón's successor President Enrique Peña Nieto took office in 2012, at least 16 priests have been murdered.
With three priests and four catechists murdered, 2016 was an especially bad year for the church in Mexico. "Mexico is now the most dangerous place for clergy in the Americas," said Bernardo Barranco, a sociologist and one the country's most esteemed observers of the church.
Last September, two priests were abducted, tortured and shot in the eastern Gulf coast state of Veracruz. According to the state authorities, they were victims of a robbery; two suspects were arrested shortly afterwards.
That same month, a priest in the central state of Michoacán was also abducted and shot, presumably after a discussion with two suspects. Another prelate in Veracruz was kidnapped and tortured by unknown assailants in November, but survived.
Some of the violence appears to be motivated by the clergy's work. In 2013, a priest was attacked in the northern state of Tamaulipas, one of the country's most violent states, after he had reportedly refused to offer Mass for members of organized crime.
Most attacks, however, appear to follow the more general pattern of a nationwide increase in criminal violence and an erosion of the justice system after years of open warfare between the state and organized crime. As violence has exhausted many communities and accustomed a generation of young Mexicans to impunity and bloodshed, priests are no longer considered untouchable.
"I don't believe we're being specifically targeted;, it's more of a generalized situation," said José David Rosales, rector of Saltillo's seminary and a personal friend of FatherJoaquín Hernández. "We are just as vulnerable as everybody else."
"The figure of the priest has been desacralized," Mr. Barranco agreed. "Violence has reached the church."
Preventing or combating violence against clergy specifically is difficult, however. In response to Father Hernández's murder, the Diocese of Saltillo instructed its priests via an internal communiquée not to travel alone or at night, while other measures are still under consideration, Bishop Vera said. In the past, Bishop Vera and other members of the Catholic hierarchy in Mexico have rejected steps like hiring security personnel for priests and continue to do so now.
Mr. Barranco believes adding security teams to protect priests would be a mistake. "It would give the church a sort of exceptional status," he said, "which is not what it needs. The only real solution is to create stronger ties to society."
Bishop Vera agrees. "What we need to do is root out the sickness of violence. We need to be a more activist church, [to] strengthen evangelization," he said. "Society has been abandoned by politics and economics; it cannot be abandoned by the church as well."
Jan-Albert Hootsenis America's Mexico City correspondent.