President Trump's crackdown on sanctuary cities is un-American, Newark cardinal says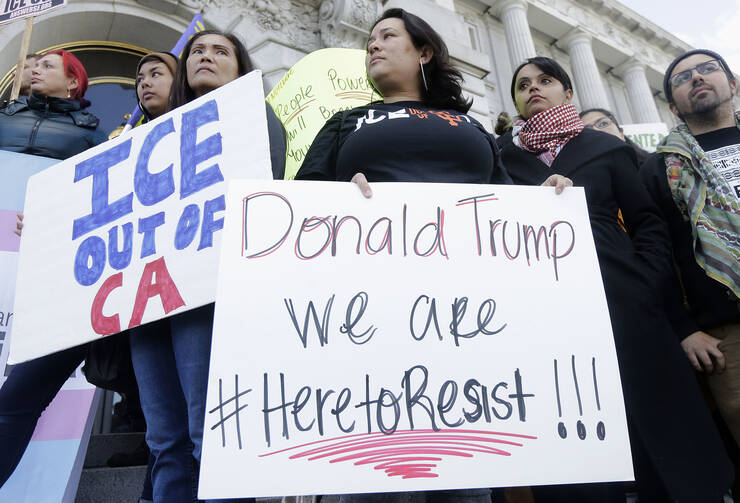 Protesters hold signs as they listen to speakers at a rally outside of City Hall in San Francisco, Wednesday, Jan. 25, 2017. President Donald Trump moved aggressively to tighten the nation's immigration controls Wednesday, signing executive actions to jumpstart construction of his promised U.S.-Mexico border wall and cut federal grants for immigrant-protecting "sanctuary cities." (AP Photo/Jeff Chiu)
One of the Catholic Church's newest cardinals used strong words to condemn President Donald Trump's threat to pull federal money from U.S. cities and counties that provide sanctuary to undocumented immigrants, calling it "the opposite of what it means to be an American."
"Closing borders and building walls are not rational acts," Cardinal Joseph W. Tobin of Newark said in a statement on Friday. "Mass detentions and wholesale deportation benefit no one; such inhuman policies destroy families and communities.
"In fact, threatening the so-called 'sanctuary cities' with the withdrawal of federal funding for vital services such as healthcare, education and transportation will not reduce immigration," the newly-installed archbishop of Newark continued. "It only will harm all good people in those communities."
On Jan. 25, the president signed an executive order that would punish jurisdictions that do not cooperate with the federal government's request to examine immigration status when making arrests and hand over undocumented people to the federal government. Mr. Trump said the federal government may withhold funds to counties and cities that refuse to comply.
Many elected leaders have said they will fight Mr. Trump's order, but the mayor of Miami-Dade County announced on Jan. 25 that his jurisdiction would abide by federal law, drawing praise from the president on his Twitter account.
Cardinal Tobin, who was given a red hat by Pope Francis in November, said Americans are entitled to feel safe, adding the "federal government should continue a prudent policy aimed at protecting citizens."
But he also said the nation "has a long and rich history of welcoming those who have sought refuge because of oppression or fear of death." He pointed to past waves of migration from places such as Canada, Europe and Vietnam, which "we have welcomed and helped to find a better, safer life for themselves and their children in America."
Bishop Joe S. Vásquez of Austin, Texas, chairman of the U.S. bishops' committee on migration, also condemned Mr. Trump's executive order this week.
In a statement released on Jan. 26, Bishop Vásquez said that he understood the need to curb crime, but he questioned the approach favored by Mr. Trump. "This order would force all jurisdictions to accept a one-size-fits-all regime that might not be best for their particular jurisdictions," he said.
He pointed to the church's teaching on subsidiarity and said the administration's changes in policy may curtail local efforts at fighting crime.
"My brother bishops and I work to engage both local law enforcement and immigrant communities and help to foster dialogue between the two," the bishop said. "We know that cooperative relationships between law enforcement and immigrant communities are vital. I fear that this executive order may be injurious to that vital necessity."
In a separate statement, Bishop Vasquez also condemned Mr. Trump's pledge to move forward with plans to build a wall along the U.S.-Mexico border. The White House said that the wall, which by some estimates could cost between $15 to $40 billion to build, may be paid for by taxing goods imported from Mexico.
On Jan. 27, Reuters reported that Mr. Trump plans to sign an executive order to stop refugees from some Muslim-majority countries from entering the United States, making good on a campaign promise to restrict migration from places experiencing terrorism and war, such as Iraq, Afghanistan and Syria.
In 2015, when he was archbishop of Indianapolis, Cardinal Tobin defied a request by then-Gov. Mike Pence to stop the resettlement process of a Syrian family. Since then, he has spoken out repeatedly about the need for the United States to continue welcoming immigrants and refugees.
Cardinal Tobin said in his statement on Friday that the Archdiocese of Newark is "in the final steps of preparing to welcome 51 refugees from Syria, Iraq, Afghanistan and the Democratic Republic of the Congo." He said they have all been vetted by federal authorities, a process that can take two years, and that the church authorities "hope to welcome others" in the future.
Denouncing "irrational fear, prejudice and persecution," Cardinal Tobin said "confident kindness is what has made, and will continue to make, America great."