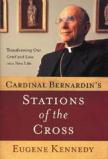 For Eugene Kennedy, Cardinal Joseph Bernardin of Chicago (1928-96) is an exemplar of the paschal mystery: "Joseph Bernardin's life tells us what happens when a man accepts the destiny that is given to few on behalf of us who are the many, to recreate the central motif of Christian spirituality—life, death, and resurrection—before our eyes." The inside cover binding reproduces a handwritten page from a Bernardin retreat journal, poignantly catching his struggle: "I want desperately to open the door to let the Lord in so he can take over my life completely. Yet I seem unable to do so. I let him come in part way and I talk with him but I am afraid to let him take over. Why?" Kennedy's volume provides an intimate glance into the Cardinal himself.
Kennedy, a psychologist, prolific author, syndicated columnist, professor emeritus at Loyola University of Chicago and 30-year friend of Bernardin, previously expressed his love and admiration for Bernardin in My Brother Joseph: The Spirit of a Cardinal and the Story of a Friendship (St. Martin's Press, 1997). In Stations of the Cross he limits his narrative to Bernardin's final three years, November 1993 to November 1996, drawing parallels between the 14 events, or "stations," of the traditional Catholic Way of the Cross and Bernardin's life.
Advertisement
Each station is divided into two sections, "Then" and "Now." The "Then" section presents an interpretation of the traditional station buttressed exegetically by frequent references and quotations from Raymond E. Brown's The Death of the Messiah (Doubleday, 1994); the "Now" section draws parallels to Bernardin's life. The reflections are compelling, giving graphic narratives on Jesus and on Bernardin, vividly illustrating how amid great human struggle Bernardin internalizes the example of Jesus and ultimately is transformed by his suffering.
Skim the foreword, preface and introduction, and begin with "The First Station: Jesus Is Condemned to Death." Kennedy presents narratives of the innocent Jesus' condemnation to death by Pilate and Caiaphas and of the innocent Joseph's condemnation by conservative elements within the Catholic Church, especially by his hierarchical clerical peers: "Some of these cardinal-archbishops judge that Joseph remains too committed to the Vatican II Church to please them as they carry out the Pope's orders that hierarchical structures be restored in the Church across the world.... Those who criticize him seek out ways to snare Joseph in his speech."
Joseph's lifelong condemnations by his peers are climaxed by two final "condemnations": the accusations of sexual abuse made in November, 1993 by a former seminarian—later recanted—and the "condemnation to death" of Joseph through the diagnosis of pancreatic cancer. Kennedy is startled by the intensity of the condemnations after November 1993:
How easy to see now that it is precisely his trustworthiness that affronts his critics and motivates them to destroy him. If he can no longer be trusted, his influence in American Catholicism and national life will be shattered beyond any repair. Still, none of us is prepared—not Joseph, not his friends, not his people—for the fury of judgment that boils suddenly out of the everyday sea on the November afternoon in 1993. In this maelstrom of hasty judgment and false accusation, Joseph's three-year public ministry begins.
Such invective against the hierarchy runs throughout the book and, in my opinion, mars the narrative. The invective, intended to heighten the reader's awareness of Bernardin's sufferings and so enhance his stature, is at the very least distracting. Throughout, the hierarchy is compared to the Romans and Jews who condemned and crucified Jesus:
Joseph is stripped of his garments when the same high priest [Cardinal Law] decides, in conversation with the other United States cardinals, to cut Joseph out of the conference calls that they regularly share to discuss matters in the American Church. Yet Joseph, praying that he may empty himself, launches one last project, Common Ground, through which he hopes that Catholics who have differing views on the meaning of Vatican II's reforms may enter into a dialogue so that they can resolve their differences and stand together in the Church.
I suspect Bernardin himself would be uncomfortable with this tone.
This book offers fresh insights into a man many view as a prophet. I recommend it not only to those who seek to understand Bernardin but also to those who seek inspiration for their following of Jesus amid suffering. And in this period of heightened criticism of the Catholic hierarchy, the book is a heartening reminder that God raises up among us even today prophetic leaders of immense stature.