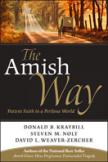 The Amish Way
by By Donald B. Kraybill, Steven M. Nolt, David L. Weaver-Zercher
Jossey-Bass. 288p $24.95
St. Francis advised, the story goes: "Preach the Gospel. Use words, if necessary." The holy mendicant's advice came to mind as I read The Amish Way: Patient Faith in a Perilous World, a thoughtful work on the beliefs, practices and affections of a people whose exacting Christianity gives significant witness.
The book marks the second collaboration for Donald Kraybill, Steven Nolt and David Weaver-Zercher, academics who have written extensively on the Amish. In 2007, the three men co-authored Amish Grace: How Forgiveness Transcended Tragedy in the wake of the killings in Nickel Mines, Pa. On a bright morning in October, 2006 Charles C. Roberts IV, a 32-year-old milk truck driver, entered a one-room Amish schoolhouse in Nickel Mines, armed with weapons and ammunition. Embittered over the death of his infant daughter, he tied up a dozen girls and shot them execution-style before turning the gun on himself. Roberts and five girls died; five others were critically wounded. Within hours of the horrific attack, members of the Amish community were expressing forgiveness for the man who killed their children and reaching out to his widow and family. "Things are going to happen in life," an Amish midwife who had delivered several of the dead girls told the media. "We are going to get hurt. But we have to forgive.... If we give it to God, he'll take it and make something good out of it."
Advertisement
Amish Grace, which became a national bestseller and inspired a movie, examined the extraordinary Amish commitment to forgiveness. The subject matter of this second book is less dramatic but equally meaningful. Discussed here are Amish origin and organization, the texts and prayers that inform their spirituality, and the beliefs and disciplines that shape their collective life. The bulk of the book is devoted to exploring Amish practice in everyday life—their views on children, family, possessions, technology, their response to evil and loss—and appropriately so. Pacifists with a strong commitment to family and rural living, the Amish are among those Christians who reject a "two-track system of salvation that separates grace from ethics," belief from obedience. Faith in Christ, they believe, requires holy living and the directives are quite specific.
"All forms of spirituality are acts of resistance in some respect," write the authors, but most do not "resist the world as forcefully as the Amish do." Amish faith is derived from the 16th-century Anabaptist movement, whose followers were burned at the stake or executed, often by Catholics, for insisting that baptism was for adults only, which was considered heretical. Like the early Christians, the Anabaptists opted for pacifism or nonresistance as their response to persecution. Their early history of persecution first engendered their sense of separateness. Stories of their martyrs, still read in Amish homes today, have helped shape Amish understanding of the world as a place of spiritual perils and given them a sense of being part of something greater than themselves.
For the Amish, separation from the world has bearing on every aspect of life. Young people are permitted a time of "running around" known as Rumspringa, but the adult who chooses to be baptized in the church must submit to the Ordnung ("order"), the collective regulations, prohibitions and expectations for an Amish lifestyle. The directives, which members ratify twice a year, vary according to each Gmay or church district. Some are extremely detailed, dictating, for example, the permissible construction of a buggy. The wayward are disciplined with confession, shaming or, in extreme cases, excommunication.
Exacting in their commitment to live apart, the Amish are under no illusion that their rigorous Christianity exempts them from the troubles of this life. Like the rest of us, they reckon with hateful acts, tragic loss and emotional suffering. Some of the book's most poignant sections include reflections from Amish parents grappling with the death of a child. Nor are the Amish distinct from other Christians in their explanations for why suffering or evil exists. What sets them apart are their responses: their rejection of violence, even in self-defense; their commitment to forgive and, remarkably, their refusal to pass judgment on others. On the subject of salvation, the Amish, in the words of one of their bishops, "defer to God."
God, church, family, then self are the priorities of the Amish way. The authors recognize the pitfalls of such an ordering—the potential for religious legalism and severe constraints on individual expression. They also recognize its strengths—stable, tight-knit communities where people are deeply committed to caring for one another, especially the vulnerable, and astonishing demonstrations of faith. The Amish are a people willing to live within limits, which causes bafflement in our culture, which values the unfettered life. Their way reminds us spiritual vitality has a cost and cannot be divorced from community. We do not get to heaven alone.
This book is an affectionate critique. Years of research and Amish friendships have gained the authors intimate access to these somewhat reclusive Christians, who have shown little interest in explaining themselves to the outside world. Yet fond regard does not prohibit the authors from identifying problems and inconsistencies. Amish adherence to traditional gender roles, permitting only men to hold leadership positions in the church, has led in some instances to reluctance to deal with domestic and sexual abuse. While admiring the Amish for their "uncommon patience," the writers question whether this much patience is "a good thing. What about working to change the world for the better?"
While I was reading The Amish Way, public chatter about American religious identities verged on the hysterical. A reportedly Christian pastor prepared to commemorate Sept. 11 by burning copies of the Koran. The radio talk show host Glenn Beck denounced social justice as a false gospel and was begging for a leader to come forward and tell Americans, "the TRUTH!"
In the midst of such religious tension, contemplating the Amish way gives hope. As with any mature and well-practiced faith, their example reaffirms belief in God's presence among us. Debbie Marcocci, a diner cook, said after the Nickel Mines killing, "A lot of people say they know Jesus, but they don't. The Amish do."