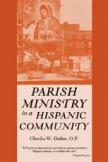 Charles Dahm, a Dominican priest, is more than qualified to write about parish-based Hispanic ministry. Like many U.S. priests of the Vatican II generation, his first passion was Latin America, where he steeped himself in Spanish as a missionary in Bolivia. On his return to the United States he completed doctoral studies in politics and plunged himself into community development and justice ministry. Eighteen years ago he accepted the challenge of being pastor at one of Chicagos premier Hispanic parishes, St. Pius V in Pilsen, Ill. This book is the fruit of those many years of pastoral work with the Mexican people, who now constitute almost one-half of all Chicago Catholics.
The books focus is clear: parish ministry with Mexican immigrants in an ethnically and socioeconomically homogeneous barrio context. The book has 10 chapters, all heavily ethnographic, that provide detailed descriptions and examples of common situations, trends and developments at the parish. Dahm weaves together a highly synthetic but perceptive outline of the main human realities facing his parishioners. He gives a cogent profile of his parishioners challenges: undocumented immigration, housing, jobs, lack of English-language proficiency, health risks, parenting their U.S.-born children, gangs and the scourge of machismo.
Dahm reveals his skills as observer, combining good social science data with illustrations from his vast experience with the people. He wisely stresses the family, around which so many personal and collective issues revolve. Consequently, the severe challenges these people face must first of all be grasped within the context of community or collectivity and not merely as challenges to individuals.
A safe haven for new immigrants and a relatively homogeneous parish like St. Pius V can do a great deal to provide a non-threatening environment for healthy, life-giving continuity as well as needed change. A positive attitude toward the peoples popular religious expressions is a basic component, and Dahm gives examples of how religious, spiritual and social needs can and must be addressed by the parish. He insists that the central task of Hispanic parishes is the creation of many base communities grounded in prayer, reflection and action. The author describes in detail how that life-giving process of the communidades unfolds.
Dahm sticks to his subject with tenacity and zest. There is no book in English or Spanish that paints the picture of the U.S. Hispanic barrio parish with greater detail or insight. He effectively cites many U.S. Hispanic theologians. The books broader context is the distinctive local church of Chicago, with its pronounced historic dynamics of ethnicity and race. Dahms audience is undoubtedly the clergy, men and women religious and lay ecclesial ministers, especially non-Hispanics who are looking for a substantial orientation to work in this kind of parish. Veterans in Hispanic ministry will also find Dahms synthesis true to experience, practical and insightful. The underlying theology is unabashedly that of Vatican II, and Dahm manifests the skills in theological reflection and methodology of a true pastoral theologian.
But there are serious limitations to this work. It is strong on description but sketchy on explanation. The chapters are made up of relatively brief patches of thought that seem to have been truncated by a zealous editors deletion. On the one hand, the text moves along snappily, but on the other, one is left asking for more background and reflection.
A more substantive limitation, however, is the books anachronism. In the last 15 years Hispanic ministry has exploded into a baffling diversity of contexts. It has become a truly nationwide trend. Native Mexican immigrants like the ones at St. Pius V are but a minority of the Hispanics the church needs to serve today. Their children, second and even third generation Mexican Americans, plus many cohorts of Caribbean, and South and Central American Hispanics constitute todays and tomorrows U.S. Hispanics. Moreover, the reality of a significant, growing Hispanic middle and professional class does not even enter into the relatively homogeneous context of Dahms pastoral reflections. While parishes of recent Mexican immigrants are springing up in the South and the Midwest, the norm today in Hispanic parishes is shifting, for good or for ill, in the direction of the multicultural parish with multilingual tracks. There is a desperate need to shed light on this new ball game.
The sparse treatment given youth ministry in the book is particularly unfortunate, since many believe that youth ministry is one of the crucial and most vexing challenges facing Hispanic ministry today. While Dahms Parish Ministry is immensely helpful and a fine resource, it looks back rather than ahead. It evokes the vision of a simpler and different time.
This article also appeared in print, under the headline "Faith, Barrio Style," in the October 11, 2004, issue.