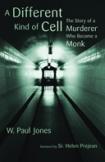 When Sister Helen Prejean, C.S.J., published her prophetic masterpiece Dead Man Walking, some capital punishment diehards tried to spin her story of death row inmate Patrick Sonnier into an argument for execution. Sonnier, the argument went, would never have repented for his grievous wrongdoing had he not been facing imminent death at the hands of the state. With A Different Kind of Cell: The Story of a Murderer Who Became a Monk, W. Paul Jones dispels such nonsense and provides an inspiring account of redemptive transformation.
Jones, a Methodist minister for over 40 years and now a Catholic priest and a Trappist family brother, recounts the spiritual journey of Clayton Anthony Fountain. Fountain—raised in a family where martial honor and masculine virtue had mutated into ugly, destructive forces—committed his first murder when in uniform. With a 12-gauge shotgun, he cut down an Army superior bent on Fountain's humiliation, if not destruction.
Fountain drew a sentence of life at hard labor to be served in the U.S. Disciplinary Barracks at Leavenworth. The military, however, could not control Fountain.
The federal prison system took a try. It failed: Fountain bloodied his hands further with four more murders. In separate incidents, he helped kill three fellow prisoners. Then, in 1983, Fountain stabbed three guards. One, Robert L. Hoffmann, died. C.O. Hoffmann left behind a wife.
As the law then stood, the federal death penalty did not reach Fountain's crimes. (He would become a poster boy for legislative change.) So the authorities consigned Fountain to a custom-built underground cell where he was to live out his days in utter isolation.
That cell became a crucible. Initially, Fountain shed only his outward defiance. Then an unlikely angel set Fountain off on an interior pilgrimage. Baptized into the Catholic Church in 1992, Fountain declared his 120-foot space was "no longer my burial place but an emptied tomb, for I had become a prisoner for Christ." Replacing the slayer was a prayerful man of childlike faith. Imagine Mr. Blue, the Myles Connolly figure, but with a brutal criminal history.
Jones came into Fountain's life in 1998. Within two years, Fountain discerned a monastic calling, one born of more than physical confinement. He sought canonical status as a diocesan hermit; the bishop did not respond. Assumption Abbey, however, did. Fountain was welcomed to join Jones as a "Family Brother" of Assumption. Fountain signed the "bond, " which set out the rule under which he would live (attired in "the short habit with hood provided by the Abbey"). He died unexpectedly days before the abbot could return it with his signature, but not before leaving a moving record of spiritual struggle.
That struggle was not simple. Fountain, to be sure, owned his past. Both he and Jones knew that whatever shunted Fountain toward a life of killing did not absolve him of the awful grief, fear and suffering he caused. Fountain could understand why a prison guard would, standing in a church, rawly challenge Jones' befriending Fountain.
Still, at times, Fountain was anything but resigned to a life of penitential solitude. He harbored academic aspirations and even envisioned a papal dispensation that would allow his ordination.
The prospects of release into general population and even parole teased his imagination. Neither he nor Jones always took for granted the genuineness or permanence of Fountain's conversion. And yet the reader knows he is hearing something authentic when Fountain embraces his unique hermitage: "What more could I want than my own quiet study cubicle? With no cellmates to distract me with television and chatter, able to pray and work as the spirit moves me? I am a blessed man."
A Different Kind of Cell, finally, packs a few bonuses. A tale of conversion within a tale of conversion brings to mind the graced moment in the life of the poet convert Mary Karr (and increases one's appreciation for kneeling prayer). The truth that grace builds on nature sounds throughout. And the measured actions of Jones the Trappist and the measured storytelling bring the reader briefly into "monastic time," away from the rush and bustle that the Trappist Merton recognized as a form of violence.
Sometimes our faith falters when it comes to imagining the salvation of a really bad guy. Yes, there was Paul and the Good Thief. But what about the cold-blooded killer we meet not in Scripture but in the tabloids or on the evening news? Clayton Fountain's story assures us that we may dare hope for the salvation of every soul—and without setting an execution date.
This article also appeared in print, under the headline "Beyond Hopeless," in the October 8, 2012, issue.