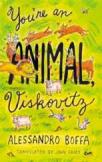 "Once a reasonable number of our germ cells have been given a chance to impart their DNA to the next generation," U.C.L.A. biologist William R. Clark reminds us, "our somatic cells become so much excess baggage. They serve no useful function, and they—we—must die, so that change may be transmitted to that next generation." The origins of death lie in sex. That somber, if familiar, thought serves as the spice—and sting—in this amusing spread of ethological hors d'oeuvres by a newcomer about whom we are told only that he was born in Moscow, "completed his studies in biology in Rome, and now divides his time between Italy and Thailand." Well, in any case, bravo Boffa!
His book consists of 20 minitales about a perky male creature named Viskovitz who metamorphoses unpredictably from one sort of beast into another (dormouse, snail, praying mantis, finch, elk, May beetle, pig, laboratory rat, parrot, stickleback, scorpion, soldier ant, chameleon, German shepherd, leech, shark, drone bee, sponge, lion and, finally, a mere microbe). In each case he's accompanied by shadowy competitive congeners named Zucotic, Petrovic and Lopez, as he engages in hot pursuit of a supremely desirable female named Ljuba, whose name carries Russian connotations of "love," even as his own name suggests "upstart." (Boffa revels in polyglot tomfoolery.)
Advertisement
Chapter after rapid-fire chapter, "Visko" always "gets" Ljuba; but his triumph is always undercut one way or another, and often enough tainted or terminated by death. Boffa is both fiendishly knowledgeable about animals ("she rested the spines of her pedipalps on her tarsi") and playfully lyrical about nature ("I dove into that rainbow [Ljuba-as-chameleon]. I kissed her dermal lobes and I clung to her crest"), but his world is as haunted by death and betrayal as that of his master (one of them anyway), the émigré lepidopterist (i.e., butterfly-butcher) Vladimir Nabokov. Visko the mantis is eaten alive; Visko the drug-sniffing Alsatian (who is also a phony bodhisattva and a secret coke-head) double-crosses his lover and fellow police-dog Ljuba, sending her to the pound, if not the gas chamber. Shark and scorpion family life is deplorable. Cuckoos can ruin even the tenderest avian domesticity. Communication between voiceless, limbless, expressionless fish is so exhausting and ambiguous it's not worth the trouble. The love life of practically immobile, hermaphroditic sponges is a psychological nightmare. Visko the boar gets castrated. And so on.
With the help of a brilliant, supple, slangy translation by John Casey (whose Spartina won the National Book Award for fiction in 1989) and Maria Sanminiatelli, Boffa spins out his witty little animal fables with their recurrent tragicomic moral. He ends, logically if belatedly, with the very beginning of heterotrophic life and the key to all the previous estral frenzy ("Now," a Voice tells Visko, "you have to learn to kill and devour others. As big as you've become, that shouldn't be hard for you"). And it isn't. Visko meets and eats Zucotic the bacillus, Petrovic the vibrio and Lopez the spirillum (you can't read this small book without a large dictionary). Now it's time for him to "conjugate with another organism and recombine. Find someone you like and exchange some DNA." That someone, of course, will be Ljuba in all her manifestations.
But this very process, so thrilling, so adventurous, will unfortunately render Visko's extra-germinal or somatic DNA, i.e., himself, superfluous; and the great lover will have to die. It's too late to return to the blissful immortality of single-cell organisms—c'est la vie.