Vatican finds new evidence in 40-year unsolved disappearance of the 'Vatican girl'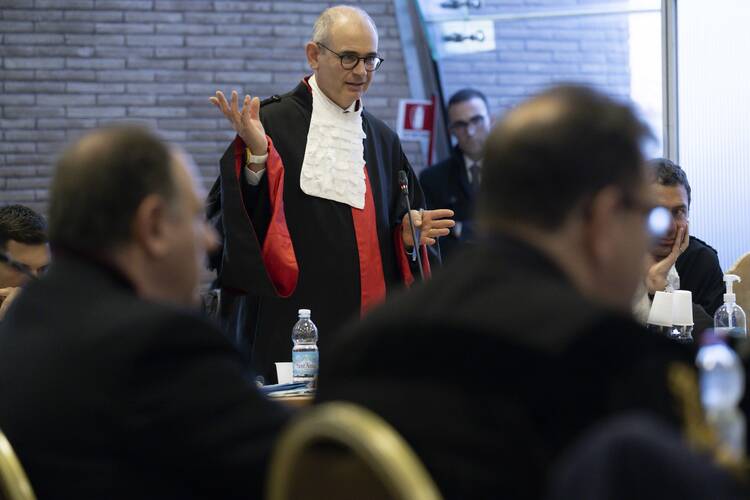 Alessandro Diddi, Vatican City's chief prosecutor, speaks during a trial at the Vatican in this March 9, 2023, file photo. Diddi and other Vatican prosecutors met with Pietro Orlandi, the brother of Emanuela Orlandi, a 15-year-old Vatican resident who disappeared in 1983, for over eight hours April 11, 2023. (CNS photo/Vatican Media)
VATICAN CITY (CNS) — The Vatican City judicial office has questioned officials that oversaw various Vatican offices when a 15-year-old Vatican schoolgirl disappeared in 1983, it said in a statement.
In response to questions from journalists, the office of the Vatican's chief prosecutor, Alessandro Diddi, released a statement June 22—exactly 40 years since the disappearance of Emanuela Orlandi—saying that it had "gathered all the evidence available in the structures of the Vatican and the Holy See, also seeking attestation through conversations with people responsible for some offices at the time of the events."
The statement is the latest update on a Vatican investigation into the disappearance of Orlandi, the daughter of a Vatican employee who was raised inside the walls of the city-state. The still-unsolved case of her 1983 disappearance has fueled conspiracy theories for decades and inspired a Netflix series in 2022, pushing Diddi, the chief prosecutor, to open a new file on the case in January at the request of Emanuela's brother, Pietro Orlandi.
In the still-unsolved case of Emanuela Orlandi, which inspired the "Vatican Girl" Netflix show, Vatican officials said that new evidence reveals investigative leads to be studied.
The Vatican statement also said that in reviewing the evidence, the prosecutor's office confirmed "some investigative leads worthy of further study" and that all the related documentation has been forwarded to the Rome prosecutor's office, which is conducting its own investigation.
Appearing June 22 on the Italian television news show TG1, Diddi said that since opening a new file on the case investigators have "found data that had never been worked with before."
"In just a few months we collected many papers that may have escaped investigators in past years, and we have made them available to the Rome prosecutor's office," he said. "Now is the time to bring this new line of investigation to fruition."
Pietro Orlandi met with Diddi and other Vatican prosecutors for more than eight hours in April. Orlandi said he provided a list of living Vatican officials who he suspected have knowledge about his sister's disappearance; the officials include Cardinals Giovanni Battista Re, dean of the College of Cardinals, and Leonardo Sandri, vice dean, among others.
After the April meeting Orlandi appeared on television saying that St. John Paul II's connection to Emanuela's disappearance ought to be investigated. On air, he played an audio recording of an alleged gang member who said that St. John Paul was involved in bringing young girls to the Vatican to be sexually exploited.
The episode prompted Pope Francis to state publicly that St. John Paul was "the object of offensive and unfounded insinuations" April 16 after his recitation of the "Regina Coeli" prayer.