Podcast: A 90-year-old cardinal was arrested in Hong Kong. What does this mean for Catholics in China?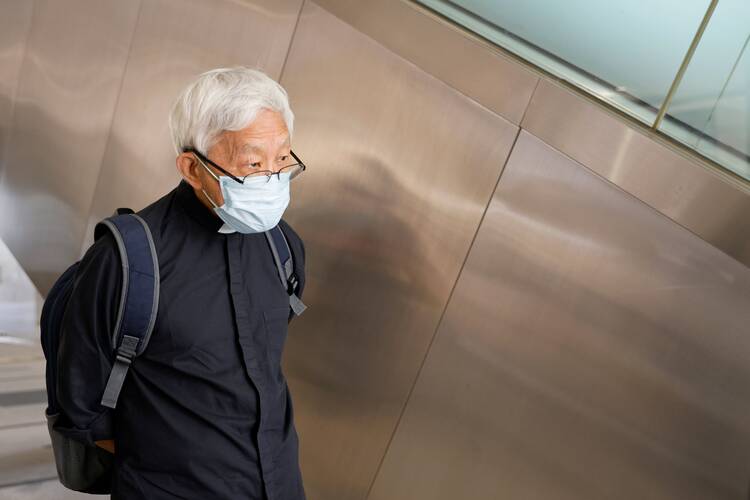 Cardinal Joseph Zen Ze-kiun, retired bishop of Hong Kong, arrives at West Kowloon Courts Oct. 15, 2020, to support pro-democracy activists who are facing charges related to an illegal vigil assembly commemorating the 1989 Tiananmen Square crackdown. Cardinal Zen, a trustee of a relief fund paying protesters' legal bills, was detained by National Security Police May 11, 2022. (CNS photo/Tyrone Siu, Reuters)
On May 11, Cardinal Joseph Zen, the 90-year-old pro-democracy prelate of Hong Kong, along with three other advocates for democracy in China, were arrested and questioned on accusations that they were "colluding with foreign forces."
[Listen and subscribe to Inside the Vatican on Apple Podcasts and Spotify.]
Cardinal Zen was released less than a day later. Following his arrest, the Vatican issued a statement in which it said it is "following the development of the situation very closely."
On "Inside the Vatican" this week, veteran Vatican reporter Gerard O'Connell and host Colleen Dulle explore why this revered, outspoken defender of human rights and democracy in Hong Kong appears to pose such a grave threat to the Chinese government. The hosts also examine what Cardinal Zen's arrest could mean for the Catholic church in China.
After that, Colleen and Gerry profile two saints who, like Cardinal Zen, spoke out in favor of justice and peace, and who paid with their lives.
Links from the show: