Roundtable: Indigenous survivors of abuse on truth, reconciliation and the need for a papal apology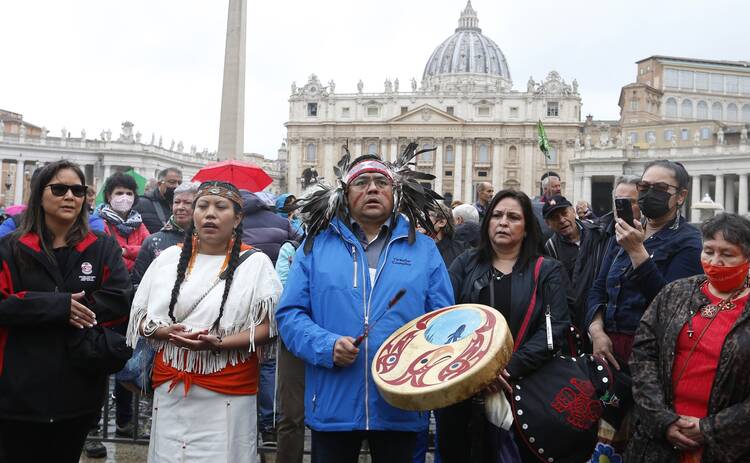 Representatives of the Assembly of First Nations perform music outside St. Peter's Square as their delegates meet with Pope Francis at the Vatican March 31, 2022. The pope is holding three meetings to listen to the experiences of representatives of Canada's Indigenous communities, experiences that include being sent as children to residential schools operated by Catholic dioceses and religious orders. (CNS photo/Paul Haring)
This week, Pope Francis is meeting with leaders of the First Nations, Métis, and Inuit people who have traveled to Rome from Canada. They want to tell the pope about their experiences at the state-funded, church-run residential schools that took indigenous children from their communities in an effort to assimilate them to the dominant Canadian culture.
Last year, the country and the church were shocked by the discovery of hundreds of human remains that were found buried on the sites of former residential schools. It's the hope of Indigenous leaders that Pope Francis will travel to Canada this year to apologize for the church's role in the schools and for the abuse that was perpetrated there.
[Listen and subscribe to "Inside the Vatican" on Apple Podcasts and Spotify.]
But this work is part of a larger process of finding truth and reconciliation between indigenous people and the church in Canada, that will take much more than a papal apology. So this week, we're bringing you an interview with six people from the truth and reconciliation committee that was established within the Archdiocese of Regina in Saskatchewan to uncover the truth of what happened at residential schools in their area and foster a relationship of healing and dialogue, led by Indigenous people.
Our guests include two residential school survivors, May Desnomin and Susan Beaudin, along with Bishop Donald Bolen, Joanna Laundry, Deacon Eric Gurash, and Lisa Polk.
This week on "Inside the Vatican", they tell their stories—and explain their hopes for what healing can look like when the church and indigenous people can face the truth together.
After that, veteran Vatican reporter Gerard O'Connell gives an update from Rome, where the meetings between the pope and the Indigenous delegations are already in full swing.
Links from the show:
The Indigenous people of Canada want an apology from Pope Francis
The Canadian church's leadership is changing. What could it mean for reconciliation with Indigenous peoples?
Inside Day 1 of the historic encounter between Pope Francis and Canada's Indigenous communities
What does Our Lady of Fátima have to do with Russia and Ukraine?
Pope Francis: Consecrating Russia and Ukraine to Mary is 'not a magic formula but a spiritual act.'