I am a Catholic school parent. Please save our urban schools.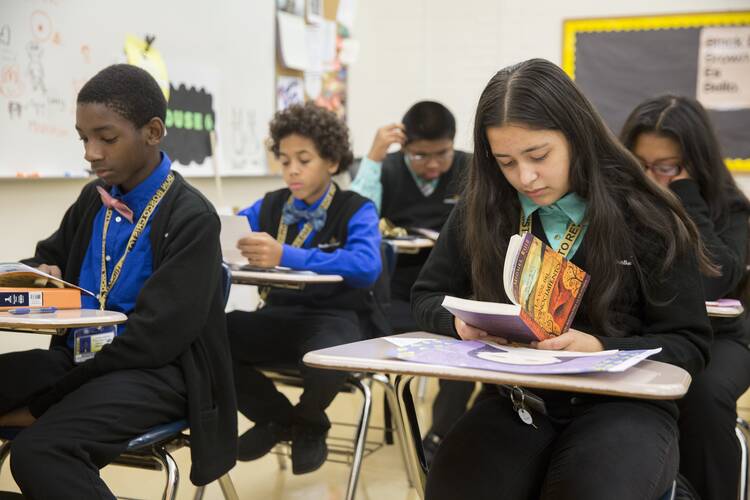 In a 2016 file photo, students at Don Bosco Cristo Rey High School in Takoma Park, Md., participate in a classroom exercise. As the Archdiocese of Washington worked on a school reopening plan, it was reviewing a Montgomery County, Md., directive ordering the closure of Catholic and other nonpublic schools' in-person learning through at least Oct. 1, 2020. (CNS photo/Jaclyn Lippelmann, Catholic Standard)
Catholic elementary and high schools in urban areas are closing at an accelerated rate during the Covid-19 pandemic, leaving tens of thousands of children and their families with two options: Enroll their children in faraway Catholic schools or enter them in public schools, many of them dangerous, overcrowded or low-performing. Black and Latino populations especially suffer when alternatives to public schools disappear. But are Catholic school closings simply attributable to a lack of funds, or do causes also include inefficient operations or weak support from dioceses?
Last year, many watched in horror as the Notre Dame Cathedral in Paris burned. Millions of people contributed funds to reconstruct the church because of its historical significance. Why isn't there a similar effort in the United States to solicit donations for Catholic schools? Are buildings more important than children? The church rightly gives millions of dollars to feed the needy and care for the poor around the world; the students in U.S. cities deserve the same attention and compassion.
Millions of people contributed funds to reconstruct Notre Dame Cathedral because of its historical significance. Why isn't there a similar effort to solicit donations for Catholic schools?
The New York Times recently reported that about 150 Catholic schools have closed since the beginning of the pandemic. As Kathy Mears, the director of the National Catholic Educational Association, told The Times, "If a school was financially vulnerable, the pandemic was the thing that pushed them over the edge." My home archdiocese of Newark, N.J., for example, has closed eight elementary schools in the wake of Covid-19. But Newark and other dioceses could save schools in urban communities. Several strategies could prove fruitful, including better management, transparency and utilizing all resources available to ensure that Catholic education continues in underprivileged communities.
In many cases, community members and parents are unaware of their Catholic school closing until a few weeks before they shut the doors, leaving little time to build support and raise funds. Such was the case with several parents I have spoken to in the Archdiocese of Newark, who expressed frustration at the limited communication from both the archdiocese and school principals. Also concerning is that the fundraising campaigns for several of Newark's public charter schools have been more visible than the church's efforts to save its schools in urban districts. Charter school organizations such as North Star and KIPP often fundraise on a local and national scale, but from what I have seen, fundraising efforts for Catholic schools in disadvantaged areas may exist but are still struggling to ramp up during the pandemic.
Catholic school principals should be required to create and follow two-year plans for fundraising to ensure financial stability. Following the examples of charter and magnet schools, they should regularly survey parents and community members to learn of and address their concerns. The distribution of a survey or questionnaire to the parents of children who attend Catholic schools may reveal weaknesses in the school that can be effectively addressed. I have spoken to numerous families within the last several years who have taken their child out of schools (both private and public) because of the failure to address simple problems in the learning environment.
Teachers serving in schools that educate students from economically underprivileged communities should not have to depend on tuition revenue for their salaries.
As for teachers, they are as vital as clergymen to the Catholic body. Teachers serving in schools that educate students from economically underprivileged communities should not have to depend on tuition revenue for their salaries. They should be considered missionaries, and the church itself should provide their wages.
Schools can find ways to reduce expenses without cutting staff positions or salaries. For example, they may be able to access grants by making their facilities available for English as a Second Language classes, G.E.D. classes and satellite classes for online colleges after regular school hours. Schools can also lease office space to nonprofit institutions, which would bring in funds for capital and operational expenses.
But closing schools in urban communities only worsens economic conditions for marginalized populations. Again, many parents in these communities see Catholic schools as a safe alternative to overcrowded institutions that disregard the social, emotional and spiritual development of children. And from conversations that I have had with parents of students in charter schools, it seems as though their solution to closing the achievement gap in impoverished neighborhoods is to bombard students with monotonous work, focused on raising standardized test scores, that takes too much time away from needed social interactions with peers and families.
Given the enduring value of a Catholic education, church leaders should reconsider plans to shut down schools in urban neighborhoods because of the pandemic. Parents should not have to choose between paying rent and sending their children to school where they will receive a quality education. This is why civic scholarships, fundraising goals and financial assistance from the church must increase. We can not abandon the marginalized communities that Christ most wants us to support.