U.S. bishops elect L.A.'s Archbishop José Gomez as president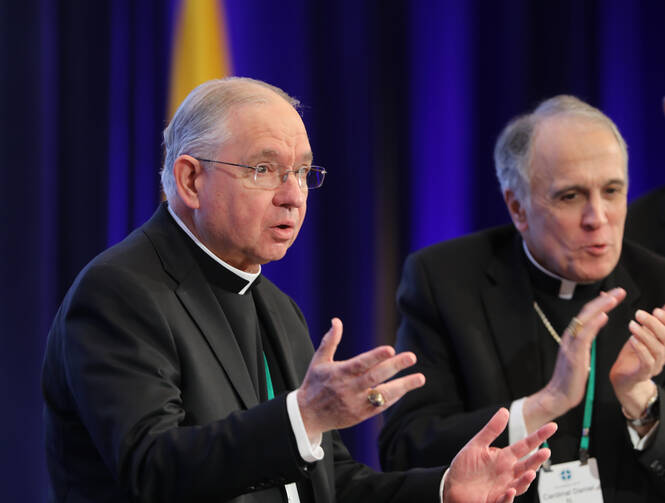 Cardinal Daniel N. DiNardo of Galveston-Houston, president of the U.S. Conference of Catholic Bishops, right, applauds as Archbishop Jose H. Gomez of Los Angeles acknowledges the applause after being named the new president during the fall general assembly of the USCCB in Baltimore Nov. 12, 2019. (CNS photo/Bob Roller) 
Archbishop José H. Gomez of Los Angeles was elected by an overwhelming majority Tuesday to be the new president of the U.S. Conference of Catholic Bishops. Archbishop Gomez, born in Mexico and a naturalized U.S. citizen, is the first Latino elected to head the conference. Bishops meeting in Baltimore this week for their annual fall gathering also elected Archbishop Allen H. Vigneron of Detroit as vice president. The vice presidential election, which requires a simple majority of those bishops voting, took three ballots, with Archbishop Vigneron receiving the most votes on each ballot.
Archbishop Gomez has served as the vice president of the bishops conference for the past three years, a position that often leads to the presidency. He leads the largest U.S. diocese, Los Angeles, home to more than four million Catholics, and he has been a vocal proponent of rights for immigrants. In August, he wrote a column condemning white supremacy, following a spate of mass shootings, including one in El Paso where 22 people were killed.
In a profile of the archbishop published Nov. 12 in America, Archbishop Gomez, a priest of Opus Dei, is described by those who know him as someone who cares for victims of clergy sexual abuse, an advocate for the L.A.'s homeless population and a proponent of "Laudato Si'," Pope Francis' encyclical on the environment. Archbishop Gomez was described in 2017 by Vatican analyst John Allen as the "protégé" of Archbishop Charles Chaput of Philadelphia. Archbishop Gomez was an auxiliary bishop in Denver, where Archbishop Chaput previously served as archbishop.
In a 2011 interview with the Los Angeles Times, the archbishop said, "I think of myself as a priest of the Second Vatican Council because I became a priest after the Second Vatican Council" and advocated a greater role for the laity in the church. In that interview, the archbishop rejected political labels, saying, "those are kind of political terms, conservative and liberal."
Archbishop Gomez leads the largest U.S. diocese, Los Angeles, home to more than four million Catholics, and has been a vocal proponent of rights for immigrants. 
"I think we all are called to be faithful to the teachings of the church and to the Gospel." He acknowledged that "obviously my background in Opus Dei" sounds "more conservative."
"But I'm as conservative as Pope John Paul II or Pope Benedict," he said in the interview, published shortly after he was appointed by Pope Benedict XVI to lead the L.A. archdiocese.
Archbishop Gomez will take the helm of the U.S.C.C.B. at a fraught time for the U.S. church.
On Monday, bishops were told that the conference had spent more than $2 million from their general fund over the past year on legal fees, meetings and other costs associated with sexual abuse. Those unbudgeted costs are expected to continue into next year.
And Cardinal Sean O'Malley, the archbishop of Boston, told bishops on Monday that reports chronicling abuse allegations against former Cardinal Theodore McCarrick are expected to be released perhaps as soon as next month. Mr. McCarrick was dismissed by the Vatican from the clerical state in February following an investigation of accusations that he had abused children early on in his career of more than 60 years as a cleric and that he also had abused seminarians as a bishop.
Archbishop Gomez will also lead the bishops during the 2020 U.S. presidential election, during which immigration is expected to be a major issue. The archbishop headed a U.S.C.C.B. committee that recently worked on drafting new voting guide materials. The debate over that process saw some bishops asking why the body of bishops had not incorporated the priorities of Pope Francis more fully into their own public witness.
Bishops also elected Bishop George V. Murry, S.J., to a one-year term as chairman of their religious liberty committee. The vote was initially a tie, with Bishop Murry and Archbishop Thomas G. Wenski of Miami each receiving 121 votes. In the event of a tie, the older bishop wins the election. Bishop Murry is two years older than Archbishop Wenski.
In other elections, Bishop David Malloy was chosen to lead the committee on international justice and peace and Bishop James Johnston, Jr., as head of the committee for the protection of children and young people. Archbishop Jerome E. Listecki was elected to head the committee on canonical affairs; Bishop David Talley as head of the committee on ecumenical and interreligious affairs; and Bishop Andrew Cozzens as chairman of the evangelization committee.
This story will be updated. Material from Catholic News Service was used in this story.