Should a parish address current events at Mass? How? What if "current events" are national tragedies? Priests and parish employees around the country grappled with these questions after back-to-back mass shootings over the weekend left at least 31 dead and dozens injured in El Paso, Tex. and Dayton, Ohio.
America asked readers of its daily newsletter if the shootings were addressed at the Mass they attended and what they thought about how the news was handled (or not). Below are some of their responses.
Advertisement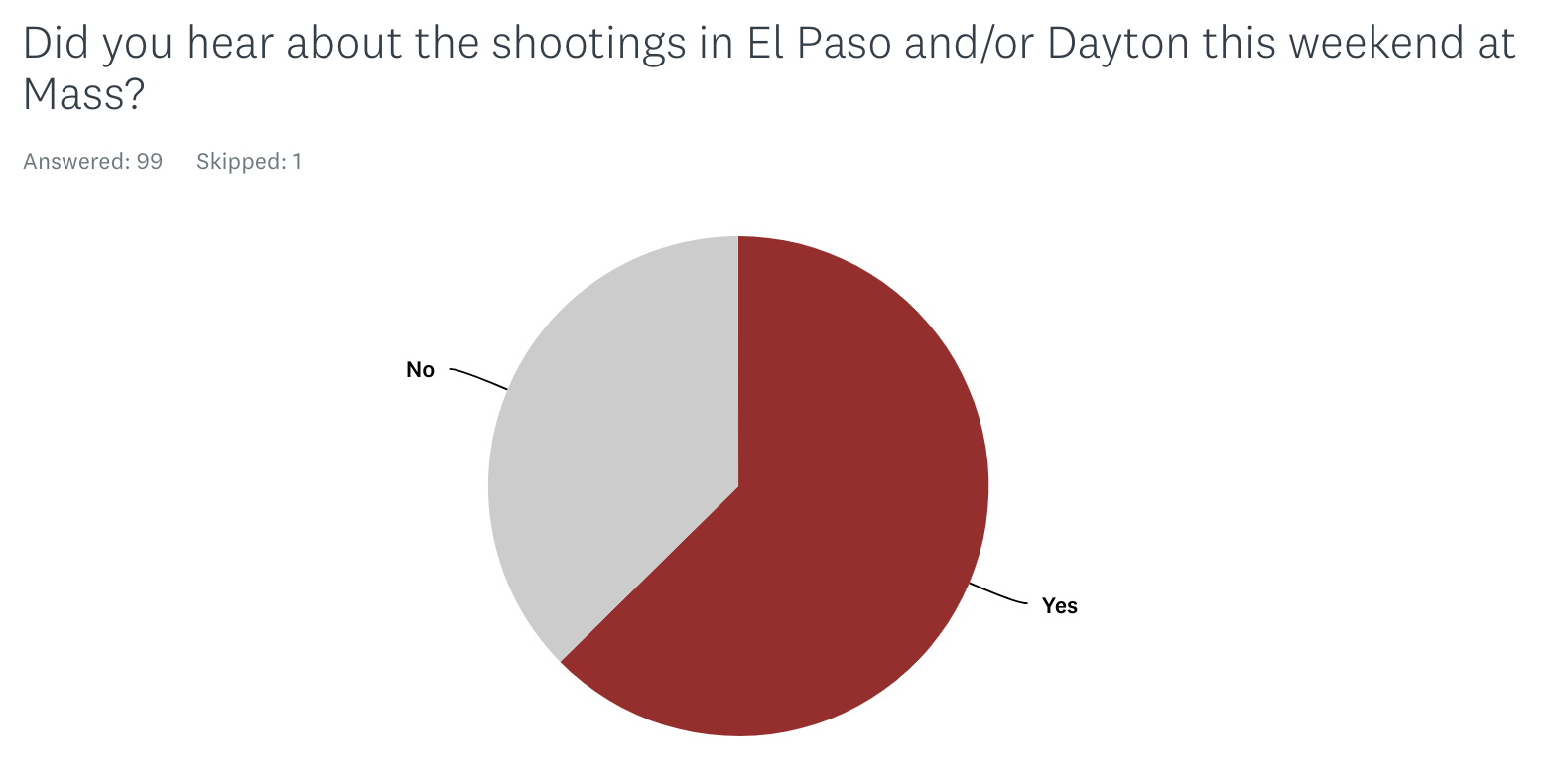 If yes, what did you think about how the shootings were addressed?
They were addressed simply, but I was glad to hear mention of them. It would have been terrible to go through the liturgy not acknowledging what happened.
Ashley Ponce
Cleveland, Ohio
Very general prayers were asked for. I wish more would have been said—especially during the homily.
Mary Sanders
Frisco, Tex.
It's a hard balancing act to say just enough to appropriately acknowledge the trauma without overly traumatizing the congregation itself, especially since my congregations (three parishes) are just two hours north of Squirrel Hill, a Pittsburgh suburb.
Msgr. Daniel Arnold
Erie, Pa.
Our pastor addressed the shootings in a heartfelt statement—a homily before his planned homily.
Mary Ott
Silver Spring, Md.
Appropriate at Mass. As we live in the Chicago area, the contrast with the shootings [here] every weekend was inevitable and striking.
Michael Myers
Hoffman Estates, Ill.
We were on vacation in Narragansett, and I hadn't been following the news, so the homily was the first I had heard of the Dayton shooting. I thought it was appropriate to pray for all those affected.
Lisa Shay
Clinton Corners, N.Y.
I thought at first that [our priest] made a mistake when he said Gilroy, El Paso and Dayton, Ohio. I hadn't even heard about the Ohio shooting yet.
Jane Maiello
Camarillo, Calif.
I thought at first that [our priest] made a mistake when he said Gilroy, El Paso and Dayton, Ohio. I hadn't even heard about the Ohio shooting yet.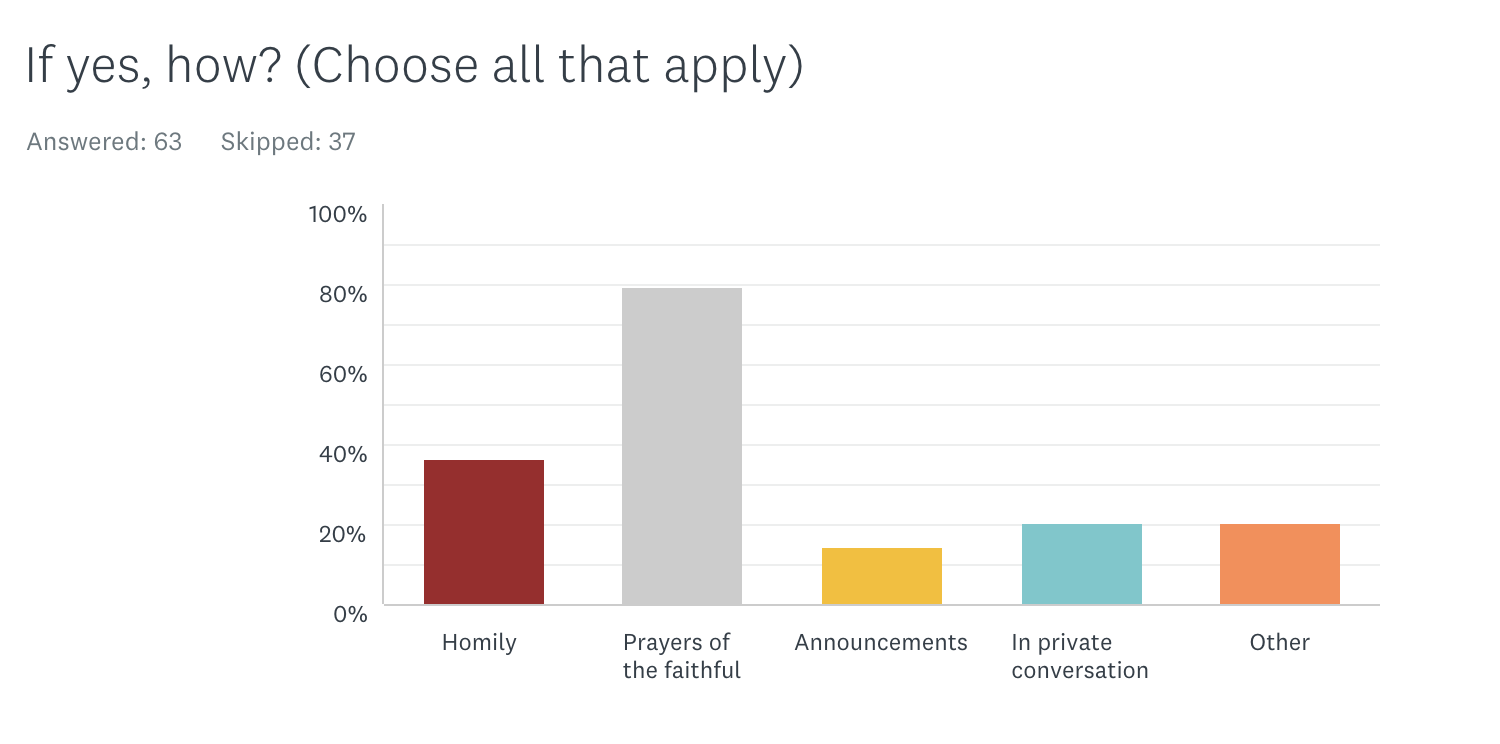 If no, would you have liked to have seen it addressed? If so, how?
Yes, but in my church, current events and real life are never discussed. They only parrot whatever the Gospel that was read that day.
Celeste Champagne
Norwalk, Conn.
No. We hear enough of this already. It's too politicized.
Michael Reilly
Eastport, Me.
Yes. It should have been addressed in the homily and in the Prayers of the Faithful. Even at the end of Mass, when the celebrant announced an upcoming blood drive (already scheduled), he failed to tie it to the critical need for blood for those injured in the shootings.
Catherine Dursum
Houston, Tex.
I was extremely disappointed that we did not pray for the victims and their families. Have we gotten so jaded that we no longer mention these shootings?
Mary Ellen Firestone
East Brunswick, N.J.
[I would have liked to have seen it addressed] as a challenge to the diverse spectrum of congregants to pray and work for reasonable dialogue and legislative solutions. The American culture and soul are at stake. We risk our lives so civilians have the right to carry automatic weapons. Why? This is really a right-to-life issue.
Maureen Hess
Westlake, Ohio