Unpacking Pope Francis' historic trip to Abu Dhabi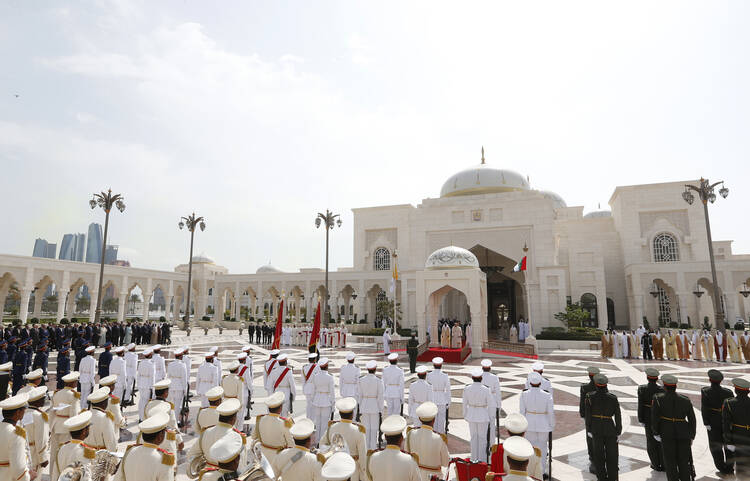 Pope Francis attends a welcoming ceremony with Sheik Mohammed bin Rashid Al Maktoum, vice president and prime minister of the United Arab Emirates and ruler of Dubai, and Sheik Mohammed bin Zayed Al Nahyan, crown prince of United Arab Emirates, at the entrance to the presidential palace in Abu Dhabi, United Arab Emirates, Feb. 4, 2019. (CNS photo/Paul Haring)
This week, Pope Francis visited Abu Dhabi to meet with religious leaders at the Global Inter-Religious Meeting on Human Fraternity, a conference aimed at combating religious extremism.
Where the pope chooses to visit will always be significant. But what makes this trip different from, say, his trip to Panama that we talked about in the last episode of "Inside the Vatican," is that this is the first time a pope has visited the Arabian Peninsula. And by all accounts, it seems to have been a success.
Gerry told me this week, "I think it's difficult to convey the long-term consequences that could emerge from this visit."
On the show, we'll get into some of the potential consequences of the pope's work to facilitate interfaith dialogue between Catholics and Muslims, as well as his call for full citizenship protections for the United Arab Emirates' eight million Christian migrant workers. We'll also examine whether the pope's more critical approach to the U.A.E.'s involvement in Yemen's brutal civil war signifies a shift in his general diplomatic strategy.
Links:
Video: