The foreign policy of the United States may have taken an isolationist turn over the past few years, but its citizens are more interested than ever in seeing the rest of the world. In 2018 there were a record 138 million valid U.S. passports in circulation, up from 49 million in 2000 and a mere 11 million in 1990. The percentage of U.S. citizens with passports is now at a record 42 percent; it was below 10 percent as recently as 1994.
According to the World Bank, there were 73 million travel departures from the United States in 2015, up from 61 million in 2000. There is no data on Catholic travelers in particular, but it seems safe to assume that they make up a large segment of international travelers. Here are some of the most popular sightseeing destinations of interest to Catholic voyagers.
Advertisement
---
Most-visited Catholic sites
In 2012, Travel + Leisure magazine compiled a list of the world's 41 most-visited "sacred sites," based on estimates from tourism boards and other sources. No. 1 was the Meiji Shrine and Sensoji-Temple, a Shinto shrine in Japan that attracts 30 million visitors annually. This was followed by the Kashi Vishwanath Temple, a Hindu site in India, with 22 million visitors. The highest-ranking Catholic site was the Basilica of Our Lady of Guadalupe. Below are all the Catholic sites that made the list, followed by estimates of annual visitors in millions.
3. Basilica of Our Lady of Guadalupe, Mexico City: 20 m
5. Notre Dame Cathedral, Paris: 13.65 m
6. Sacré Coeur Basilica, Paris: 10.5 m
11. St. Peter's Basilica, Vatican City: 7 m 13. Cologne Cathedral, Germany: 6 m
13. Sanctuary of Our Lady of Lourdes, France: 6 m
13. Shrine of Padre Pio, San Giovanni Rotondo, Italy: 6 m 16. St. Mark's Basilica, Venice, Italy: 5.5 m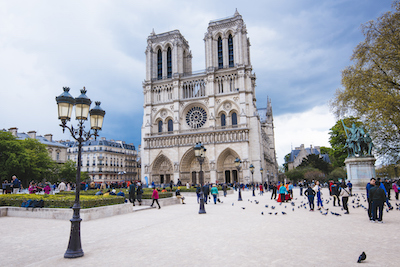 17. Basilica of St. Francis of Assisi, Italy: 5.5 m
18. St. Patrick's Cathedral, New York City: 5.5 m
24. Sistine Chapel, Vatican City: 4 m
25. Church of the Holy Sepulchre, Jerusalem: 4 m
31. Basilica de Sagrada Familia, Barcelona, Spain: 2.3 m
32. Basilica of the Annunciation, Nazareth, Israel: 2.25 m
32. Mount of Beatitudes, Galilee, Israel: 2.25 m
34. Chapel of Our Lady of the Miraculous Medal, Paris: 2 m
36. Temple Mount, Jerusalem: 1.5 m
39. Mariazell Shrine, Austria: 1 m
---
Most-photographed
In 2017, Sony Mobile released a list of the most-photographed landmarks in the world, based on Instagram postings. The Eiffel Tower in Paris took first place, but five sites of note for Catholics also showed up:
6. Notre Dame Cathedral, Paris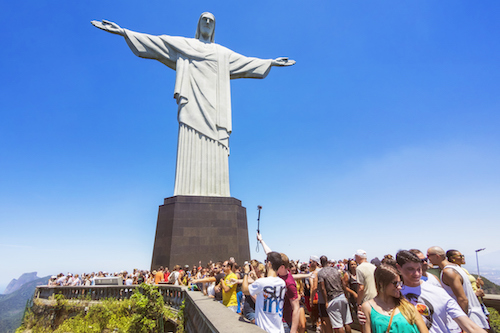 7. St. Peter's Basilica, Rome
9. Sagrada Familia, Barcelona
16. Christ the Redeemer statue, Rio de Janeiro
30. Basilica of Sacré-Cœur, Paris
---
Endangered Christian sites
The United Nations Educational, Scientific and Cultural Organization maintains a list of World Heritage sites "considered to be of outstanding value to humanity." As of 2018, UNESCO had identified 1,092 World Heritage Sites in 167 nations, including 108 identified with Christianity. The agency has also identified 54 sites endangered by environmental changes, warfare or human development. They include the following sites with special importance to Christians:
Abu Mena, Egypt. An early Christian holy city built over the tomb of the martyr Menas of Alexandria, who died in A.D. 296.
Old City of Jerusalem and its Walls. Among its 220 historic monuments are the Resurrection rotunda in the Church of the Holy Sepulchre, which houses Christ's tomb.
Birthplace of Jesus: Church of the Nativity and the Pilgrimage Route, Bethlehem. The site identified by Christian tradition as the birthplace of Jesus since the second century. The site also includes Latin, Greek Orthodox, Franciscan and Armenian convents and churches.
Hebron/Al-Khalil Old Town, Palestine. Includes a compound built in the first century to protect the tombs of the patriarch Abraham and his family. The site is a place of pilgrimage for three monotheistic religions: Judaism, Christianity and Islam.
Medieval Monuments in Kosovo, Serbia. Includes the 13th-century frescoes of the Church of the Holy Apostles.
Ancient City of Bosra, Syria. Early Christian ruins and several mosques are found within its walls.
Ancient Villages of Northern Syria. The relics of some 40 villages illustrate the transition from the Roman Empire to Byzantine Christianity.
---
The church in the United States and Canada
Largest Catholic church: Basilica of the National Shrine of the Immaculate Conception, Washington, D.C. Includes 70 chapels and accommodates 10,000 worshipers.
Oldest Catholic church in the U.S.: Cathedral of San Juan Bautista, San Juan, Puerto Rico. First built in 1521, rebuilt in 1540 after a fire.
Oldest Catholic church on the continental U.S.: San Miguel Chapel, Santa Fe, N.M. The present building dates from 1710.
Oldest Catholic church site in Canada: Cathedral-Basilica of Notre-Dame de Québec, Quebec City. Built in 1647 and destroyed twice by fire; last restored in 1922.
Oldest Jesuit parish: St. Ignatius, Chapel Point, Md. Founded in 1641 by Andrew White, S.J. The Jesuit residence here has been in use since 1741; the current church was built in 1798.
World Heritage Site: San Antonio Missions, Tex. This is the only site in the United States on UNESCO's World Heritage list that is of special interest to Catholics. It was built by Franciscan missionaries in the early 18th century, when the region was part of the colony of New Spain.
Sources: "World's Most-Visited Sacred Sites," Travel + Leisure magazine, Jan. 4, 2012; "Top 30 Most Photographed Landmarks in the World," Conde Nast Traveller, May 23, 2017; "World Heritage in Danger," United Nations Educational, Scientific and Cultural Organization; World Heritage List, UNESCO. Passport data from the U.S. Department of State and the BBC; travel data from the World Bank. Information in "The Church in the U.S. and Canada" is from individual church websites.