Catholic leaders react to McCarrick resignation from College of Cardinals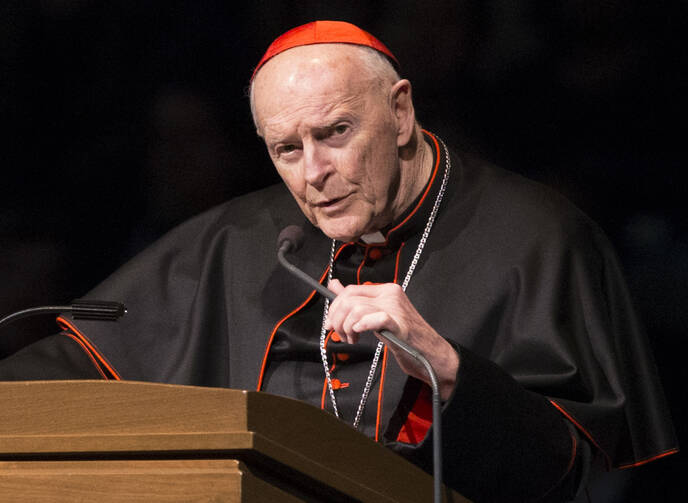 In this Wednesday, March 4, 2015, file photo, Cardinal Theodore Edgar McCarrick speaks during a memorial service in South Bend, Ind. Pope Francis has accepted U.S. prelate Theodore McCarrick's offer to resign from the College of Cardinals following allegations of sexual abuse, including one involving an 11-year-old boy, and ordered him to conduct a "life of prayer and penance" in a home to be designated by the pontiff until a church trial is held, the Vatican said Saturday, July 28, 2018. (Robert Franklin/South Bend Tribune via AP, Pool, File)
The fallout from accusations of sexual misconduct by Theodore McCarrick, the former archbishop of Washington, D.C., whose resignation from the College of Cardinals Pope Francis accepted on July 29, continued over the weekend, with some church leaders calling for reform.
Bishop Edward B. Scharfenberger of Albany recently encouraged a priest in his diocese to go public with claims of sexual harassment against the former cardinal, published in an interview in America. On July 29, he wrote in a letter to his priests that "many of our faithful are now feeling betrayed and abandoned by their spiritual fathers, especially the bishops."
[Explore America's in-depth coverage of Sexual Abuse and the Catholic Church.]
When allegations first surfaced regarding then-Cardinal McCarrick last month, some church officials called for new regulations and policies that apply to charges of misconduct and mismanagement against bishops. But in his letter, Bishop Scharfenberger said such changes alone will not be enough to address the church's failings.
"More words are not going to repair, let alone restore, the damage that has been done," he wrote. "Lawyering, pledges and changes in the bureaucratic structures and policy—however well intentioned—cannot do it either.
"More words are not going to repair, let alone restore, the damage that has been done," Bishop Scharfenberger wrote. "Lawyering, pledges and changes in the bureaucratic structures and policy—however well intentioned—cannot do it either."
"I do not see how we can avoid what is really at the root of this crisis," he said, "sin and a retreat from holiness, specifically the holiness of an integral, truly human sexuality." The bishop also encouraged more victims of sexual misconduct by priests and bishops to come forward.
The leader of the Diocese of Fort Worth, Bishop Michael F. Olson, wrote in a separate letter on July 28 that secret financial settlements between dioceses in New Jersey where where former cardinal McCarrick ministered and his alleged victims added to the "evil effects" of the abuse, and he suggested that the notion of defrocking former cardinal McCarrick "should be strongly deliberated."
There have been many calls to investigate how the former cardinal was able to climb the ranks to lead one of the nation's most important archdioceses. Bishop Olson added his voice to that chorus, saying an investigation to discover who knew what and when is necessary.
"Justice also requires that all of those in church leadership who knew of the former cardinal's alleged crimes and sexual misconduct and did nothing be held accountable for their refusal to act thereby enabling others to be hurt," the bishop wrote.
Kurt Martens, who teaches canon law at The Catholic University of America, told The Washington Post that because former cardinal McCarrick is retired, has resigned from the College of Cardinals and is already removed from public ministry, there are few other punishments left.
"Because you're running out of options if you want to impose a further penalty," he told The Post. "I would not be surprised if he gets dismissed from the clerical state."
Not everyone welcomed the news that the archbishop resigned from the College of Cardinals.
Marie Collins, a former member of the Vatican's sexual abuse commission, tweeted that the archbishop should have been removed rather than allowed to quit. "It would mean so much more if the announcement was that the Cardinal has been removed and not that he has chosen to resign," Ms. Collins wrote on July 28.
Meanwhile, former cardinal McCarrick's successor in Washington, Cardinal Donald Wuerl, has not released an official statement following the resignation. But in an interview with WTOP radio on July 29, he called his predecessor's removal from the College of Cardinals "a big step forward."
"The pope is saying that we need to show that we are hearing these things, paying attention and acting," he added.
A statement released by the Archdiocese of Washington on July 29 said that after reviewing its files, the archdiocese did not find any complaints against the former cardinal. It also repeated an assertion that Cardinal Wuerl had not been aware of abuse claims against former cardinal McCarrick prior to the Archdiocese of New York making public last month that an allegation of sexual misconduct against a minor had been deemed credible. According to the statement, Cardinal Wuerl also did not know about the settlements in New Jersey.
Regarding new allegations of abuse by individuals in Washington, the statement said: "These experiences shared by survivors are profoundly troubling and represent a breach of trust and wounding that no person should bear alone. Cardinal Wuerl again recently affirmed that those coming forward with new allegations show also a confidence in the church to take seriously these charges and act quickly in responding."
Cardinal Joseph Tobin, who heads the Archdiocese of Newark, where former cardinal McCarrick served from 1986 until he was moved to Washington by Pope John Paul II in 2000, said in a July 28 statement that the news of his resignation "will impact the Catholic community of the Archdiocese of Newark with particular force."
"This latest news is a necessary step for the church to hold itself accountable for sexual abuse and harassment perpetrated by its ministers, no matter their rank," Cardinal Tobin said. "I ask my brothers and sisters to pray for all who may have been harmed by the former cardinal, and to pray for him as well."