Pope Francis accepts Theodore McCarrick's resignation from the College of Cardinals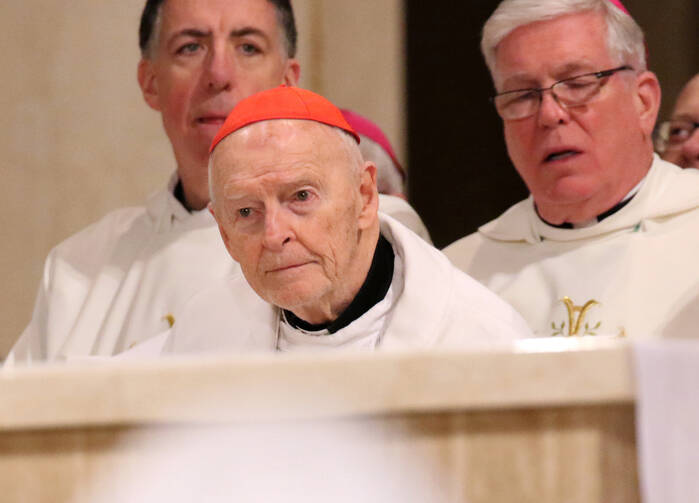 Cardinal Theodore E. McCarrick, retired archbishop of Washington, is seen during the opening Mass of the National Prayer Vigil for Life at the Basilica of the National Shrine of the Immaculate Conception in Washington Jan. 18. The cardinal said June 20 he would no longer exercise public ministry after an allegation of abuse by him against a teenager was found credible. (CNS photo/Gregory A. Shemitz)
Pope Francis has accepted the resignation of Cardinal Theodore McCarrick from the College of Cardinals. The pope "has ordered his suspension from the exercise of any public ministry, together with the obligation to remain in a house yet to be indicated to him, for a life of prayer and penance until the accusations made against him are examined in a regular canonical trial," the Vatican and the United States Conference of Catholic Bishops announced today.
The Vatican statement said that "yesterday evening the Holy Father received the letter in which Cardinal Theodore McCarrick, Archbishop Emeritus of Washington, presented his resignation as a member of the College of Cardinals."
The 88-year-old McCarrick resigned his title as church investigations into his alleged abuse of minors and adults were well underway, and shockwaves continued to be felt across the Catholic world as new revelations emerged.
[Explore America's in-depth coverage of the sex abuse crisis]
Just over a month ago, on June 20, he was removed from public ministry by Pope Francis after a review board of the Archdiocese of New York determined that an allegation that he had sexually abused a 16-year-old altar boy at St. Patrick's Cathedral in the early 1970s while serving as a priest in New York "was credible and substantiated." The cardinal protested his innocence, claiming that he had "absolutely no recollection of this reported abuse," but said that "in obedience I accept the decision of The Holy See, that I no longer exercise any public ministry."
That same day, June 20, Cardinal Joseph Tobin of Newark disclosed that there had been accusations against McCarrick while he served in New Jersey, of sexual misconduct with three adults. Two of these had resulted in confidential financial settlements with the victims. New allegations of abuse have emerged since then, including one earlier this month from a New Jersey man, whose father was the cardinal's best friend since high school, who charged that McCarrick abused him for years from the age of 13.
Sources in Rome told America that the Vatican was following the case attentively, and Pope Francis had been waiting for the conclusion of the church investigations before taking decisive action. If the investigation had found him guilty, as was expected to be the case, the pope would have dealt with him like he did with the Scottish Cardinal Keith O'Brien, in March 2015 (after he was found to have engaged in inappropriate sexual conduct with seminarians and young priests), or even removed him from the College of Cardinals.
The Pope's acceptance of McCarrick's decision means it takes effect immediately. He is no longer a cardinal. There appears to be no precedent, and certainly none in modern times, for the renunciation of his title by a cardinal because of his involvement in sexual abuse. "It was a wise decision, a good decision, a necessary decision," a Vatican official who did not wish to be named told America.
In the 20th century, one cardinal renounced his title: the French Jesuit theologian Cardinal Billot, who was made a cardinal by Pius X but greatly upset Pius XI with his support of Action Francaise, a reactionary French Catholic movement. He resigned from the College of Cardinals in 1927. In Billot's case, it seems that his renunciation was done at the suggestion of Rome, and the pope accepted it.
Pope Paul VI appointed then-Father McCarrick auxiliary bishop of New York in 1977. Pope John Paul II appointed him him bishop of Metuchen, New Jersey in 1981, archbishop of Newark in 1986, and archbishop of Washington D.C. in 2001 and created him a cardinal that same year. He participated in the conclave that elected Cardinal Joseph Ratzinger as Pope Benedict XVI. Soon after McCarrick reached the mandatory retirement age for bishops of 75, Benedict XVI accepted his resignation in May 2006.