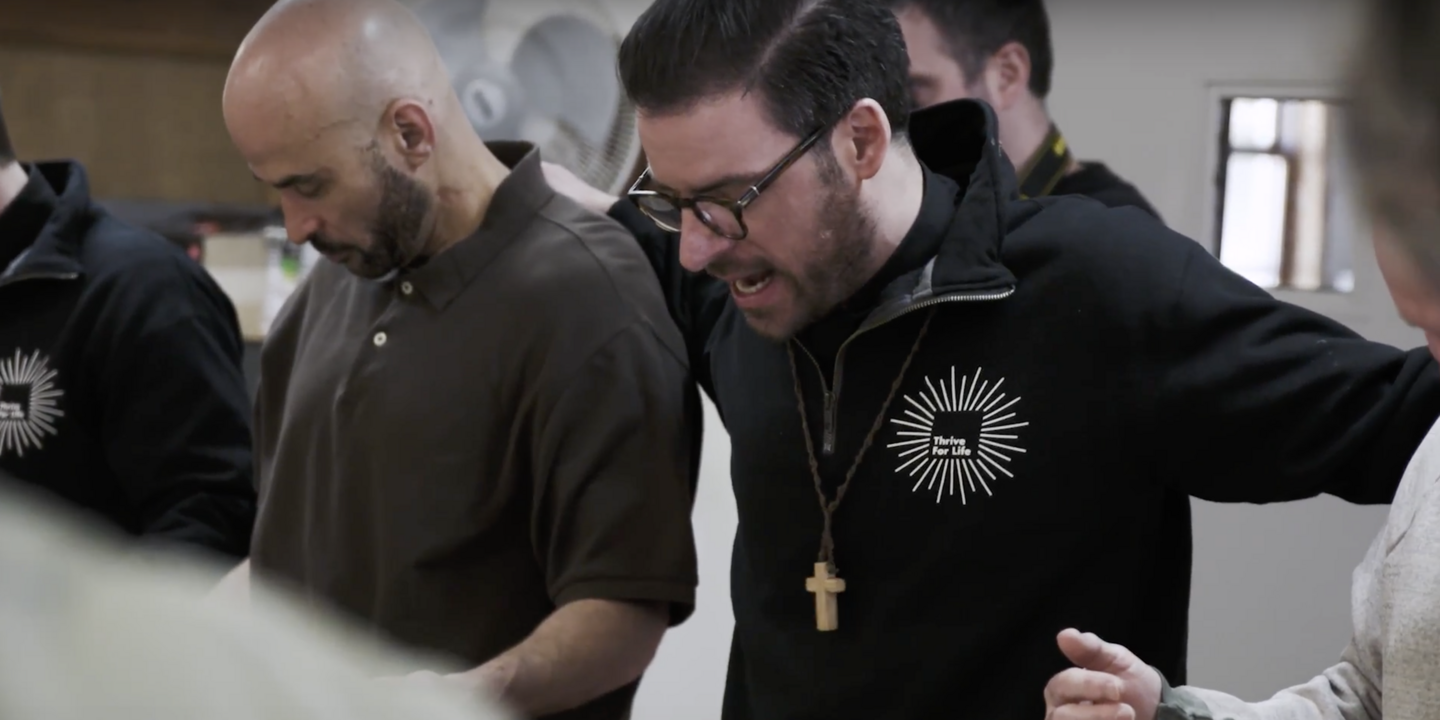 How one Jesuit is transforming inmates and fighting the criminal justice system
Italo Sanchez first met Zach Presutti, S.J., at the Otisville Correctional Facility in upstate New York. Mr. Sanchez was serving a seven-year prison sentence for a weapons charge, and in 2015, a fellow inmate named Sandy suggested he attend the weekly retreat held at the prison by Mr. Presutti, a Jesuit scholastic.
Mr. Sanchez, who was born in Harlem to Mexican immigrants and raised Catholic, says he tried to maintain his faith while incarcerated. He had been in and out of the criminal justice system since he was 12-years-old. Arrested for crimes including robbery and gang involvement, he spent four years as a teenager in solitary confinement. He was released at the age of 25 and lived seven years as a free man before being sent first to Great Meadow Correctional Facility, a maximum security prison for men in upstate New York, then Otisville, for the weapons charge.
Mr. Sanchez, who was born in Harlem to Mexican immigrants and raised Catholic, says he tried to maintain his faith while incarcerated.
He tells me returning to prison was devastating: "I was living life. I was working nine to five. I was traveling." He maintains his innocence, adding, "everyone who knows me, knows it wasn't my weapon." After he was sentenced, he was sent to Great Meadow. It was here, Mr. Sanchez says, that a fight forced him to turn his life around.
One day, Mr. Sanchez got into a fight with a fellow inmate, and the man he assaulted spent 90 days in a coma. "The day he went into the coma, the warden, everybody, came to my cell. I was handcuffed and led out," he recalls. He was taken into a little room where he was told: "The inmate you assaulted is in a coma. If he dies, I'm telling you right now, you're gonna be in here for the rest of your life."
The inmate woke up from the coma, but Mr. Sanchez was never the same. He soon began studying, eventually earning his G.E.D., and reading the Bible much more closely. Mr. Sanchez used to look down at people who went to church or read Scripture, believing that they were merely using Catholicism as a kind of façade. But once he was transferred to Otisville for good behavior and met Sandy, his perception of the role of faith shifted. "I wanted to find myself. I wanted God to lead me and take me somewhere," he says.
Mr. Sanchez used to look down at people who went to church or read Scripture, believing that they were merely using Catholicism as a kind of façade.
Mr. Sanchez took Sandy's advice and attended one of Mr. Presutti's retreats. On his first day, he was handed a piece of paper and asked to document everything he remembered about his childhood. The spirituality Mr. Presutti presented, he says, was different from everything he had previously encountered during Mass: "The way they were speaking to us, the meditations we were doing, it wasn't just about God—we were there to talk about our realities."
That was the moment he fell in love with the Thrive for Life Prison Project.
The Thrive for Life Prison Project, founded by Mr. Presutti, is a nonprofit organization that provides incarcerated and formerly incarcerated citizens in New York with spiritual direction and education resources. Currently, Thrive works in six correctional facilities around New York, including Otisville, Sing Sing Correctional Facility, Rikers Island and the Manhattan Detention Complex.
"What the organization really seeks to do, at the core of it, is [to promote] this basic assumption that people are born to thrive in life," Mr. Presutti says. "People aren't defined by the worst thing they ever did—they're defined by who they are as created beings and people loved by God."
In recent years, movements have called for abolishing the prison and jail systems in New York City. While he is sympathetic to that goal, Mr. Presutti says that realistically, we must prioritize structures that help those who are currently within the system.
"We're not just prisoners; we're fellowship partners in the Catholic community. Thrive enhances what we have."
In 2011, Mr. Presutti was a novice in the Society of Jesus. He was asked by his novice master to work at a jail in Syracuse. But it was not until a loved one was incarcerated that Mr. Presutti was moved to get involved in prison reform. "I'd just started working in jails when my own cousin was detained," he tells me. He adds that after seeing his cousin, "watching all the tears that were pouring down his face in the midst of our visit," he left the conversation changed. "It was a real game changer, this personal encounter with somebody who I had loved before they were detained."
After spending years working in prison systems across the country, including in Missouri and California, Mr. Presutti founded Thrive for Life. The project focuses on bringing spirituality and education to correctional facilities. Through Ignatian contemplation, the incarcerated and formerly incarcerated individuals Mr. Presutti works with are able to self-examine and reflect on their life choices. The educational component involves creating and supporting prison and jail libraries in institutions in New York. These libraries provide not only books but resources that will help those who are studying for G.E.D.s, learning English as a second language or preparing for re-entry into society.
In 2015, Tracey Tynan was the chairperson of the Peace and Justice Committee at the Church of St. Francis Xavier in New York City. Following Pope Francis' visit to a correctional facility in Philadelphia, she felt called to help those who are incarcerated. She was introduced to Mr. Presutti by one of the priests at Xavier. Ms. Tynan is one of the founding members of Thrive and she regularly leads retreats. "My work with Thrive for Life has brought me a new understanding of how desperate and bleak the life of an incarcerated individual can be," she says via email.
Topeka K. Sam is well aware of this reality. She spent two years in a federal prison, and upon her release, she founded The Ladies of Hope Ministries, an organization that helps formerly incarcerated women transition back into society through spiritual empowerment, education and advocacy. Ms. Sam, who was a 2016 Justice in Education Scholar at Columbia University and a 2017 Soros Justice Fellow, tells me via email that faith based initiatives like Thrive are significant because they help individuals become better equipped to transition once he or she is released. "When we are accountable to a power greater than ourselves we become aware of the greatest level of humanity," she says, adding, "when you understand that you are redeemed by God you do not look for validation or redemption from man. This is what transformed me."
Felix Pinero, 37, is currently serving a 20-years-to-life sentence at Otisville for second-degree murder. He has been incarcerated for almost 19 years, and for him, Thrive has been transformational, serving as a safe space within what can often be a dangerous system. He says that one of the greatest strengths of the prison project is the unconditional love it provides for the incarcerated.
"In prison, we tend to compartmentalize. We take our love, put it in a box," he tells America. But at Thrive, he has learned to love and trust. "We're not just prisoners; we're fellowship partners in the Catholic community. Thrive enhances what we have," Mr. Pinero says.
This is exactly what Mr. Presutti wants to provide with the Thrive for Life Prison Project. He tells me that the purpose of Thrive is not to become a part of the nonprofit industrial complex but rather, to form communities.
"This is not about trying to put some square peg in a round hole," he says. "This is not about trying to go warehousing people that are vulnerable. This is about community. This is about relationship."
Additional reporting provided by José Dueño.