Pope Francis explains why he celebrated the airborne marriage of two flight attendants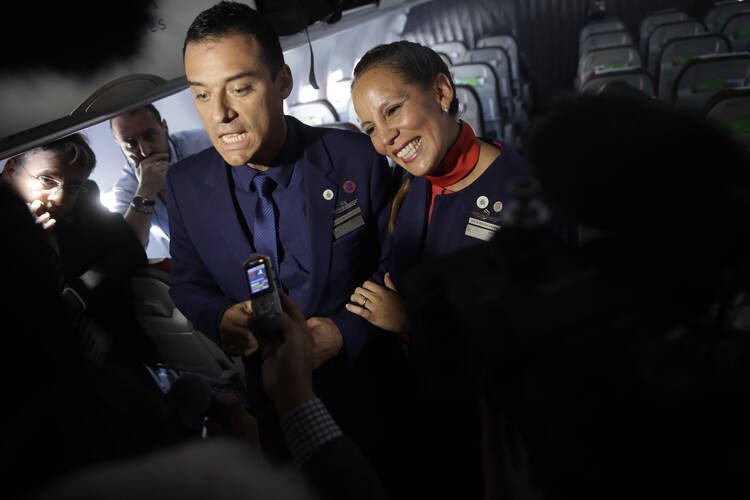 Flight attendants Carlos Ciuffardi, left, and Paola Podest, talk with journalists during a flight from Santiago, Chile, to Iquique, Chile, after Pope Francis married them in-flight early Thursday, Jan. 18, 2018. Pope Francis celebrated the first-ever airborne papal wedding, marrying these two flight attendants from Chile's flagship airline during the flight. The couple had been married civilly in 2010, however, they said they couldn't follow-up with a church ceremony because of the 2010 earthquake that hit Chile. (AP Photo/Alessandra Tarantino)
ABOARD THE PAPAL PLANE (AP) — Pope Francis is defending his decision to perform an airborne wedding flying over Chile, saying the two flight attendants were prepared for the sacrament and that refusing them might have meant they would never get around to it again.
Francis told reporters that he had questioned both bride and groom before Thursday's in-flight nuptials and had pressed them on their family life, beliefs about commitment and Catholic Church teaching. He said they had completed the church's pre-wedding preparation course, had gone to confession beforehand, and were in what the church considers to be a "regular situation" allowing them to be married.
"I judged they were prepared. They knew what they were doing."
"I judged they were prepared. They knew what they were doing," Francis told reporters. He added: "Sacraments are for people. All the conditions were clear. So why not do today what you can do today rather than put it off to tomorrow, when tomorrow might have turned into 10-20 years from now?"
Francis made headlines — and drew some criticism from some quarters — when he celebrated the marriage of LATAM crew members Paula Podest and Carlos Ciuffardi on Jan. 18 en route from Santiago to the northern Chilean city of Iquique. The two had been married in a civil ceremony in 2010, but their plans for a church wedding were dashed when an earthquake struck Feb. 27, 2010 and damaged their church.
The giddy newlyweds came to the back of the plane and told reporters travelling with the pope that the whole thing came off quickly and spontaneously. In fact, a Chilean news report from last month said a sacramental wedding was already under consideration. In addition, Francis said he fully interrogated the couple to determine if they met the church's requirements to be married. That discussion actually began a day earlier, Francis revealed, when Ciuffardi and the pope had "a nice chat" during another flight to the southern city of Temuco that Ciuffardi worked.
Some commentators had questioned the airborne nuptials, listing a host of laws, norms and regulations that would have been difficult to ascertain if the wedding had indeed been as spontaneous as the couple presented it. Did the pope have proof they were validly baptized Catholics? Had they undergone the pre-wedding preparation course? Did the church have evidence that there were no obstacles to the marriage? Had they gone to confession?
Francis told the couple that he decided to perform the ceremony in hopes of encouraging other Catholics to get married in the church. Francis frequently laments that fewer Catholics are choosing sacramental church weddings, preferring either a civil ceremony or no ceremony at all.
Many observers saw Francis' decision an example of the pastoral direction he wants to take the church: of meeting Catholics where they are and not being hemmed in by legalisms and technicalities that can get in the way of evangelizing. Pastors say they often find themselves in similar situations where they have to judge if there is a greater good offering a sacrament or other pastoral assistance in the moment, rather than waiting for all the knots to be worked out.
During Sunday's press conference — which was interrupted by turbulence that forced the pope to sit in coach for a few minutes — Francis was asked what advice he would give parish priests now. Might they be fielding requests for unusual wedding locations now that he has set a papal precedent for Catholic nuptials at 36,000 feet?
"You can imagine weddings now on cruise ships!" Francis joked, acknowledging he had been told that he was "nuts" to have gone ahead with the ceremony, given the potential for criticism.
"But the thing was easy," he said. "Tell the parish priests: 'The pope interrogated them well. They did the course. They were conscious of what they were doing, and they were in a regular situation.'"