With an eye toward tradition, young adult Catholics gather with Focus to talk evangelization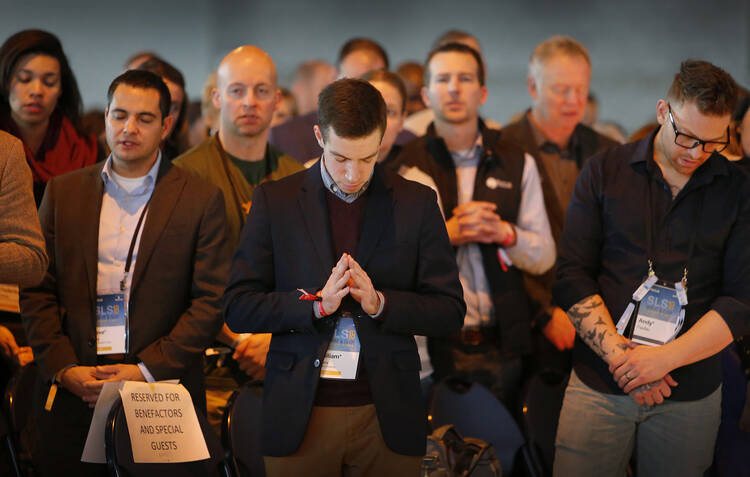 Young people pray as Cardinal Blase J. Cupich of Chicago celebrates the closing Mass Jan. 6 at a conference sponsored by the Fellowship of Catholic University Students in Chicago. More than 8,000 young adults from around the country gathered Jan. 2-6 for the SLS18 conference. Among the attendees were lay ministers, parishioners, seminarians, and men and women religious. (CNS photo/Karen Callaway, Chicago Catholic)
Walking into McCormick Place, the sprawling convention center located just south of Chicago's Loop, two things struck me immediately: The group hosting the massive gathering of Catholic students and campus ministers knows how to put on a show and how to attract a youthful crowd. The stairs leading up to the main exhibit halls were decked out with decals that depicted an inspirational image of a person conquering a mountain and staring up at the stars. Near it was the blue and white logo of the hosting organization, the Fellowship of Catholic University Students, or Focus.
Two young women religious, dressed in traditional habits and sporting large pectoral crosses, were descending the staircase. They were just a couple of the hundreds of women and men I saw wearing habits, cassocks and other traditional religious garb. Many of the men in collars were either clean-shaven with trendy undercuts or sporting sleek plastic frames and scruffy beards. The feel of the conference was old meets new, a traditionalist ethos infused with a mega-church aesthetic, where participants wore T-shirts quoting St. John Paul II, listened eagerly to talks from Bishop Robert Barron and "The Passion of the Christ" star Jim Caviezel and attended adoration and confession throughout the week.
Focus is a nearly 20-year-old evangelization ministry started by a layperson who was frustrated that non-Catholic student groups seemed more successful in spreading the faith on college campuses. Today the organization, which flies under the radar of many Catholics not connected to a campus ministry program, is experiencing dramatic growth.
It has a presence on more than 130 colleges and universities, up from just 29 a decade ago. This particular conference in Chicago, the Student Leadership Summit, attracted about 8,000 people, mostly students but also chaplains, seminarians, priests and men and women religious. (And this is the smaller of the two biannual conferences the group hosts.) They gathered for a week of spiritual formation, energizing pep rallies and workshops to help them achieve the three-tiered goal of Focus: Win. Build. Send.
The organization operates by sending pairs of missionaries, who receive five weeks of training in the summer—leaders will receive several more—before being sent to campuses across the United States to form friendships with students on campus who might not be active in the church. Through activities, Bible study, prayer and Mass, they hope to win converts, or reverts, to the faith.
Curtis Martin, the founder and C.E.O., told America that Focus seeks to "to awaken people who have had an experience of God's love and mercy in their life" and, in turn, recast them into missionaries as well. College campuses, Mr. Martin said, present the most potential for renewing the church because that is where he sees the church's future leaders being formed. Though, he quickly adds, "all the culture needs help."
The fruit of Focus—the students who engage their faith as a result of the missionaries, activities and conferences—were energetic about the organization.
That view of culture, especially at college campuses, permeates the conference and helps shape the ethos of Focus. In a 2016 interview with the National Catholic Register about campus sexual assault, Mr. Martin said college life "has continued to slide into a Sodom and Gomorrah-type culture, a first-century Corinth culture, where sexual liberties are the fundamental liberties." In our conversation, when asked about Pope Francis' call to serve the poor and marginalized, Mr. Martin said he "wants to be clear that we believe that every aspect of the culture is in poverty right now."
To that end, Focus appears unabashedly traditionalist in its views on sexuality and gender.
Alongside sessions on evangelization, storytelling and prayer, gender-segregated workshops, with titles such as "Growing in Virtue (For Women)," "Becoming the Man God Created You To Be (For Men)," "New Evangelization and the Hyper-Sexualized Culture (For Men)" and "Uncompromising Purity (For Women)," were offered to students. The conference handbook notes that attendees are prohibited from visiting the hotel rooms of other guests if they are of the opposite gender. And on campuses, where missionaries seek out friendships with college students as the first step in accompanying them back to the church, "discipleship" relationships are gender-exclusive.
One workshop was hosted by Father Philip Bochanski, the head of Courage, a church-endorsed ministry that, according to its website, promotes chastity for "persons with same-sex attractions." Several hundred students attended the workshop, many scribbling notes as the priest offered tips on how to respond to peers who come out as gay or lesbian.
First, tell the person you love them, the priest explained. Then, appeal to natural law, Pope John Paul II's "Theology of the Body" and the creation stories in Genesis to explain the foundations of the church's ban on same-sex activity. And third, tell them that acting on their desire to be intimate with a member of the same sex is turning away from God's plan for them.
He told students not to be afraid to speak the truth—though always in love, he added—which may include being blunt about what he says are the dangers of same-sex relationships. He also emphasized that they should listen to the person, allowing him or her to tell their story in full.
"Trying to foster that romance, that intimacy, in a sexual way with someone of the same-sex is not going to be fulfilling; it's going to be very dangerous," Father Bochanski said.
Like many of the sessions I attended, there was no time set aside for a public question-and-answer session. But Father Bochanski, like other speakers, did wait patiently after the talk to answer the questions of a couple dozen participants who stood in line for nearly an hour.
One young woman asked him whether Catholics could attend a same-sex wedding. The priest told her that if she were asked to participate in the wedding, she should tell the person she loves them but explain that she could not attend the celebration. Instead, he suggested, she should spend time in church during the wedding ceremony praying for the couple, that they see God's plan for them.
Some critics told me that this kind of training is insufficient to handle complex pastoral questions, like the fraught issues of the church's view on sexuality. (Father Bochanski conceded the point, telling me, "This was a 45-minute talk, very short even for me. What something like this is meant to do is inspire people to look more deeply into the question.")
Focus has a presence on more than 130 colleges and universities, up from just 29 a decade ago. 
Katie Diller, the director of campus ministry at the parish that serves students at Michigan State University, told me that the model Focus uses can "offer a wonderful witness and discipling experience," but she said professional campus ministers, as opposed to lightly trained peer missionaries, "are critical in shepherding students through complex questions," such as discernment about the priesthood or religious life, spiritual concerns and even knowing when a student may need psychological assistance.
On questions of gender and sexuality, Ms. Diller said, "Students who ask questions about gender, authority, or sexual orientation may be ministered to with respect, compassion and sensitivity by a campus minister who has been well trained to help form the Christian conscience around complex societal and personal issues."
For his part, Mr. Martin said Focus would lose its core identity if missionaries were required to undertake the rigorous training required of campus ministers.
"The fact of the matter is that there's a tremendous opportunity for peer ministry," he said. "By definition, if you went and got the training [a traditional campus minister receives], you're no longer a peer. You're now in your late 20s, early 30s or later. Focus is a young person's game."
Mr. Martin acknowledged that there is a risk Focus could supplant traditional campus ministry operations, but he said that the goal remains working within existing structures.
Missionaries, he said, "are just out there to love people and to walk them back into a church that can provide them comprehensive healing."
"Can you do that inartfully? Of course you can. Can you bump into each other? Of course you can," he continued. "But I think it's worth the effort to strive because I think young people are worth the effort. What we're seeing is dramatic, constructive growth, where the fruit is hard to deny."
Jared Smyth, a regional director for Focus, said that missionaries complement campus ministry programs, serving as "the arms and legs that are reaching out to bring people into the heart of the church."
"If there's a good campus ministry, good programming that's already going on, man, that is awesome for us because then we can just meet people out on campus," he told America, noting that missionaries must be invited to a campus and do not claim any pastoral authority.
A Focus missionary at the University of Oregon, Jordan Homer, said it is essential to work closely, "as one entity," with campus ministry.
"It's not like Focus missionaries are off doing our thing and campus ministry has their events," she told America. "We go to all the campus ministry events, and they are invited to all our events. That cohesiveness is so key."
Students who have been drawn into the church by way of Focus said it was the personal relationships with missionaries, the model Focus uses, that kept them engaged.
"The way I see it, we're all striving for the same thing here," she said, "which is the salvation of souls."
The fruit of Focus—the students who engage their faith as a result of the missionaries, activities and conferences—were energetic about the organization.
Students who have been drawn into the church by way of Focus said it was the personal relationships with missionaries, the model Focus uses, that kept them engaged.
Ryan Dondalski, a sophomore at the University of Tulsa who attended S.L.S., said that Focus missionaries helped reignite his faith.
"I can't even express how much my faith has grown," he said, from what had been a level of indifference. "After being pulled into a great community by Focus missionaries, who have been great examples of faith leadership on campus, who have been present to me, they have helped me grow and be more passionate about my faith."
Another student, Madalena DeAndrea from the University of Colorado, said she met a missionary at Mass, exchanged numbers and a few weeks later met up for coffee.
"I could tell she had something I wanted. She had a joy and a presence about her that I was drawn to," she said. "That was obviously Christ radiating through her."
The campuses and dioceses that commit to Focus are investing in a program that is not cheap but one that seems to have figured out how to attract young people. To bring four missionaries to a campus, the hosting organization helps defray costs by committing $60,000 annually for two years.
In addition, the missionaries raise their own salaries, aiming for about $3,260 per month. Despite the price tag, the organization is growing quickly. It reported taking in more than $57 million dollars in grants, contributions and membership fees in its 2017 fiscal year, a dramatic increase from 2009, when Focus reported a total of nearly $10 million.
Critics told me that Focus is too expensive and that it is focused too narrowly on white, middle-class Catholics—even as Hispanic Catholics may soon constitute the majority of the U.S. church. Much of the crowd at S.L.S. appeared to fit that demographic, and Mr. Martin acknowledged that Focus has to do a better job reaching Hispanic Catholics and non-traditional students, but he said that the group is trying, even as it focuses on where it can have the most success with its current approach.
"The question every year is, if you have to choose between going to a commuter campus in a given community or a four-year residential population, where are you going to bear the most fruit at first? We found it's the four-year campuses," he said.
In terms of outreach to Hispanic Catholics, Carlos Garcia, a Focus missionary at the University of Southern California, said the challenges of meeting the needs of Hispanic Catholics in the United States go beyond Focus. He said some Hispanic students sometimes seek out Spanish-language Masses, which are not always available, so he holds Bible studies in Spanish and then offers to accompany them to English-language Masses.
"It's really cool for me to be able to walk a student from being a little shy about attending an English Mass to being more comfortable," he said. "The way you do that is by going with them and experiencing it together."
The stars of the conference, at least in terms of popes, were John Paul II and Benedict XVI. The latter's emphasis on evangelization seemed to drive the speakers and students.
It was not until the closing Mass, during which Cardinal Blase Cupich preached, that Pope Francis seemed to permeate the atmosphere inside the convention center. The cardinal praised the "great leadership" of Francis and said he is "invigorating the church once again with a call to an understanding of what the church teaches that is based on God's mercy."
He encouraged the students, more than a few of whom wore mantillas (head coverings for women common before Vatican II), not to shy away from the world but to embrace it, as Jesus did, sinfulness and all.
"Today the Holy Father is calling us to be concerned about the environment, global warming, the degradation of the forest, to claim the world that we live in as our own responsibility," Cardinal Cupich said. He urged them to embrace "all the 'uns': the unborn, the unemployed, the undocumented, the uneducated," to ensure "that they have a place at the table of life."
"Make sure you allow yourselves to be immersed in the concerns of the world, so we don't have a church or a group of people who say 'they are Catholics or Christians who are self-referential,'" he said. "We are to be immersed in the concerns of God's people and God's world."
When I suggested to one of Focus' collaborators that it seemed like the organization appears unsure of what to make of Pope Francis, he agreed, though only up to a point.
Michael St. Pierre, head of the Catholic Campus Ministry Association, praised Focus extensively—they partner on projects—but he conceded that the organization, like much of the church, is still being challenged by Francis, even five years into his papacy.
"While Focus has mission trips and things like that, that's only one part of their strategic model. Their primary goal is making disciples through piety, the study of Scripture and worship," Mr. St. Pierre said. "The most effective campus ministries around the country have both a strong sense of piety and a dedication to serving those most in need. It's a both-and, vertical and horizontal approach to Catholic discipleship."
Correction and clarification on 01/17/2018; 5:47 P.M. ET: An earlier version of this story used financial data from both I.R.S. forms and Focus annual reports, resulting in a discrepancy about fundraising numbers. It has been updated to reflect data solely from Focus annual reports. Additionally, the number of weeks of training Focus missionaries undergo was clarified. Finally, an additional line about Father Bochanski's talk was added to the story.