What does it mean to be a black Catholic in 2017?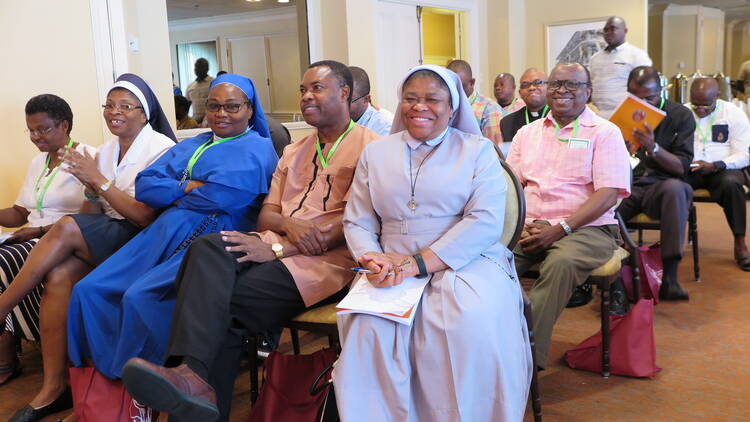 Sister Joanna Okereke, a Handmaid of the Holy Child Jesus, who is program coordinator in the U.S. bishops' Secretariat for Cultural Diversity in the Church, center, listens to a speaker July 27. She was one of about 80 attendees at the 18th annual convention of the African Conference of Catholic Clergy and Religious in the United States in New Orleans. (CNS photo/Beth Donze, Clarion Herald) 
I grew up in the South Bronx in New York during the civil rights era. I am a product of the Catholic school system and I had to reconcile my belief in God amid the atrocities I saw being committed against black Americans.
I watched Dr. Martin Luther King Jr., deliver powerful speeches and stage peaceful protests. Police with dogs and firemen with hoses greeted him and his cohorts. I witnessed the mass exodus of my white neighbors from my community. I was bused to a predominantly white Catholic high school across town. My guidance counselor advised me to continue my education in a trade school rather than pursuing college.
Then there was the experience of attending Mass in the Little Italy section of the Bronx and watching the priest walk down the aisle and refuse to shake my outreached hand during the offering of peace.
Ironically, these experiences did not fill me with hate—they made me curious.
My curiosity led me to Fordham University, where I sank deeply into theology and Catholic culture. I studied journalism and proudly spoke truth to power as a reporter for the school's newspaper and radio station. My Jesuit education prepared me for life and for my role as the chief diversity officer at Johnson & Johnson. As a diversity officer, I learned that once you declare personal accountability, you can address issues of racial injustice in a thoughtful and decisive way.
Black friends find it hard to believe I am Catholic.
Black friends find it hard to believe I am Catholic and a member of the Knights of Columbus. For them, being black and Catholic feels like an oxymoron. This is because African-Americans have a deep and troubling history with the Catholic Church. There was a time when we were not allowed to even take part in Catholic rituals, like serving at the altar or receiving Communion. Many of us still feel the pains of these indignities.
My faith, however, helps me to fortify the belief that God does not categorize his love for us based upon race, color, sexual orientation or gender. Our differences are our strengths, an adhesive that unites us.
The leadership of Pope Francis has also helped to begin to mend the indignities many African-American Catholics have felt throughout the church's history.
The leadership of Pope Francis has started to help mend the indignities many black Catholics feel. Following in Pope Francis' leadership, the United States Conference of Catholic Bishops has created an anti-racism committee. Cardinal Daniel N. DiNardo, president of the U.S.C.C.B., introduced the committee this past summer. "Recent events have exposed the extent to which the sin of racism continues to afflict our nation," Cardinal DiNardo stated. "The establishment of this new ad hoc committee will be wholly dedicated to engaging the Church and our society to work together in unity to challenge the sin of racism, to listen to persons who are suffering under this sin, and to come together in the love of Christ to know one another as brothers and sisters."
While this is a courageous and welcome step forward by the church, there remains more to be done. I encourage church leaders at the local level to explicitly denounce racism and the actions of white supremacist groups like those seen in Charlottesville, Va., this past summer. As a black Catholic, hearing priests at the pulpit discuss racism in the same manner as issues like homelessness would be a great sign of solidarity.
We must encourage anti-racism committees like the U.S.C.C.B.'s at the local level as well. We must encourage congregations across the country to engage in discussions on issues like police brutality and the mass incarceration of black and brown bodies. By highlighting experiences faced by black Catholics as well as celebrating the richness of their culture, parishes can create concrete signs of solidarity.
If we are to foster an inclusive Catholic community, one that truly reflects all of God's goodness, then no one should ever feel unwelcome.