Sean Spicer finally gets to meet Pope Francis
Sean Spicer has finally met Pope Francis.

A group of legislators and politicians from around the world gathered in Italy this week for a meeting of the International Catholic Legislators Network, where they were received by Pope Francis at the Vatican. Among those gathered was Sean Spicer, the former White House press secretary who was by some accounts snubbed by President Trump in May.
Mr. Spicer, a Catholic, had expressed a desire to meet Pope Francis, but he was left off the list of U.S. officials who accompanied the president to the Vatican. This perceived slight prompted sympathetic comments from some of the journalists Mr. Spicer sparred with as press secretary:
This seems needlessly harsh - when else is Spicer likely to meet the Pope, and it mattered to him? https://t.co/jUtcTW8wbg

— Maggie Haberman (@maggieNYT) May 24, 2017
Mr. Spicer resigned as press secretary on July 21 but stayed on at the White House.
A photo posted to the Vatican Radio Facebook page shows Mr. Spicer using his cell phone to snap a photo of Pope Francis, who in an address to the group urged cooperation and bridge-building.
Several other images posted to the Vatican's photo service page show Mr. Spicer greeting the pope personally.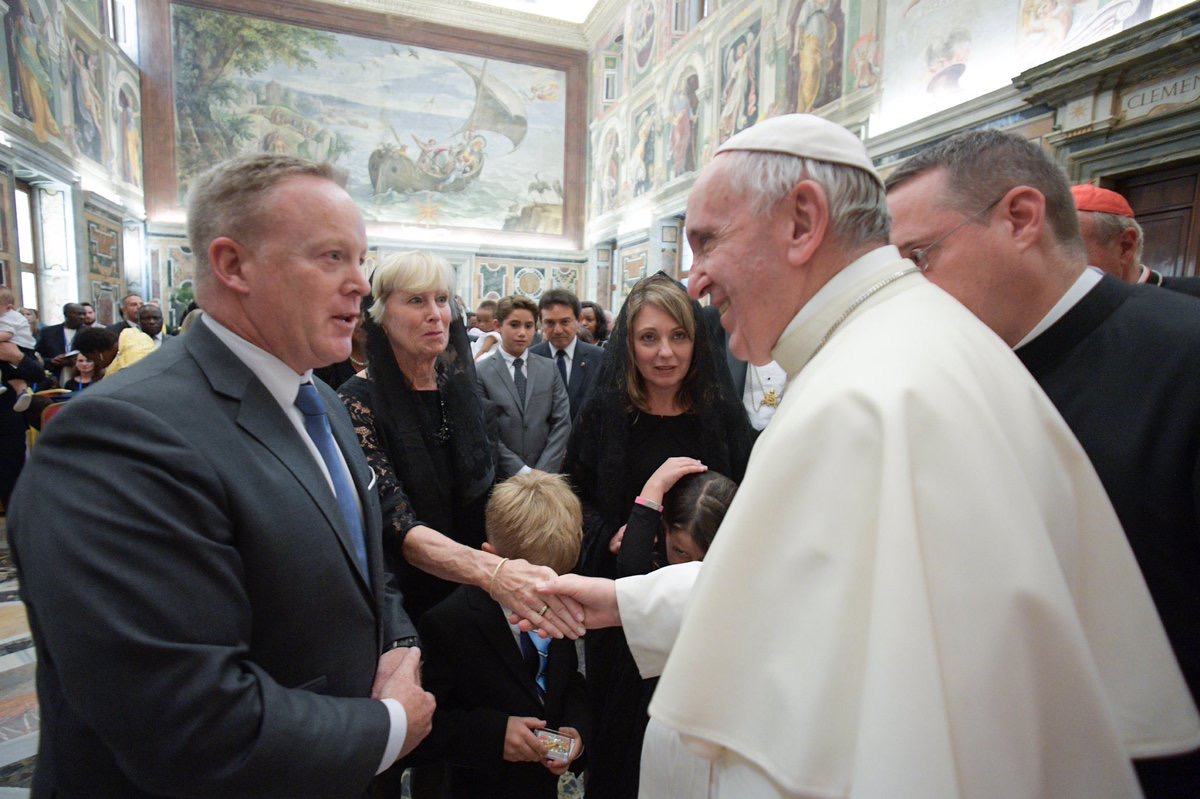 Representatives from the I.C.L.N. did not return emails or calls to America but a Vatican official confirmed that Mr. Spicer attended the gathering.
According to Vatican Radio, Pope Francis told the group on Aug. 27 that the church can be a valuable resource for addressing the moral dimensions of societal challenges.
"As long as the contribution of the church to the great questions of society in our time can be put into discussion, it is vital that your commitment be constantly pervaded by her moral and social teachings, in order to build a more humane and just society," Pope Francis said.
The pope repeated his refrain that political leaders should seek to build bridges rather than walls.
"The laws that you promulgate and apply ought to build bridges between different political perspectives: even when they respond to precise ends ordered to the promotion of greater care for the defenseless and the marginalized, especially the many who are constrained to leave their countries; and when they are in order to favor a correct human and natural ecology," he said.
U.S. Representative Alex Mooney, a Republican from West Virginia, told Vatican media that he was inspired by the gathering.
"We have an opportunity to meet here with other Catholic legislators and elected officials from other parts of the world and to discuss common concerns—problems, opportunities—for our faith and how to work together and support each other," he said.
A spokesman for Mr. Mooney told America that three other members of Congress were present in Italy for the meeting: Representative Jeff Fortenberry, a Republican from Nebraska who sits on the I.C.L.N.'s steering committee; Representative Andy Harris, a Republican from Maryland; and Representative Dan Lipinski, a Democrat from Illinois.
Cardinal Christoph Schönborn sponsored the founding of the International Catholic Legislators Network in 2010. According to its website, its goal is to "to discuss the promotion of Christian principles in the political arena."